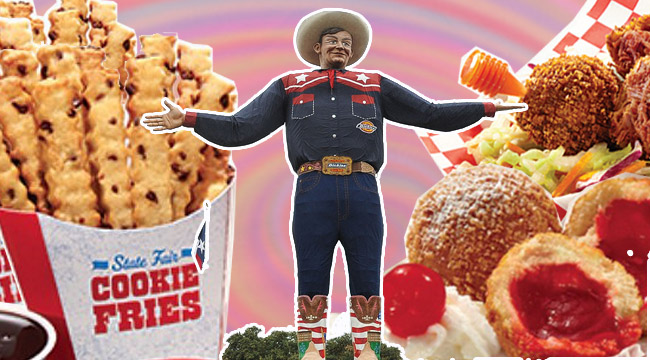 You might want to sit down for this. Actually, scratch that. You might want to get some serious cardio in first. Go outside and do at least 30 laps around the house, we'll wait here. The State Fair of Texas has spent the summer whittling down a cornucopia of their best fair foods that will probably kill you, or at least put you in a very deep food coma. They're calling it the Big Tex Choice Awards, and there are eight finalists. Warning: Just looking at them might give you a preemptive heart attack.

Yes, those are cookie fries. And, yes, you can dip them in both jam and chocolate sauce . Some of the other items on the short list include Southern Fried Chicken & Dumplins, Injectable Great Balls of BBQ, Fernie's Down Home Chicken Pot Pie Pocket with Mac 'n Cheese Dip, and the Deep Fried Bacon Burger Dog Slider on a Stick (which amazingly isn't in ball form).
We're getting the food sweats just from reading this list. One of the largest offerings is the Caribbean Pineapple Korn-a-Copia, which is a hollowed out half-pineapple overflowing with Caribbean fried rice, heaped with grilled chicken and shrimp, and topped with a tropical salsa and pineapple rum glaze. It's truly shocking that the whole thing isn't beer battered and deep fried! Does that really even count???

Perhaps the most enticing are the fried Jell-O balls. The only question remaining is whether they can make fried Jell-O shot balls? Throw a little Everclear in the mix, maybe? If you're eating something that decadent, you may as well be getting hammered at the same time.
Here are some of the other options awaiting fair goers in Dallas:
(Via State Fair Of Texas)