Despite being a San Diego-born foodie with viticulture in her blood, I've only just recently traveled to the Valle de Guadalupe, Baja Mexico's premier wine-and-dine destination. That "travel blind spot" is fully on me. The Valley of Guadalupe is not the little-known winemaking region it once was — it's a famous travel locale. Celebrities like Lana del Rey vacation there. And seeing that "the Valle" is a quick (and beautiful) 90-minute drive south of the border from San Diego, it's the perfect weekend getaway for Southern Californians.
Last month, I finally decided to see what the hype was about and spent a long weekend immersed in this Ensenada wine region — where over 200 wineries and three of the 50 Best Restaurants in Latin America dot five vineyard-covered valleys. Somewhere between savoring rich cabernets paired with mouthfuls of grilled lamb, sipping crisp pet-nat between slurps of freshly harvested oysters, and getting lost in the horizon of an infinity pool more times than I can count, the Valle burrowed its way into my heart. No wonder it's been christened "Mexico's Tuscany" by The New York Times.
What Makes the Valle so Special?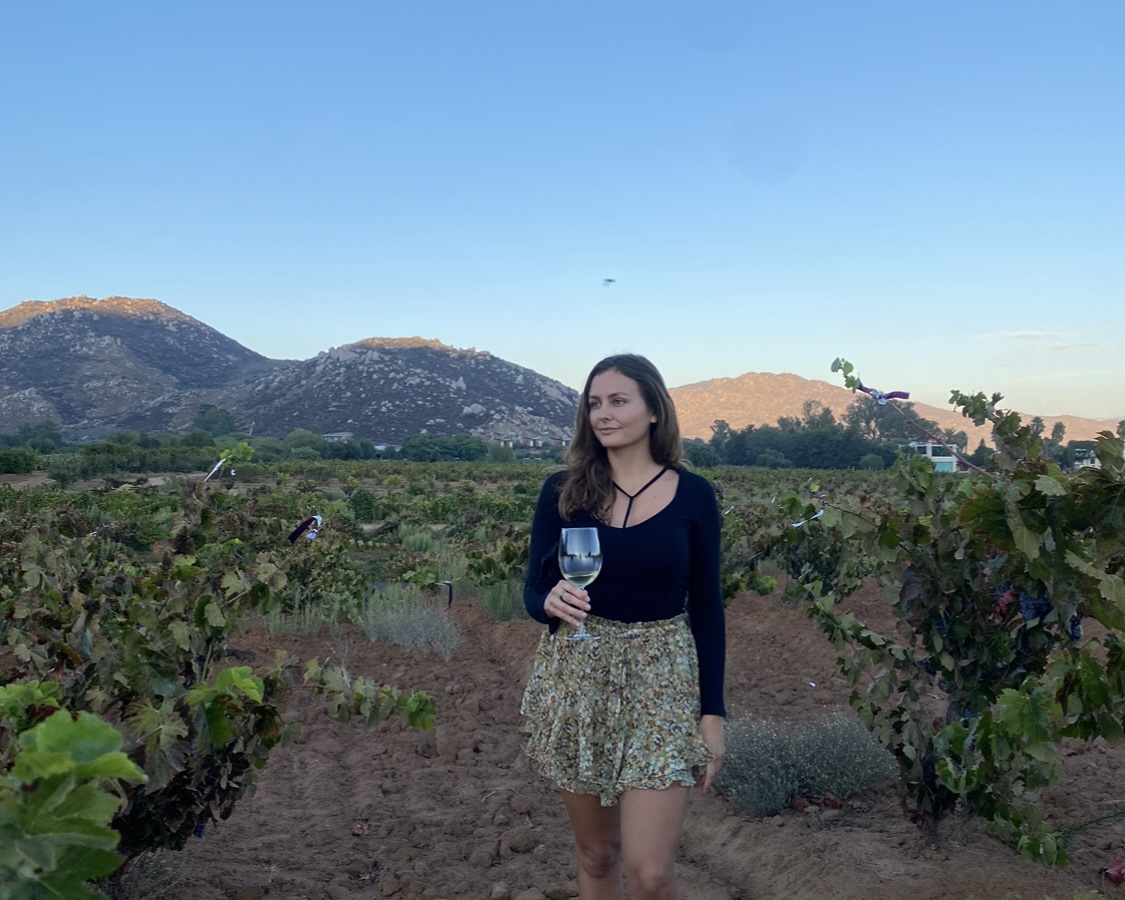 There's a reason the Valle de Guadalupe was recognized as the third-best wine region of 2022 (USA Today 10 Best Readers' Choice). What's the secret ingredient? I'd say regional diversity that translates both the wine and the food it accompanies. Mineral-rich soil paired with a Mediterranean microclimate means flavorful, abundant agriculture. Fresh-off-the-boat mariscos from nearby Ensenada — an internationally recognized seafood capital — further expands the culinary range of this little valley. Not only did I taste the Valle's diversity on my palate during my visit, I also noticed it in thought, architecture, and winemaking methodology.
Winemakers, restaurateurs, chefs, and hoteliers from all corners of the world have made their mark on the Valle over the last 80+ years. In fact, the very first vine in the Valle de Guadalupe was planted by Russians 150 years ago. That said, there's still a deeply rooted tradition and heritage of wine production in the Valle — which you can appreciate in the region's long-loved varietals like Merlot and Cabernet-Sauvignon. Plus there's a new generation of winemakers, crafting fresh offerings with white grapes like Chenin Blanc.
Open-air kitchens, farm-to-table (and pole-to-plate) gastronomy, sustainable viticultural practices, and luxury eco-hotels reflect a common value in the Valle: integration with and respect for nature. Perhaps best of all? This is a wine-focused destination far less saturated with tourists, and a heck of a lot less expensive than other famous viticultural regions of the world.
Where to Sip and Savor in The Valle
Clos de Tres Cantos & Ariete
Basking in the afternoon sun on my first day in the Valle, I sat down for an intimate lunch at Ariete. A young chef, Abraham Sepsas, mans the stunning outdoor kitchen surrounded by green cactus, purple flowers, and large boulders characteristic to the area. He and his team humbly plate a five-course meal (and kindly let me record their art form for the 'Gram).
Each dish arrives perfectly paired with wine produced at Clos de Tres Cantos, the winery that hosts Ariete. The enchanting setting which is played up by Alejandro D'Acosta's (Hugo D'Acosta's architect brother) wine bottle and local rock-stacked building whose design reminded me of an ancient monastery. No surprise that the win maming here feels like a holy endeavor. My favorite vino of the day was "Nada" — a Petit Sirah and Tempranillo blend which I enjoyed with a hunk of melt-in-your-mouth local beef.
Pro Tip: I'd definitely stop by Ariete for lunch and walk around the grounds of Clos de Tres Cantos briefly, but save your winery tour/tasting for the next spot.
Bodegas de Santo Tomás & Villa Torél
With over 135 years in Baja wine production, Bodegas de Santo Tomás is probably the most well-known winery in the region. Proof? When I brought home a bottle of their Cabernet, my parents had flashbacks of visiting the original Bodegas de Santo Tomás in downtown Ensenada way back in the 80's!
Today, Bodegas de Santo Tomás has expanded to three locations. I visited the San Antonio tasting room since it boasts the best valley views and has an outstanding on-site restaurant (Villa Torél mentioned below). For a curated tour of Bodegas de Santo Tomás, book a tasting — take your pick from traditional wine tasting to Spanish bites with wine pairings, and history-infused tours.
If you've got an appetite for adventure, definitely reserve a sailboat tour. Villa Torél is a non-negotiable dinner spot. Color-bursting sunsets pair well with vino and mouthfuls of literally anything Chef Alfredo Villanueva Ulloa is cooking up in the kitchen… Pretty sure I can never eat rice again after savoring the flavors of his rice with beef tongue, which paired perfectly with BST's Tempranillo-Cabernet.
Mogor Badán
My afternoon tasting and tour at Mogor Badán felt like a hug to the soul. You'll especially enjoy a tasting here if you want to take home some organic produce, which you can purchase at their farmer's market on Wednesdays and Saturdays from 11 a.m.-1 p.m.. The tranquil grounds of this family-owned vineyard, ranch and winery, run by jefa (bosslady), Natalia Badán, are also home to sweet ranch dogs, mewling kittens, and a stunning black rooster with iridescent feathers.
Ms. Badán, along with her children, carry on the tradition set in motion by her Swiss-French parents in the 1950s — right in the heart of the Valle de Guadalupe. Regenerative and sustainable practices are a pillar at Mogor Badán, where classic French and Swiss grape blends make room for a bubbly white blend (Monema), introduced by Violeta Jiménez, a young female winemaker in the valley. After my tour, the good vibes were carried right along to a fanciful dinner amid the mountains surrounding the Valle at perhaps the best restaurant in the region… Deckman's.
Deckman's El Mogor
Undoubtedly, Deckman's is a gem on the Mogor property. Drew Deckman, the Valley's shining Michelin Star chef prides himself on "zero kilometer" sourcing. Dining at Deckman's should be at the top of your Valle de Guadalupe "to-do" list. If I had to recommend one menu item… well, I couldn't. So get both the mouthwatering lamb and the pulpo (octopus), and watch it be prepared before your eyes at the open-concept grill. For me, the cherry-on-top (or shall I say, digestif on top) of this evening was sipping a glass of Amarguito J.J.: an aromatic orange fortified wine that Juan Cristobal Rubio Badán (Ms. Badán's son) has begun producing with the heritage orange trees of his family's ranch.
Take home a bottle from El Mogor or purchase by the glass at Deckman's.
JC Bravo
My welcome to the JC Bravo winery was a family affair. The Bravos — Juan Carlos Bravo, his wife, their four adult children, and two adorable chihuahuas — own and operate one of the only wineries founded by multi-generation Valle de Guadalupe natives. It's also one of the only remaining dry-farmed vineyards in the valley, meaning there are no special irrigation techniques used to water the grapes. Their 34-acre property is the most beautiful I toured in the valley, and their grapes grow alongside watermelons and other sweet fruits. The Bravos have lovingly tended to their vineyard and farm using old-school (all by hand) processes since the 1940's, when Mr. Bravo's grandfather planted Carignan and Palomino Fino grapes. In addition to delectable wines, the Bravo's produce marvelous marmalades from their fruit harvests. I took home a guava spread to accompany my morning toast, but it lasted just a short while due to my sweet tooth.
If you're in the Valle for a special occasion, I highly recommend arranging to have dinner in the vineyard at JC Bravo with chef Francisco Javier Gallegos. That was a dining experience I will never forget. I mean, look at that setting! JC Bravo's wines can also be purchased and delivered right to your doorstep with Nossa Imports.
Bloodlust Wine Bar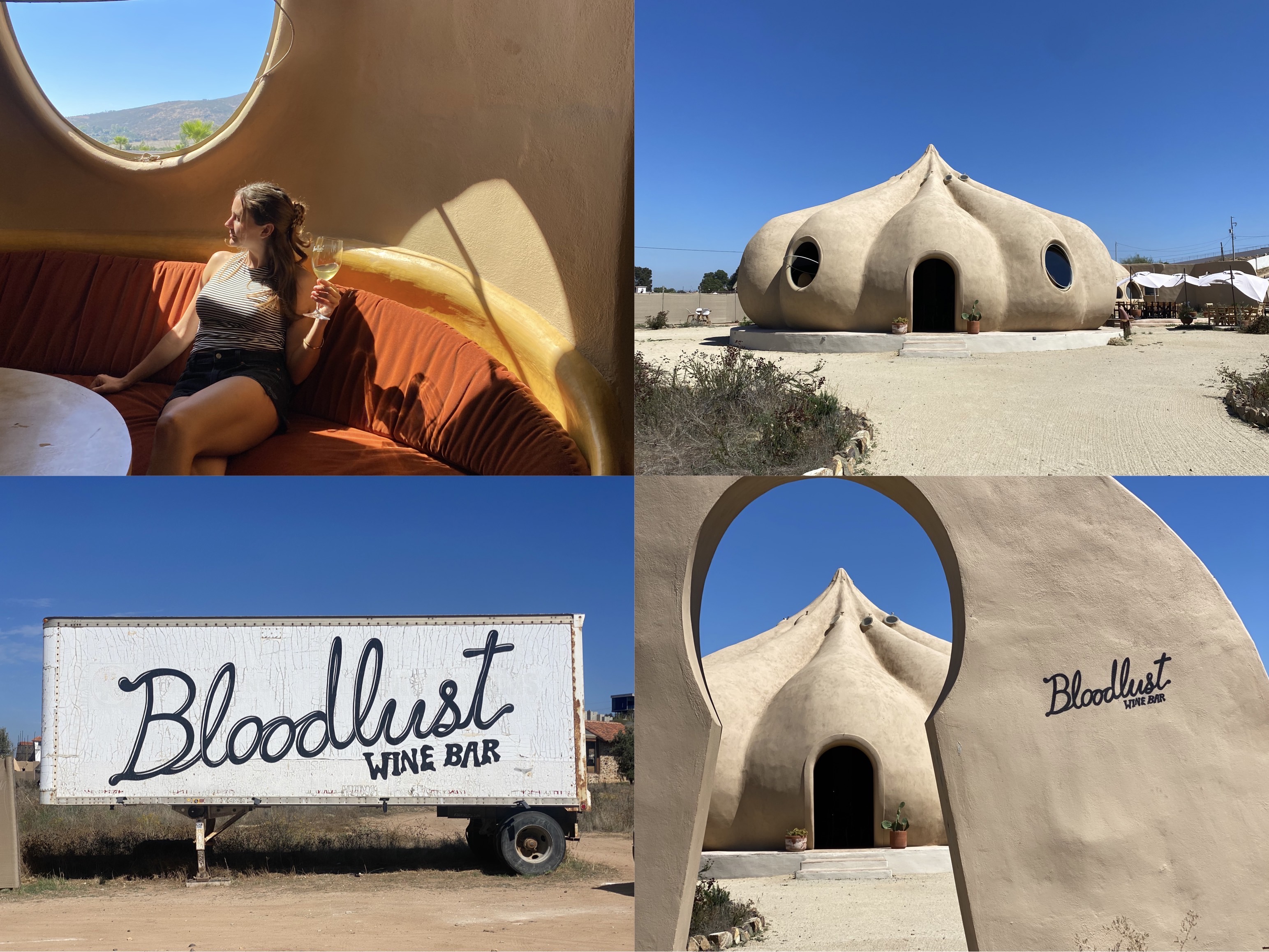 Sitting inside a head of garlic is something I never thought possible — or, really — I never thought of at all. But amongst the "new wave" of establishments in the Valle de Guadalupe, you can do just that! Bloodlust Wine Bar's psychedelic-novelty architectural space truly impressed me. Ample round windows allow for breeze and abundant natural light to flow through the space, where young, punk-rock clothed wait staff serve innovative small plates and pour up avant-garde natural wines from around the region.
If you're looking for the trendiest spot in the Valle, pull up to Bloodlust Wine Bar. Music festivals and DJs often grace Bloodlust, where a butt-shaped wooden table holds the decks like a sacred altar space. There's not a corner of the bulb that isn't Insta-worthy, so don't be afraid to get your shot. If you want to try a truly unique wine (albeit not very delicious), Bloodlust's wine list includes a table-grape vino. If you prefer quality to novelty, order up a JC Bravo bottle.
Casa de Piedra & Conchas de Piedra
When the chef says that your clams were clapping just 30 minutes ago, you know you're about to feast on some fresh-ass seafood. Find yourself at Conchas de Piedra (aptly named "stone shells" in English), the on-site restaurant at Casa de Piedra — a winery established by the "godfather" of the Valle de Guadalupe: Hugo D'Acosta. Chef Gerardo Rojas Aguilar prepares marine delicacies — like roasted oysters with pork chicharon and seared abalone topped with delicate, pungent cilantro blossoms — that pair perfectly with the sparkling wines produced at Casa de Piedra's facilities.
A simple order of oysters arrives (almost) too beautiful to eat; topped with edible purple flowers. As the love child of Drew Deckman's Michelin kitchen and Casa de Piedra's historic winery project, a fabulous brunch of artfully plated mollusks and flutes of bubbly make for a stellar start to a day of wine tasting in the Valle de Guadalupe. You can kill two birds with one stone by ordering Casa de Piedra's wines while you eat instead of opting for the full tasting.
Casa Marcelo
After breakfast at Casa Marcelo, you're pretty much guaranteed to have a case of the J.A.M.S. That's what I've coined that, "just-ate-must-sleep" feeling. So we're heading to Ensenada and we're talking cheese. Illegal cheese. Well, cheese that's illegal in the U.S., where unpasteurized milk is outlawed!
The rebel in me loves that. I found myself dining with the owner of Casa Marcelo, Marcelo Castro Chacon, a fourth-generation Swiss-Italian carrying on the legacy of his family's 100 years of cheese-making. If you find yourself dining alongside the owner of a restaurant like I did, always ask if they will order for you. In this case, his order arrived and my table was covered in Mexican ceramic dishware filled with traditional breakfast cuisines like borrego en salsa Verde (lamb in green sauce) and chilaquiles verdes (chilaquiles with green sauce). It was absolutely, mouth-wateringly, insane.
If you're keen to tour the only cheese cave in Mexico (a great way to walk off a big breakfast), Mr. Chacon operates a cheese cellar in nearby Ojos Negros Valley, called La Cava de Marcelo, which you can tour and book via the restaurant.
Stay: Encuentro Guadalupe
Peering out over the edge where blue water meets blue sky; the scene of the Valle de Guadalupe unfolds below the on-site pool and restaurant at Encuentro Guadalupe. If the star of the show isn't the infinity edge pool (or the incredible "Suburban Worker" mezcal-hibiscus cocktail, Currito de Arrabal at TOBA), the surrounding ecological reserve sure is. (Though I'm not convinced it isn't the Currito de Arrabal.)
I began each morning in the Valle with a cappuccino and mesmerizing views in the company of a local cat who'd made home at this chic eco-hotel (who would blame him?). Chain resorts and towering tourist hotels have never been my thing. I'm a girl of adventure. Encuentro's rustic, widespread property provides just that. You'll hop in a hotel van and be escorted to your room along a winding dirt road. Each of the 22 free-standing loft structures is built into the hillside of the valley and offers floor-to-ceiling windows with a remote-controlled blackout shade, a small private outdoor seating area with clay fire pit, and my personal favorite amenity: a white waffle weave bathrobe. The hotel is a perfect balance of romantic, modern, and minimalistic without trying too hard to be any of the above.
The only thing that I regret about my stay was not arranging a deep-tissue massage at the on-site spa! But I think I made up for it on my last night in the Valle when I sat in the hot tub and polished off the majority of an entire bottle of Amarguito J.J. under a full moon. I highly encourage you to follow this method on your stay.