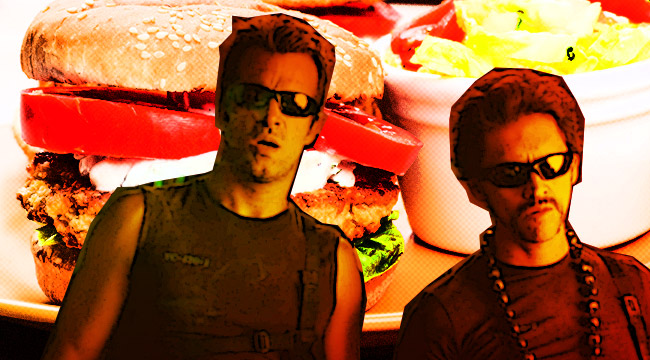 "What do you even eat?"
It's the question that people most often turn to when confronted with a vegetarian or vegan. Without meat, people assume that you subsist on greens foraged from the wild. It's this same thinking that prompts people to make veggos choose the restaurant. "I don't know where you can eat."
Here's a spoiler: do they have food? Yeah? Then I can eat. Vegetarians are problem solvers. We can make a meal out of sides and substitutions before most people pick an entrée. It helps that we only have a few things to choose from, but nonetheless, we are quick on the uptake. As the money making possibilities of including veggie items on restaurant menus has grown more obvious, the fast food options have similarly increased. But, you do have to change a few meal expectations and learn a few things to exploit menus fully.
The following tips should help you eat comfortably at most fast food restaurants.

Educate Yourself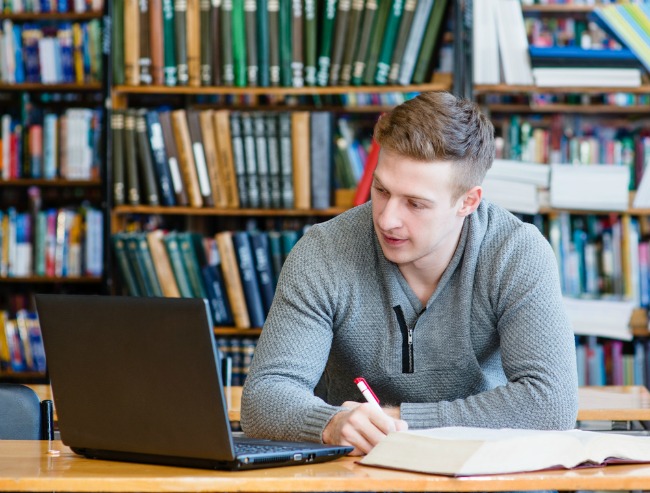 Vegetarians new and old alike have to research everything anyway, otherwise, they end up subsisting on Funnyuns and Mountain Dew like some sort of college-aged kid who's using vegetarianism to cover up troubling eating habits. The process of looking into your food shouldn't be a new concept.
Without research, for example, many people would assume that the French fries and hash browns at McDonalds are vegetarian and they, like the 11 plaintiffs who sued the restaurant in 2002, would be in error. Those potato products are flavored with "natural beef flavor." Not terribly specific, but definitely a no-no for those who abstain from eating meat. Without research, you could be wolfing down beef essence. Do your homework.
Embrace Your Love of Potatoes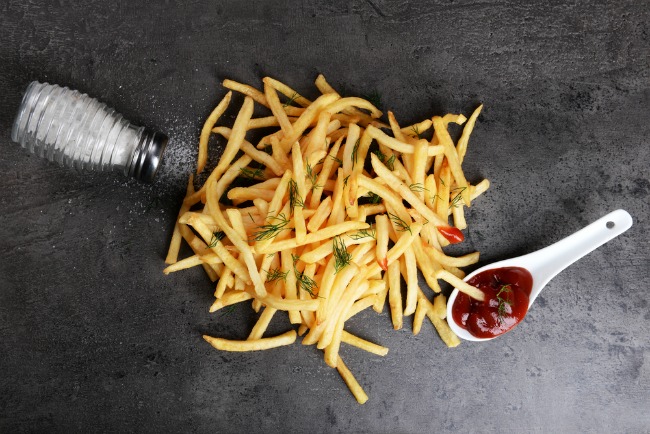 Speaking of potato products, you had better love them, because they will prove a staple of the vegetarian fast food eating experience. At Sonic, you will be seduced by golden brown tater tots covered in gooey melted cheddar. At Chick-fi-A, waffle fries will let loose a siren's call that will leave you beached on the shore of tasty, greasy goodness. Heck, they are even vegan. At In-N-Out, go off menu and order the Animal Style Fries: fresh hand-cut potatoes fried in 100 percent vegetable oil and topped with cheese, grilled onions, and special sauce.
Fries generally don't make for an entire meal, but they are a great jumping off point.

Develop A Taste For Burritos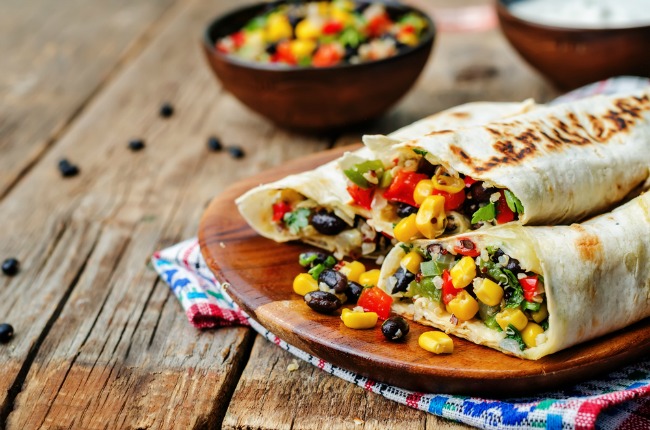 Bean and rice burritos are an easy way to get a protein packed meal, which provides all nine of the amino acids your body can't produce on its own. For added flavor, cheese is a good place to start. El Pollo Loco's BRC Burrito has the basic bean, rice, and cheese combo in full effect. Or, try the Jacked Up Value Bean, Rice, and Cheese offering from Del Taco, which has a lime complement.
Taco Bell is the most veg-friendly fast food restaurant out there. As the first quick service restaurant to offer a certified vegetarian menu, the Bell leads the way in easy, accessible veggie options. No need to search for secret menu items or stick to sides — you can choose from 12 American Vegetarian Association approved menu items, or go off script and sub beans or potatoes (heck, both) for meat on any of the other menu items.
If you haven't ordered using the app or website, you're missing out. It lets you fashion all kinds of substitutions without confusing the employee on the other end of the drive-thru intercom.
Change Your Burger Expectations
Okay, you can actually get a veggie patty at a few fast food restaurants. Burger King, for example, makes a MorningStar Veggie Burger with the standard fixings coupled with a MorningStar Farms Garden Veggie Patty. If you live in the Pacific Northwest, local chain Burgerville offers the Anasazi Bean Burger, which comes in spicy and mild. A lot of local chains offer alternatives, like Gardenburgers. Otherwise, you are pretty much stuck ordering a burger without a patty. At In-N-Out, it's called a Grilled Cheese. At Carl's Junior/Hardee's, it's a Veg It Guacamole Thickburger, basically a burger whose patty has been replaced with guacamole and pepper jack cheese. If you want a straight-up grilled cheese, you can hit Five Guys, where they invert the bun and fill it with melted American cheese; you can add toppings if you want. It isn't super exciting to get a burger without the burger, but if you think of it as a sandwich, it feels more enjoyable.
On the other hand, you could just go and get a sandwich.

Think About Dessert As A Meal
At some fast food restaurants, you're going to end up getting fries, onion rings, jalapeño poppers, or one of their close relatives, and you're going to enjoy them. But, it might not feel like a full meal. Go for broke, calorically speaking, and add a Blizzard, a McFlurry, or whatever the restaurant of your choosing calls soft serve ice cream blended with stuff.
At McDonalds, a McFlurry will be limited to M&Ms or Oreo cookies as throw-ins. But, Dairy Queen's Blizzard options are many and you might even feel stumped while you try to decide between Heath bits and Royal New York Cheesecake. Alternatively, grab a sundae, a milkshake, or pie instead.
Seek Out All-Day Breakfast
When you don't feel like fried sides, veggie burgers, or a burrito, you can always go for breakfast items, as they tend to be more veg-friendly. Keep an eye out for parfaits, oatmeal, pancakes, and hash browns. Consider asking for any cheese, egg, and meat breakfast deal without the meat — be it sandwiched between a biscuit, an English muffin, a croissant, or wrapped in a tortilla.
Of course, you can always simply opt for a side salad, but do you really want to enforce every "rabbit food" vegetarian stereotype? You're better than that.