We've partied our way through Bocas del Toro and spent enough sunburnt summers in Mexico to know there's always someplace new on the horizon in Central America. So… where will you satisfy your tropical wanderlust this year? If you're into vibe-y Central American surf towns, I think I might have your answer. With world-renowned surfing and direct access to a UNESCO protected marine-life mecca, Santa Catalina on the Pacific coast of Panama offers much more than pretty beaches and epic sunsets (though those are pretty great).
Picture this: you start your day with a perfect tube at La Punta or eye contact with the ocean's most majestic sea creatures on a dive trip. Feeling the midday sun overhead, you feast upon a whole-fried fish, pop into the frutería for fresh coconut water, and let hours slip away under the shade of a palm tree. What's that? Time to dance the night away barefoot at a beach party on black sand under the shimmering stars. I'm telling you — Santa Catalina, Panama is rising up the ranks of Central America's off-the-beaten-path destinations for intrepid travelers and digital nomads.
But it's definitely not fully "on the radar" of American travelers by any means. So here's the question: are you down for an adventure?
PART I — THE TOWN
Where Exactly is Santa Catalina, Anyway?
When I say off the beaten path, I do mean off the beaten path [This is a travel section with a mostly American and Western European audience — a phrase like "off the beaten path" always comes with an implied "for American and Western European travelers" -ed]. It'll take you five and a half hours by car from Panama City to reach the striking coastline of Santa Catalina in Veraguas, Panama. If you're traveling by bus, an easy seven.
But trust me, it's beyond worth it.
For reference, another one of Panama's popular surf towns, Playa Venao, is about five hours southeast of Santa Catalina. From the aforementioned Bocas del Toro? You're a hefty eight hours northwest by car or shuttle. But we all know that the best travel stories come from plot-thickening escapades (obviously), so find yourself off-grid and in-flow as you discover Panama's best-kept secret.
So… How Rural Are We Talking?
Santa Catalina is right in the sweet spot of rural living and modern-day comfort. After living in other Central American surf towns, Santa Catalina's amenities are a breath of fresh air to me (and if I'm being honest, a sigh of relief, too). The main road is paved and the town has fiber-optic internet, streetlights, police presence, an ambulance, mini markets, public transportation, and even spring water delivered from the mountains of Boquete (this water is so pure).
Perhaps the most surprising feature is an ATM, an absolute luxury in small-town Central America!
Laidback Vibes
Don't worry, Santa Catalina hasn't lost its "small Central American village" energy. Kittens play with chickens on the village road while local fishermen return home hauling the day's catch over their shoulders. Bougainvillea and hibiscus grow uncontrollably along fence lines and horses roam free, acting as the town's main method of lawn care. On weekends, the town church comes alive with worshippers who turn the pews into a dance party. The international travelers who come to play are met with warm, Panamanian hospitality.
PART II — WHAT TO DO
A (Newbie) Surfer's Paradise
View this post on Instagram
Surfers may already know of Santa Catalina — the town hosted the top surfers of the Americas to compete in the 2023 Pan American Surfing Games. But don't worry, you don't need to be a pro to catch a ride on some of the best waves in Central America. Santa Catalina has a spot for every surfer (or wanna-be surfer).
Kooks (I mean beginners!) like me can gain confidence on the board at Playa Estero, Santa Catalina's lengthy black sand beach (Estero is also your spot to meet and party with pretty people so… you might just want to hang there for awhile). Then there's Playa Santa Catalina, the town's main beach, where just about anyone can manage to catch a wave when there's a decent-sized swell. And since you're right in the heart of town, this is a good beach to show off your skills.
La Punta — For the pros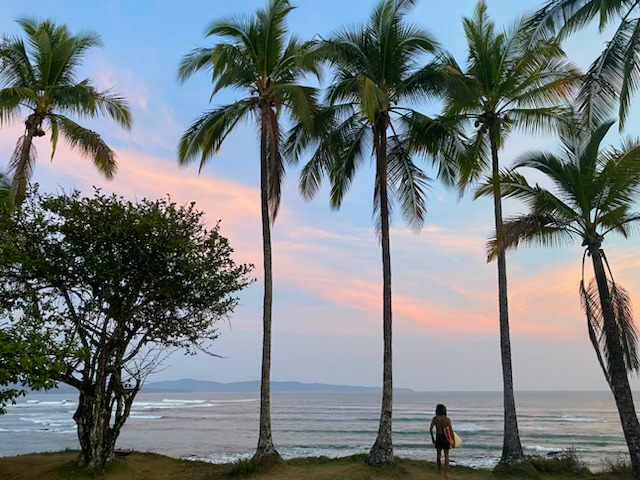 The pièce de résistance of surf spots in Santa Catalina is La Punta. This lava rock point break is where the really good surfers come to hone their craft (and get totally pitted, bro). Seriously though, La Punta is not for the faint of heart. Not to mention the paddle out is a doozy! But this is the wave that makes Santa Catalina a world-famous surf destination! Punta Brava is another expert-only break, accessed by boat or by Playa Estero at low tide.
There are a number of hidden surf spots that you'll hear of if you're in town long enough… but those are top secret. Something that makes Santa Catalina different from other surf destinations in Central America is the vibes in the water. There's not a lot of heavy localism or sense of competition (for the most part), everyone is just happy to be in the lineup. But for that to remain, guests have to be respectful and also know their limits.
Epic Aquatic Adventures in Coiba National Park
On your trip to Santa Catalina, you can expect to do some of the best scuba diving, snorkeling, and fishing you'll find the world over! Just over 30 miles by boat from Santa Catalina begins the UNESCO World Heritage Site, Coiba National Park — "the Galapagos of Central America".
Included in the Coiba National Park is Coiba Island, the "Panamanian pearl of the Pacific," prominent fishing spot Hannibal Bank, and 38 small islands in the "Special Zone of Marine Protection." Since Santa Catalina is the nearest mainland access point to Coiba National Park, eco-tourism is growing… and quickly.
Isla Coiba: An Unspoilt Refuge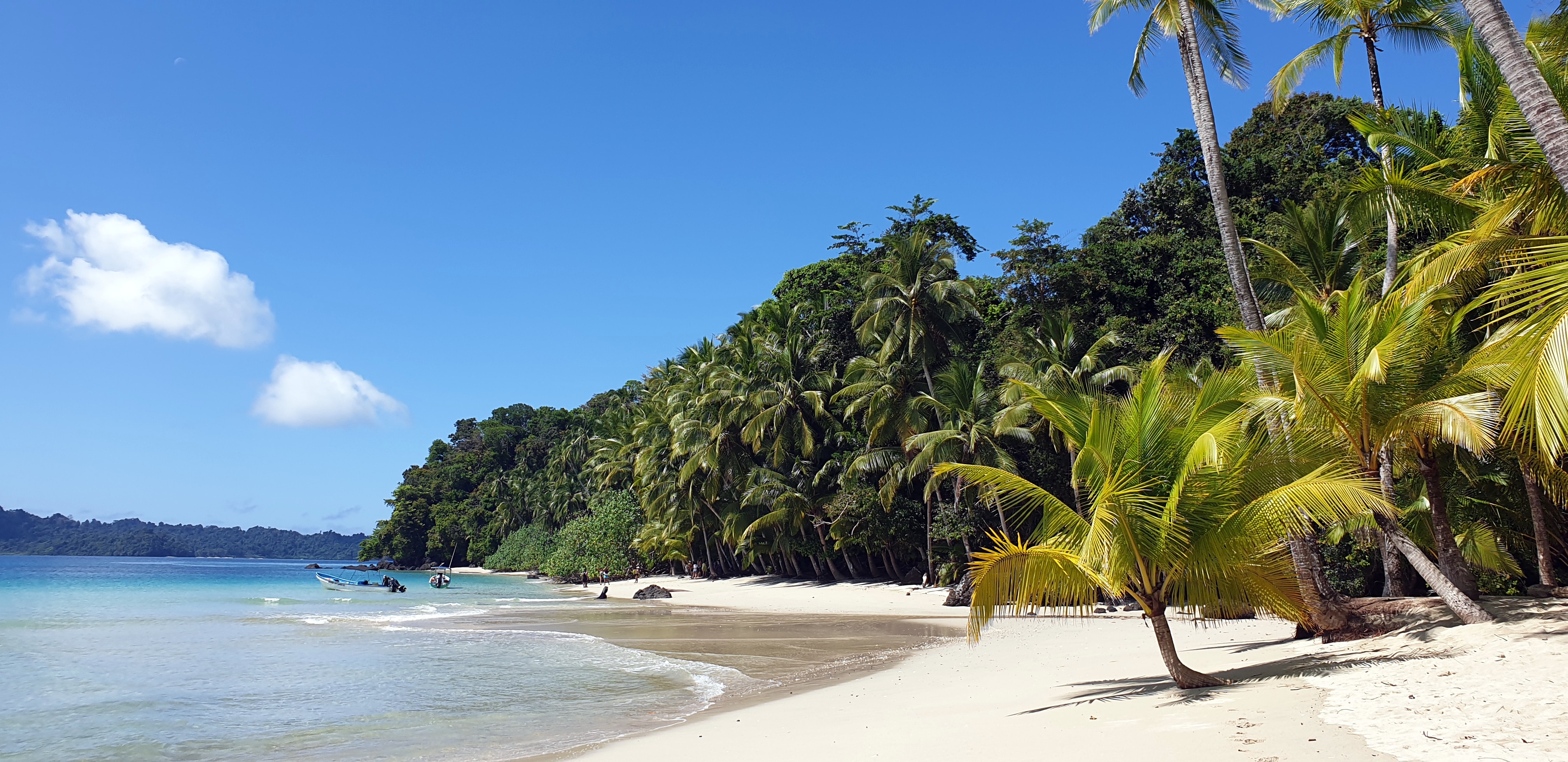 Coiba Island is the single largest island off the Pacific Coast of Central America!
Species on the verge of extinction, like the Scarlet Macaw, and tons of endemic species (animals only found on the island) live largely out of reach from humans in Coiba's impenetrably lush jungle. Want to know something crazy? For the better part of 85 years (until 2004), Coiba Island was a high-security penal colony for Panama's most atrocious criminals. Pretty strand of sand right? But there's no doubt the island's past helped it to become the thriving ecosystem it is.
Scuba Dive with Whale Sharks and Other Ocean Giants
View this post on Instagram
One of the first things you'll notice while walking around the little village of Santa Catalina is the sheer number of PADI-certified dive shops. It's almost like this is an internationally-recognized mecca for scuba diving! (Wink.) It's not uncommon to dive with humpbacks (July – November), whale sharks (December – April), hammerhead sharks (June – July), and manta rays (May – November) in Coiba National Park.
You'll likely encounter nurse sharks, dolphins, and turtles year-round!
The Best Snorkeling of Your Life
View this post on Instagram
Okay, so you don't have your scuba certification and you don't want to get one. There's a huge variety of marine life you'll see on your snorkel trip to Coiba. Just about as much as you'd see diving! Though guarantees are hard, given the unpredictability of the ocean, Santa Catalina is a bucket-list destination for ocean lovers for a reason! Point being: get in the sea, however you feel most comfortable.
Panama's Jurassic Park
View this post on Instagram
Known worldwide by big-game fishermen is Hannibal Bank, coined "Panama's Jurassic Park." In this part of Coiba National Park resides monstrously huge fish that would be a prize catch for any fishing aficionado (a-fish-ionado, if you will). Upwelling of deep, nutrient-dense water means plentiful fish, which in turn means bigger fish.
Massive yellowfin tuna, black marlin, and hefty dorado come to Hannibal Bank for hunting, and thus become part of a larger hunt — sportfishing!
Learn to Freedive
Freediving is kind of the next coolest thing in the world of water sports. Or maybe that's foiling, but either way. My life forever changed when I learned freediving in Nicaragua, so if you're also into mindfulness and meditation, you should definitely consider a freediving course while in Santa Catalina. You'll learn theory, like how humans withstand over 10 minutes without breathing, and practice, where you'll do the Frenzel Technique.
Unlike scuba and snorkeling, freediving is less about what you see in the water and more about how you feel in it. It's no doubt a mental and spiritual workout. Book a freediving course to see for yourself!
Kayak or SUP to a Deserted Island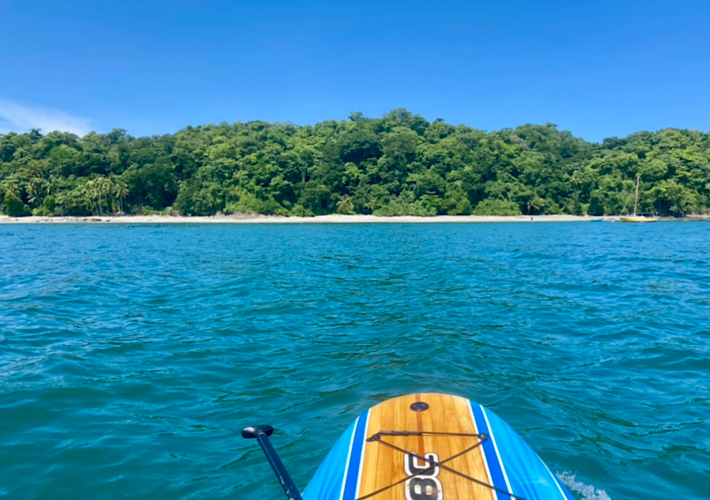 From just about anywhere on the shores of Santa Catalina you'll see a white sand, palm tree-enveloped island seemingly a stone's throw away. Welcome to Isla Santa Catalina. Sometimes I have to remind myself I'm not in the Caribbean. You'll want to spend some time bathing in Isla Santa Catalina's crystal-clear water, taking tons of aesthetically inclined IG photos, snorkeling, and getting rid of those pesky tan lines (if you catch my drift)… AKA kayak here and forget about the world for a while.
To get to the island, rent a kayak or SUP board at Rolo Hostal or have a little boat (una lancha) to take you over to "La Islita." Just learn from my mistake and pack snacks and drinks. I promise you'll end up spending all day on this deserted island, so there's no need to do it Castaway style.
Note: Please don't bring anything you can't take with you on your way out. Leave no trace! And don't try to swim to the island. It's dangerous and very embarrassing to get rescued.
Island Hop
There are plenty of other amazing islands to explore off the coast of Santa Catalina, so hire a boat and spend the day island-hopping around Isla Cebaco, Isla Gobernadora, and Isla Tintorera. These coastline views and white sand islands are dreamy AF. Though there are tons of boat tour agencies in the village, I like to book trips renegade style. Meet a captain down on Playa Santa Catalina and ask them to take you to the best islands. You'll have to do that in Spanish, though, or be cool with paying the tripled gringo price! It's only fair.
Again, don't forget your snacks and Balboas (beer), and leave no trace!
PART III — WHAT TO EAT
Santa Catalina has a surprisingly large amount of restaurants for being such a small village, so I'll share with you my go-to's.
SNACK: Frutería
First up is the frutería at the very entrance of town. This is the closest you can get to farm-to-table. Not in a pretentious way, but in the literally-right-from-the-farm-to-your-table kind of way. Pick up a bag of tropical goodness (see: passion fruit, rambutan, pineapple, and papaya) for the cost of your Starbucks order. Just bring small bills so el jefe (the boss and sweet old man who runs the place) doesn't have to chase down change.
BREAKFAST: Caricaco & Café Panachocolat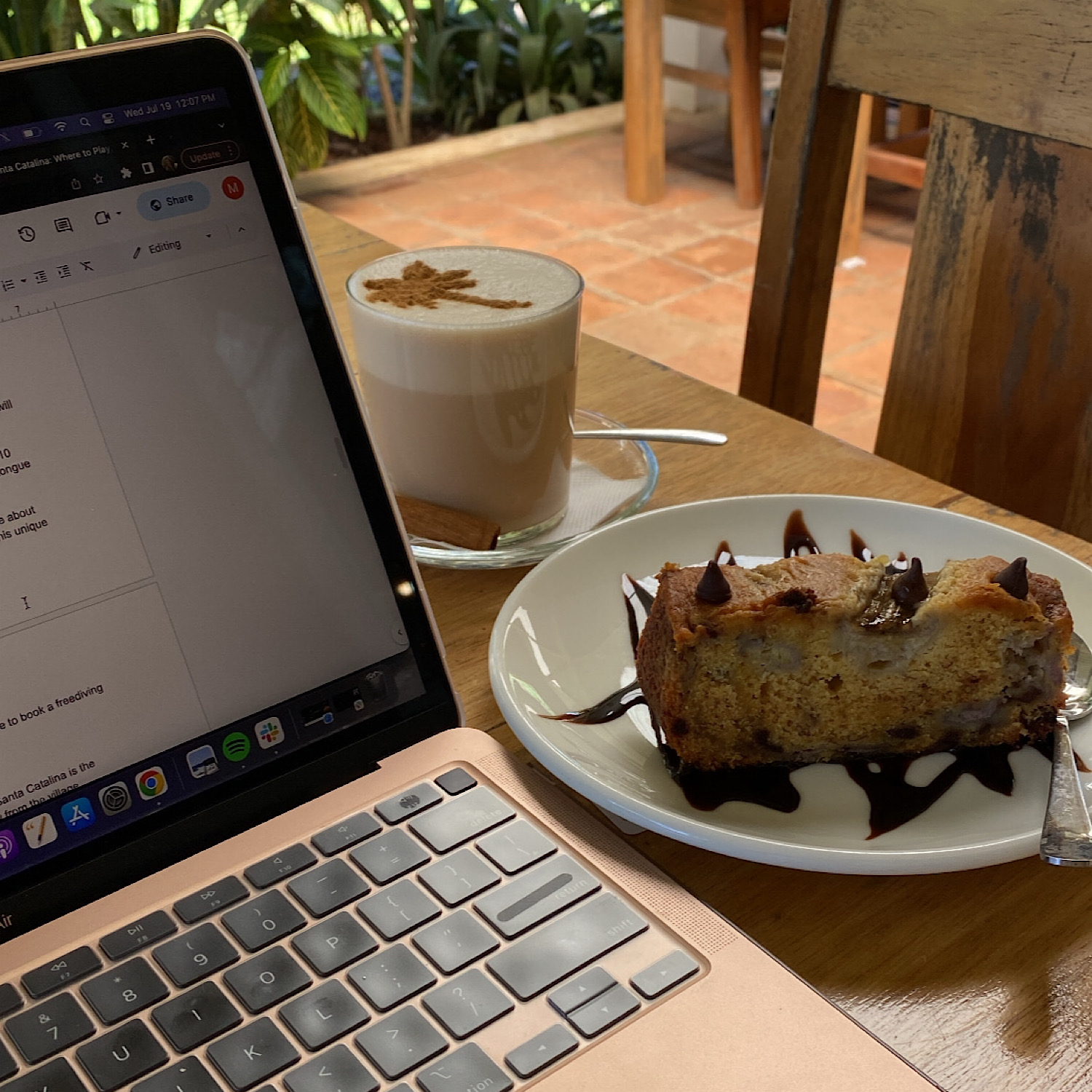 If you crave a rich breakfast, it's Belgian waffles with honey and bacon from Caricaco on the corner. Also, they have smoothies, the most legit coffee in town, and a whole treasure trove of fresh-baked goods. Right across from Caricaco is Café Panachocolat, this is the meeting place for gringos, so if you don't speak Spanish, head here. And if you're feeling something sweet, their banana bread is absolutely scrumptious when paired with their chai tea latte (which comes with a cinnamon palm tree on top!). So cute.
Both places have solid wifi perfect for your digital nomad needs.
LUNCH: Caricaco & Fonda La Arena
If you loved Caricaco like I do, head back for lunch. Since the owner is part Panamanian-part Lebanese, the menu offers a worldly fusion. I'm completely obsessed with the Lebanese plate and the salmon bowl, but the burgers are also fabulous and everything is plated beautifully.
The best local spot?
Fonda la Arena is my top pick, hands down! This little family-run restaurant has some of the freshest and cleanest seafood in town. The service is great, and they have a cute little patio for you to people-watch from. You can't go wrong with a filet of catch of the day (usually corvina) or the shrimp plate (salsa roja, por favor!). Rice with lentils is the traditional Panamanian side, but I highly recommend the boiled yucca, it tastes like pure butter.
PIZZA: Pizzeria Jammin' & Sugar Mama's Cafe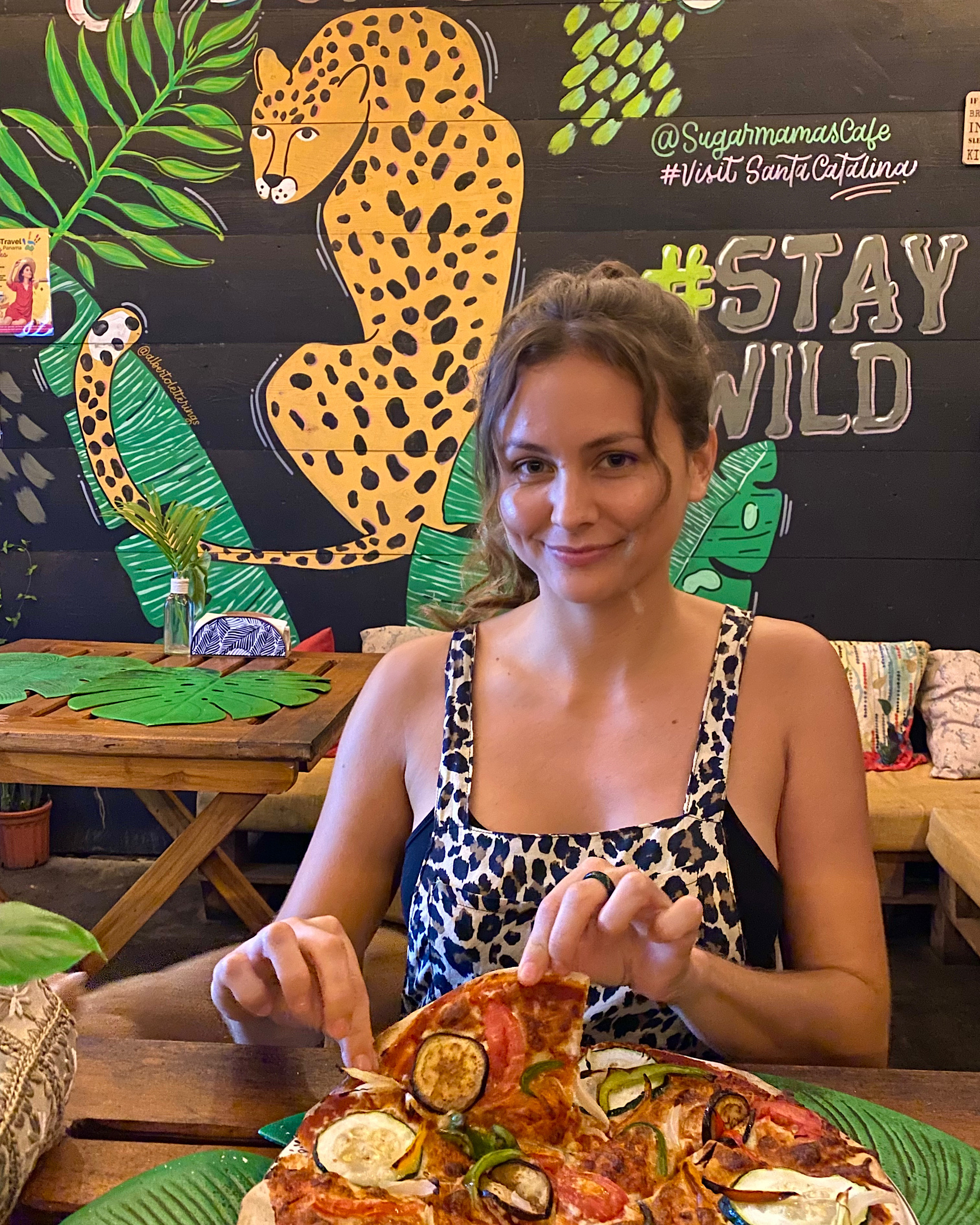 Everyone's favorite pizza spot is Pizzeria Jammin'. My Italian boyfriend confirms the pizza is good, and I agree, but I'd say the social scene here is the real draw. Pizzeria Jammin' is one of the oldest restaurants in town and is kind of the place to see and be seen on a Friday night. Order up a whole pie (my fav is the veggie) with a glass of red wine, and you've got yourself a nice start to your Friday night.
Personally, I'm a thin-crust girl who doesn't like an overly-oily pizza, so my preferred pie is the veggie pizza from Sugar Mama's Cafe with slices of fresh zucchini and eggplant.
PART IV: WHERE TO PARTY
Since it takes some dedicated travel to reach this part of Panama, the type of people you'll meet in Santa Catalina are rad and down to earth, as are the locals. The party scene here is less about getting fucked up and more about swapping stories, connecting over a shared love of nature, and just having a good ol' time.
Hands down the best spot to mingle is at Oasis Surf Camp and beach bar on Playa Estero. Attend one of their dreamy electronic music parties under the palms and enjoy a sublime Panamanian sunset with Caipirinha in hand (yes, it's made with cachaça, not vodka). There's also Vista Linda across the river from Oasis (don't worry, it's mostly passable). On the weekends you can catch a bouncy DJ orchestrating a chill, post-surf gathering on their big wooden deck. Let loose. And if you're into local parties, which, I'll admit are sometimes a f*cking vibe, head to Elisa Cantina in the village.
Just be prepared for ringing in your ears when you're laying in bed later. The music is bumpin'.
Recently, Genre Music Festival brought in a slew of musicians, DJs, and live artists for their debut event in Santa Catalina. I was out of town, but heard it was a great time. Word is there was also a fire after-party at Catalina Hideaway's beachfront hotel. If you're really keen on the festivities, you'll be pleased to hear that Santa Catalina's nightlife is about to get more rowdy with the Selina Hostel slated to open by December 2023.
PART V — WHERE TO SLEEP
Santa Catalina has lodging for every kind of traveler. Except maybe for those that are looking to live in the lap of luxury — this is a village! There's a chance you'll wake up to roosters and fall asleep to the blasting of reggaeton (usually only on Sundays).
With beachfront rooms, a cute beach bar, and all the surfboard rentals your heart desires, it's no surprise that Hotel Oasis & Surf Camp on Playa Estero is one of the top lodging options in town at $62 a night. Definitely book one of the new glass-front cabins!
For mellow digital nomads and surfers who want to be close to La Punta, I highly recommend Cabañas Sherlley ($80 a night). The Caribbean flair to this multicolor hotel is energizing, and long-term stays are super reasonably priced considering each room has AC, its own kitchenette, and private bathroom. Say hi to Flor the cat for me!
Also close to La Punta is the Hotel Santa Catalina (away from the roosters and reggaeton). If you're looking for the nicest hotel in town, this is probably it. Rooms start at $105 a night, and if you're looking for the most scenic oceanfront pool for reading (or Instagram thirst traps), Hotel Santa Catalina has you covered. You can even watch surfers at La Punta while being served food and drinks from the restaurant right above.
I love their margarita on a hot day!
But I'd be remiss not to mention NATIVO Boutique Hotel in the lineup at $65 a night. You'll love their food and the pool has an insane view of La Islita out front. They also have an incredible (and not overly-sugary) caipirinha, which is half off during daily happy hour.