Japan is one of those far-flung international destinations (when traveling from the United States) that everyone you meet seemingly longs to visit. I certainly pined to go — seeing as how I'm obsessed with sushi and have bookmarked endless Instagram posts featuring the country's trendy shops and museums over the years. Plus, I love spa culture and my desire to visit an onsen was very high.
I'm thrilled to report that this spring my Japan trip finally came to fruition and I was so so right to have it on my travel bucket list. Tokyo, in particular, was a highlight — and has boomed since re-opening post-pandemic in October of 2022. That's probably why the Kardashian and D'Amelio families were there at the same time I was.
While there are so many restaurants (both famous and hole-in-the-walls), markets, neighborhoods, and things to see while visiting Tokyo, I've put together my guide — coming from a first-time visitor and American-based traveler — so that you don't have to figure it all out yourself. Read on for my top recommendations!
PART I — WHERE TO PLAY
View this post on Instagram
Even if you're not a "museum" person like me, a trip to teamLab Planets in Tokyo is an experience like no other. It's an interactive art facility that utilizes digital technology. Expect to walk into different themed rooms like the "Infinite Crystal Universe" and "Expanding Three-dimensional Existence in Transforming Space."
Each installation surprises your senses in fun and creative ways, plus they make for the perfect photo opp. My one tip: purchase your ticket (around $25) for a time slot as early as possible to beat the crowds. Why visit in 2023? New installations launched this year, including my favorite, called the "Floating Flower Garden" — made up of 13,000 live orchids that float above people when they approach.
Akihabara Electric Town
View this post on Instagram
When you think of the futuristic aspects of Tokyo that you see in the movies, this neighborhood is it. Akihabara, also known as "Electric Town," is a bustling hub in central Tokyo filled with electronics shops, with everything from tiny street stalls to huge department stores like Yodobashi Multimedia Akiba. What's cool is you can also find stores that specialize in anime and video games (like old-school gameboys) including Super Potato, known for its collection of retro games.
Sensō-ji Temple
Asakusa, not too far from Akihabara, is one of Tokyo's old downtown areas with its oldest Buddhist temple, the Sensō-ji Temple. Its history dates back 1,400 years and is dedicated to the Buddhist goddess of mercy and compassion and is now one of Tokyo's most popular temples. While there, don't miss out on passing through the Nakamise-dori street filled with shops, viewing the five-story pagoda, and taking a photo in front of the Kaminarimon Gate.
Golden Gai
Here's where the nightlife comes in. Golden Gai in the Shinjuku neighborhood is an area that's known for its super tiny little bars. It's a must-visit for partiers because this is where the true essence of Tokyo's party culture comes alive. Most of the bars sit no more than six people, maybe less, and you can grab drinks and meat skewers while socializing with both locals and travelers.
We wandered through Piss Alley, a famous izakaya street, and sat at a few spots — each with something fun and unique to offer.
PART II — WHERE TO EAT
Tsukiji Fish Market
View this post on Instagram
Fellow food lovers pay attention to this one. The moment I stepped into the Tsukiji Fish Market, I thought I had died and gone to heaven. There's a huge variety of foods to try for an affordable price but bring cash! Some of my favorites that I sampled were the grilled eel (unagi), sea urchin, fatty tuna bowl, strawberry mochi, and wagyu beef.
I ended up coming here three times during my five days in Tokyo, which is likely more than the typical visitor. I have zero regrets.
Ichiran Ramen
View this post on Instagram
Ichiran Ramen is one of Japan's most famous Tonkotsu (pork-based broth) ramen restaurants. It's the go-to spot for a solo ramen dining experience and is perfect for introverts, as each diner gets their own booth and orders via a machine. Once your food is ready, the server slides open the booth, hands over your ramen, and leaves you to feast on your own.
The ramen can be personalized to your liking (with options to top it off with a soft-boiled egg and scallions, for example), or you can choose from a pre-made menu.
Uogashi Nihon-Ichi (Standing Sushi Bar)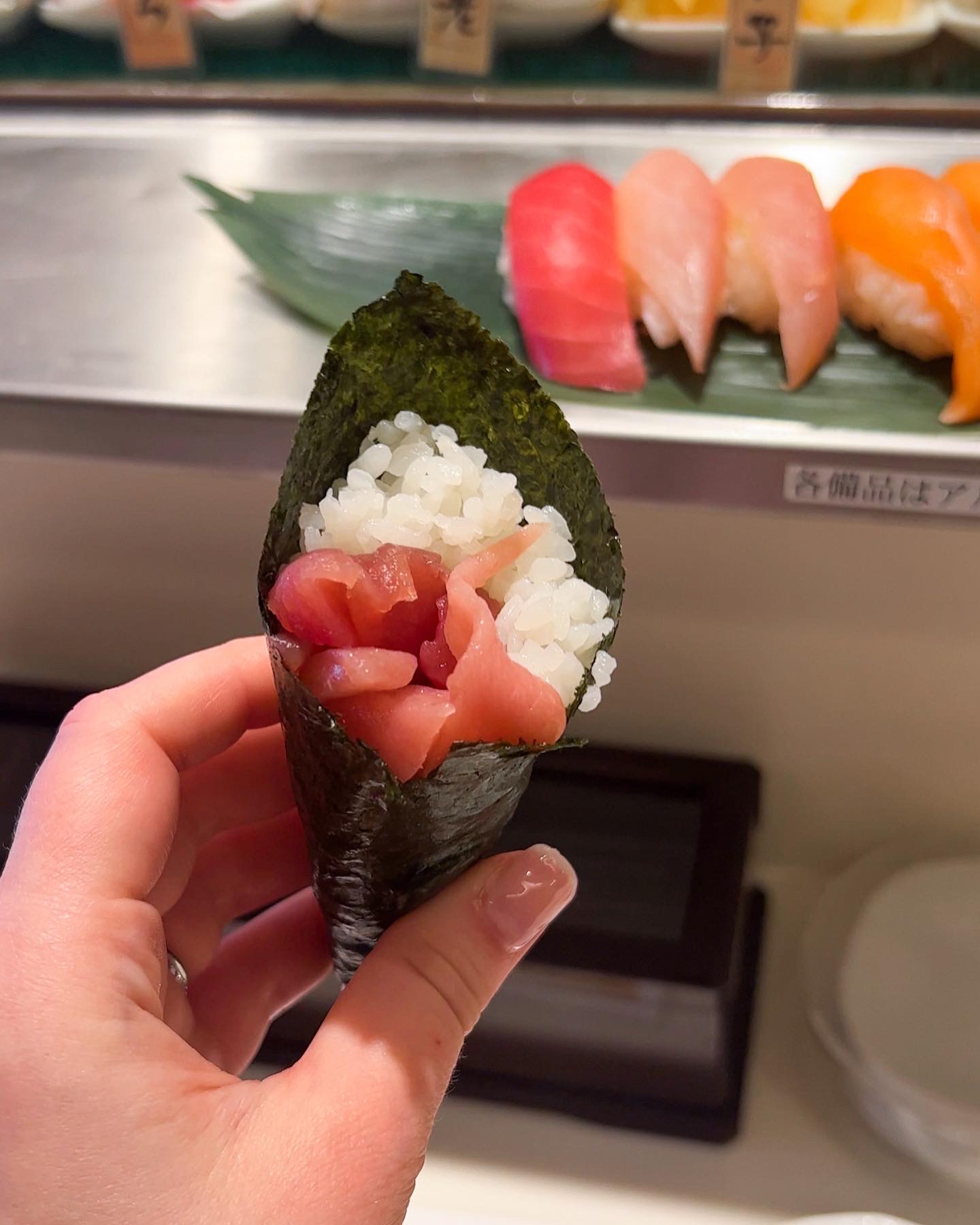 When you're in Tokyo, it's a must to eat at a local sushi spot with friendly chefs. Uogashi Nihon-Ichi is a standing sushi bar that offers cheap and fresh sushi, prepared right in front of you. It's a more on-the-go establishment filled with locals grabbing lunch during a busy work day. There are several locations around the city too, so you can try this sushi concept in just about any neighborhood you find yourself in.
Lawson
Lawson, the popular convenience store in Japan, is the equivalent of an American's 7/11 but… hear me out. The egg salad sandwich was one of the best things I tried while in Tokyo. It can be found pre-packaged in the refrigerated section, alongside onigiri rice balls, bento boxes, and sushi hand rolls. It's so fluffy because it's made with a special milk bread and seasoned with beloved Japanese mayonnaise Kewpie.
PART III — WHERE TO SLEEP
If you're looking for budget-friendly, convenient, and more trendy accommodation, OMO3 Tokyo Akasaka by Hoshino Resorts is your spot. The best part of staying here is that you're equipped with an "OMO Ranger" who takes you on tours (for only $5-$10) throughout the Akasaka neighborhood. For example, I went on the "Amazing Akasaka Walk" which concluded with a visit to Kakureya where the owner, a former geisha, served us her homemade welcome drinks and snacks.
For a pick-me-up, there's a coffee shop that connects directly to the property, The Ueshima Coffee Shop, which provides a relaxing place to take a breather, away from the hustle of the city.
Nightly rates start as low as $27.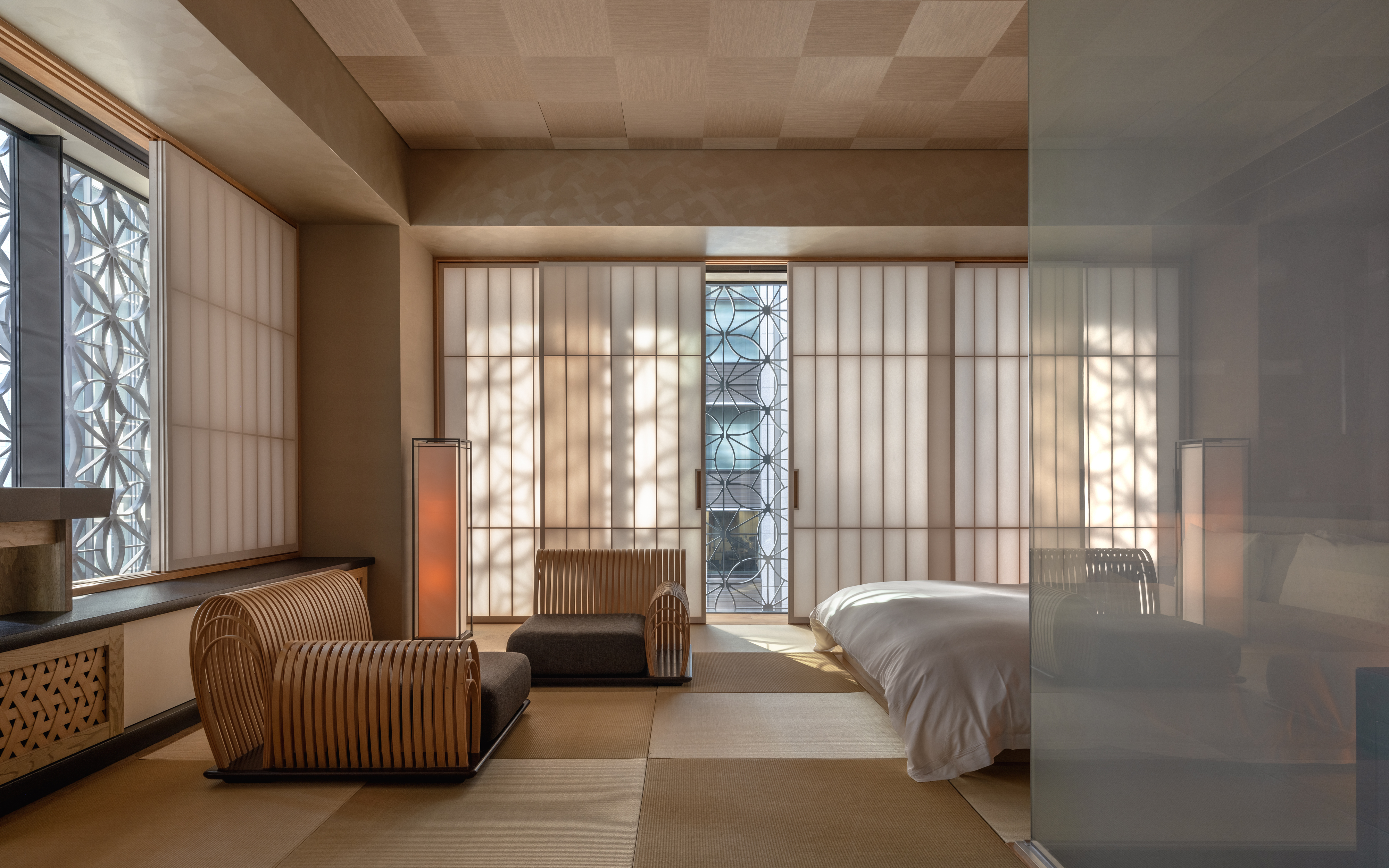 To experience truly authentic Japanese hospitality, HOSHINOYA Tokyo brings complete zen to the city center. It's a traditional ryokan with an on-site natural onsen that's fed directly by hot springs nearly 5,000 feet below the hotel. As much as I enjoyed exploring the city, you had to rip me out of the hotel because I've never felt so at ease. Everything about the property — its architecture, aesthetics, amenities, services, and food — is unmistakably Japanese.
Guests can also participate in traditional tea ceremonies or a sunrise rooftop kenjutsu practice. Amenities include 24/7 room service, coffee and tea in the common areas, concierge services, the hot spring spa, flat-screen TVs, and more. Plan to take part in the seasonal programs here like mushroom foraging and eating in the fall or enjoying a bath scented with yuzu citrus in the winter.
View this post on Instagram
Stepping into the Imperial Hotel feels as if you're stepping into an actual royal palace. It's over-the-top in the best way imaginable and fit for any type of traveler. The property opened back in 1890 with a rich history behind it and is centrally located just south of the Imperial Palace grounds. Rooms are situated in the main building or in the gleaming tower, and many look across 40-acre Hibiya Park, the Palace and Ginza neighborhood. There are several on-site restaurants to choose from ranging from French, Chinese, and American to kaiseki and sushi. The design is more traditional, incorporating parts of Frank Lloyd Wright's 1923 designs.
I enjoyed waking up in the heart of the city with easy access to all the best sights. My tips: take advantage of the delicious breakfast buffet and don't forget to grab drinks at the Bar Old Imperial Bar.
Rates for rooms here start at around $260.
WHY VISIT TOKYO IN THE FALL OF 2023?
Hoshino Resorts is offering guests free travel medical insurance through the rest of 2023.
New hotels are opening this fall, including Janu Tokyo and TRUNK(HOTEL) YOYOGI Park.
In October, over four million cosmos will bloom at Showa Kinen Park in Tokyo, making a 200,000 square feet blanket of color. The Cosmos Festival takes place from September through October with flower-picking events, workshops, and photo spots scattered around the park for the perfect Instagram moment.
From Hokkaido in the north to Kyushu in the south, you can taste ramen from all over Japan at Tokyo Ramen Festa 2023 — Oct. 26 to Nov. 5. This food festival is the largest outdoor ramen event in the country, with ramen-themed programs, magazines, and specialty shops.