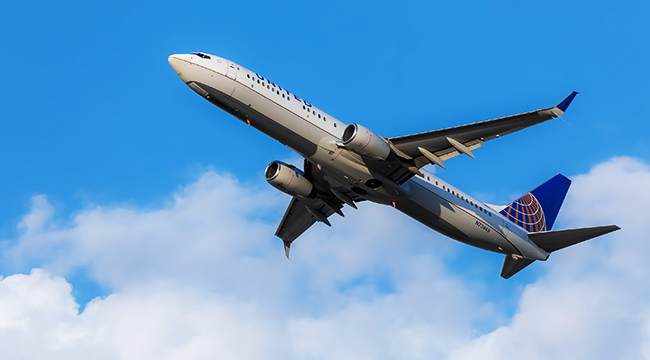 Summer vacations are on the horizon for a lot of people around the world. That means prices are, generally, about to peak. The whole travel industry knows we're all aching to get away and they're ready for you to pay a premium to do just that.
Don't worry if you haven't already booked a killer summer vacay. There are still a lot of options out there for you to score a great deal on travel, flights, hotels, and more. We always have your back around these parts when it comes to booking a great trip at a low price.
We've compiled some of the best deals right now below. These are the cheapest flights, sweetest hotel rates, and steepest travel package discounts online this week.
TOP DEAL OF THE WEEK:
WIN A FREE SIX-DAY/FIVE-NIGHT SANDALS STAY

Every Friday this summer Sandals is giving away a six-day stay for two at one of their Caribbean, all-inclusive resorts. Sandals is renowned for their great bar scene, top-notch dining options, and some of the most idyllic spots around the whole Caribbean. This is luxury living and you can have it for free.
To enter, you need to fill out a simple form on the Sandals' webpage and be at least 18-years-old. You have until September 20th for a chance to win that dream vacation.
BEST FLIGHTS OF THE WEEK:
FLIGHTS TO EUROPE FOR $159 EACH WAY WITH NORWEGIAN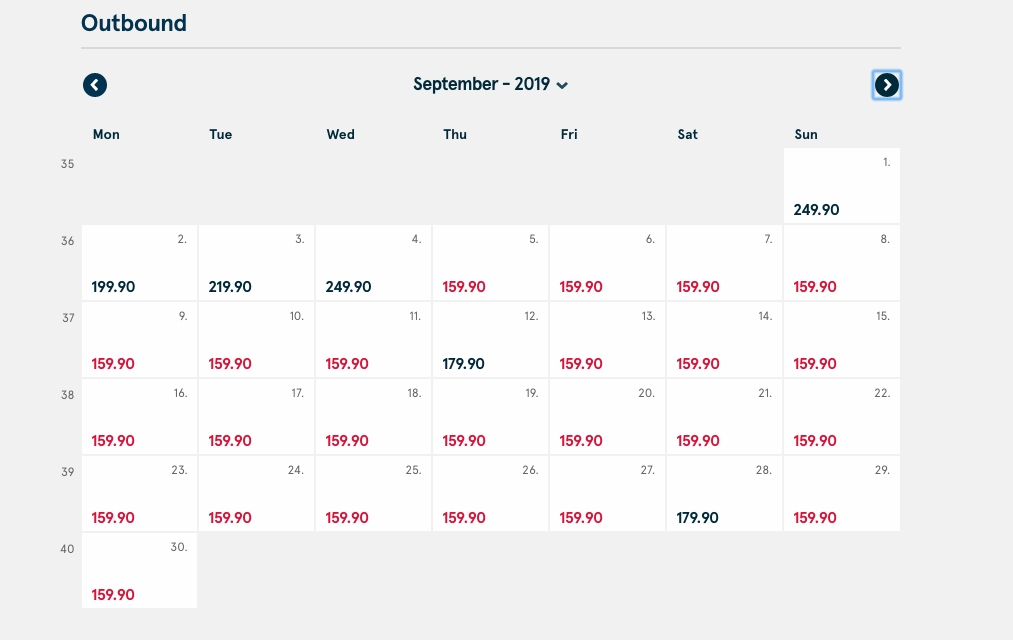 Flights to Europe have never been cheaper. That's not hyperbole. That's just fact. Right now, you can score one-way flights from the U.S. to spots all over Europe for summer, fall, and winter travel for as little as $159 on Norwegian.
Quick disclaimer: That price represents a budget airline. So, meals, seat reservations, and checked bags will cost you $50 to $100 more per leg of your journey. Still, with Norwegian you're allowed a small and large carry-on. So, if you pack wisely and bring on a snack, you can really take advantage of that low-cost ticket.
FLIGHTS TO ASIA FOR $166 EACH WAY WITH AIRASIA
Heading across the Pacific instead of the Atlantic is also cheaper than ever. AirAsia is offering one-way tickets from Honolulu to Osaka, Japan for $166 each way. Again, that's a base price. So, pack wisely, bring your own meal, and save some real cash on that dream trip to the Far East.
$295 ROUNDTRIP FLIGHTS TO BARCELONA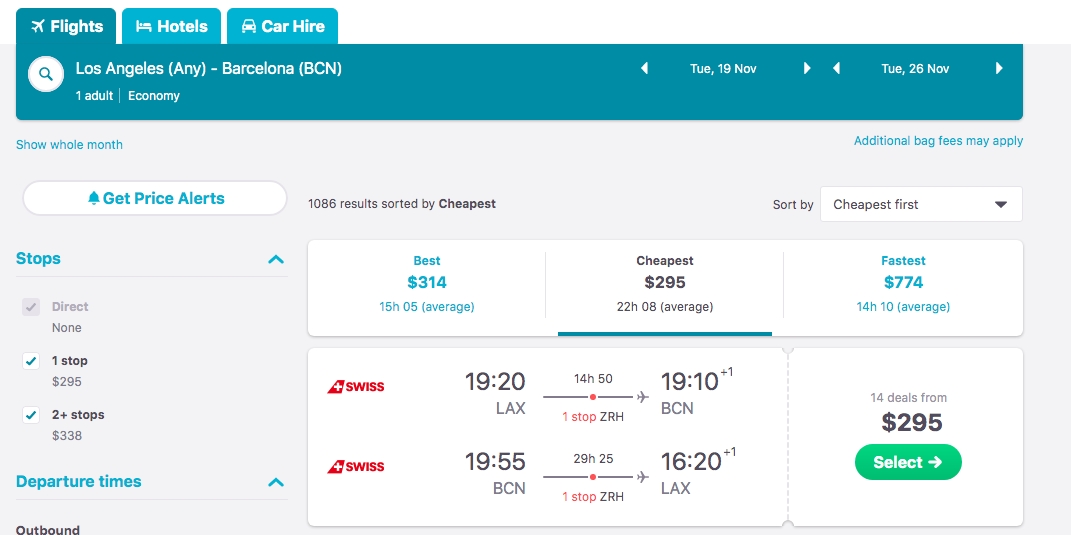 It's always wise to plan ahead if you want to save real cash on flights. Case in point, flights to places like Barcelona are running less than $300 roundtrip for late fall travel this year. That's a ticket on a major airline as well. Translation: free meals, free booze, and free checked bags.
You can't beat that price, even on a budget carrier.
BEST TRAVEL PACKAGES OF THE WEEK:
BUY ONE GET ONE FREE WITH AMTRAK
Is there anything better than "buy one get one free" in the travel world? It basically means you can take your loved one or bestie on a trip to somewhere cool for freaking free.
Right now, Amtrak is offering a great buy one get one free sale on tickets all over the Northeast and Mid-Atlantic. If you can book before August 30th, you'll be able to save cash on regional train tickets and score that coveted free companion fare. Three-day advanced booking is required.
SAVE 15% OFF SUMMER TRIPS TO EUROPE PLUS $300 OFF FLIGHTS WITH TRAFALGAR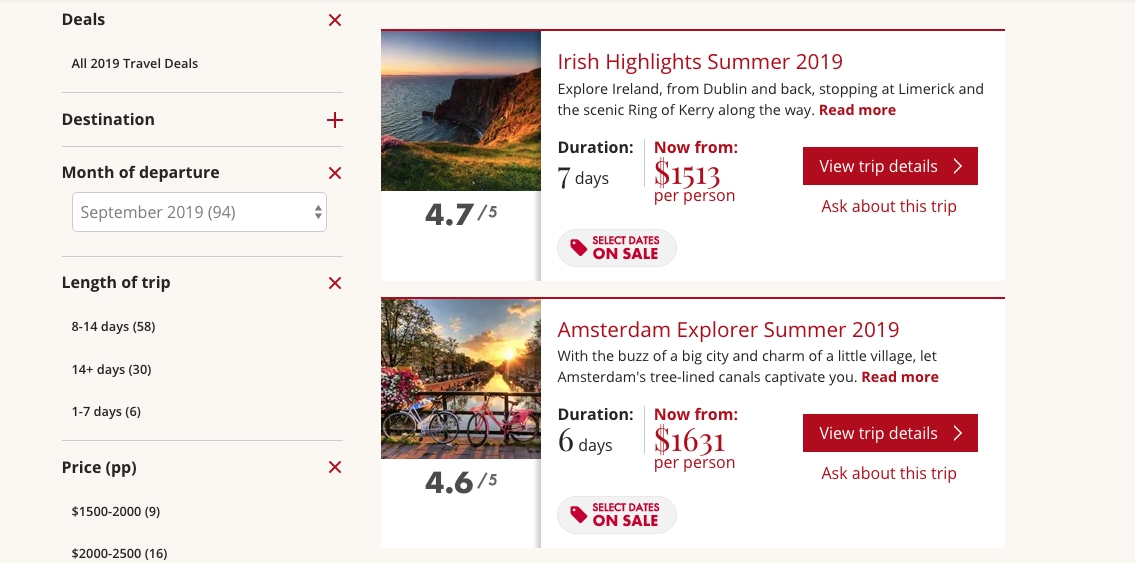 Trafalgar is the premier travel company for anyone looking to have a hassle-free vacation where you can still take deep dives into the local culture at your own pace. Currently, the company is offering 15 percent discounts on trips all over Europe along with a $300 discount off your flights. That's a great deal for anyone looking to get away this summer and save some serious cash.
BOOK AN INSIDER'S TOUR IN EUROPE WITH CITY WONDERS
Speaking of hitting up Europe this summer, City Wonders is offering some of the absolute best tours in Europe's major cities. These are the sort of tours that allow you to skip hours-long lines while also taking advantage of highly-skilled (and often high-level expert) tour guides. That means you'll be led through Italy's wine country by certified sommeliers or through the Louvre by actual artists.
If you're in Europe this summer, City Wonders is the play for expert and insider looks at some of the continent's most iconic stops.
BEST HOTEL DEALS OF THE WEEK:
SAVE UP TO 30% ON PREFERRED HOTELS THIS SUMMER
Preferred Hotels & Resorts run some of the most luxe and accessible properties around the world. The great thing about the hotel group is that you can go big with a crazy luxury experience or go small with a budget-minded hotel that still feels plush.
Right now, they're offering 30-percent discounts on any stay of three nights or more. You can take advantage of this deal until the end of the year on bookings through March of 2020. Room rates start at $36 per night.
SAVE UP TO 30% ON HOTELS WITH HILTON THIS SUMMER
Hilton is offering a steep 30-percent discount off hotels all over the world, basically. You can score the discount on hotels in Europe, the Middle East, Africa, and Asia. That's literally thousands of hotels at every price point, one-third off. You can't beat it and if you can, tell us!
SAVE UP TO 20% ON IHG HOTELS WORLDWIDE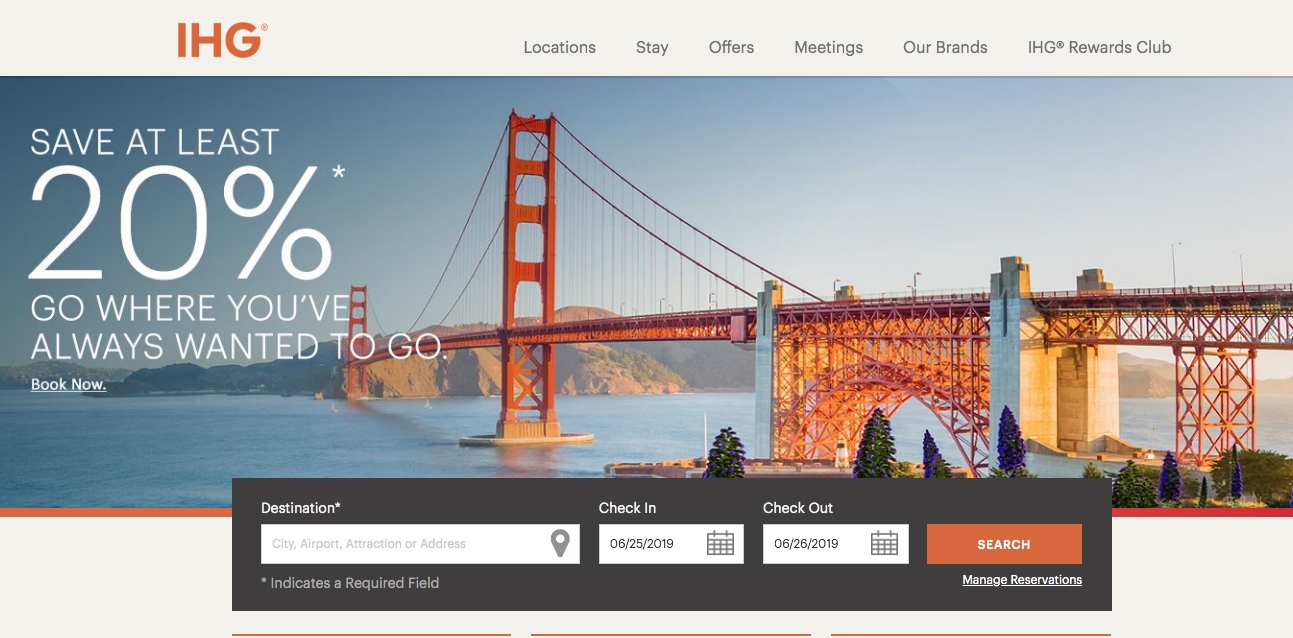 The world's other huge hotel group, IHG, is offering up to 20 percent off their properties pretty much worldwide this summer. That's 20 percent off stays in a wide range of properties from simple business hotels to luxury resorts on mountaintops or dreamy beaches. Again, this is a great way to save some extra cash on travel.
BEST WILD SPLURGE OF THE WEEK:
GET A FREE NIGHT ON A LUXURY SAFARI WITH VIRGIN LIMITED EDITION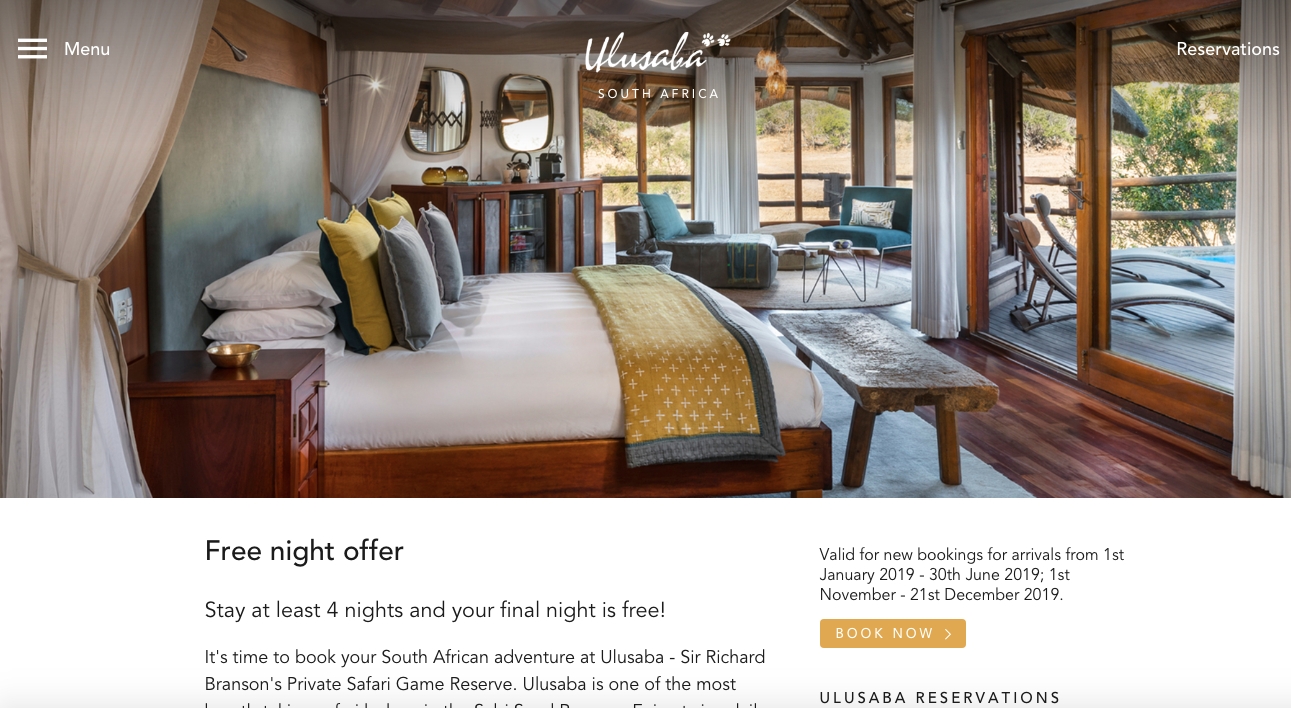 Sir Richard Branson's new luxury travel company, Virgin Limited Edition, is opening up the playboy billionaire's private properties and favorite getaways to the public … well, the rich public anyway.
You can book a four-night trip (with the last night free) at Branson's private wildlife reserve in South Africa right now. Granted, the first three nights are going to cost you at least $1,500 per night for a bed. Still, a free night means you'll be saving $1,500. That's a win if you ask us, especially when you're talking about the collision of max luxury and amazing once-in-a-lifetime experiences in the wilds of South Africa.