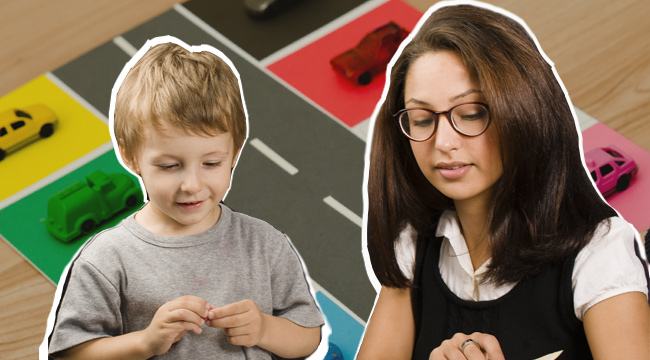 In my former life — as a college English instructor — I had the chance to work with an autistic student I'll call Frank. Like Sam the dancing barista of recent viral fame, Frank suffered from a neurological disorder that inhibited his ability to control his motor functions, but that didn't stop him from enrolling in my fiction class. With help from a learning specialist assigned to him by the university, Frank proved himself more than able to handle the course load. He was a fantastic reader and, while my educational training hadn't prepared me for handling his particular challenges, his classroom aide help make sure the class was rewarding for him.
Even though I left the world of education behind, those memories have stayed with me, and I'm especially reminded of Frank on World Autism Awareness Day every year. The global annual event, which enters its eighth year on April 2nd, endeavors to raise awareness and funds for research via a series of digital and actual events held the world over — including Autism Speaks' "Light It Up Blue" campaign. All of this deserves the biggest, bluest spotlight possible, but my thoughts also turn to Frank's classroom helper. The people who raise, teach and work with those with autism — parents, teachers, social workers, employers — give a great deal more than you or I might realize. And, as I discovered after talking to many of these individuals about their experiences, they wouldn't trade them for anything.
"Last October she couldn't identify any letters but the ones in her name, and now she can identify all the letters and write them all," Andrea Delaney says about her 5-year-old daughter, Tessa. Tessa was diagnosed with autism, sensory processing disorder (SPD), and attention-deficit/hyperactivity disorder (ADHD) almost a year ago. Sometimes she can be a handful for her mother, who works as an emergency room financial advocate, but Andrea doesn't seem to mind.
"She's not a toucher, but anytime she wants to sit together on the couch or snuggle in bed, I let her. Even for a few minutes, even if it's been a hard day and I need a break. She needs me to love her even at her worst and I do — even when it's hard."
Jerry Smith, the editor-in-chief of the horror website Icons of Fright, says pretty much the same thing about his six-year-old son Dexter. Dexter was diagnosed when he four years old, and while the news initially left Jerry feeling like it was somehow his fault, the two have since become closer than ever.
"Even when he's very upset, there's that sweet little boy looking at me and I know that if I can just bring that out of him, it'll be fine," says Jerry. "He's a constant source of inspiration."
Andrea and Jerry's personal connections to autism are bound by their familial devotion to their children. Despite the absence of such blood bonds, those who dedicate their working lives to kids and adults on the autism spectrum exhibit a loving determination that's equally strong. People like Amanda J., who has worked as a teaching assistant, a teacher and a counselor in classrooms devoted to the autistic for 16 years.
Amanda's interest in education began with her father, who shared his experiences with dyslexia with her from an early age. This encouraged her to begin volunteering as a camp counselor during summer breaks at venues designed to accommodate campers with a variety of disabilities. Many of them were on the spectrum, and their specific difficulties inspired Amanda to learn and develop better ways in which to help them.
"My philosophy has always been that just because a student on the spectrum (or with any other cognitive disability) cannot communicate or interact the in the same way that neuro-typical students do doesn't mean they don't have something to say. Or a desire to impact our school and community," says Amanda. "The Autism community often uses the slogan, 'Different NOT Less.' I firmly believe this to be true."
David Clarke, a former middle school teacher from Texas, came to his students from a drastically different direction than Amanda. That is, he didn't necessarily seek out students with autism or other neurological and behavioral disorders — the work came to him. As a result, he didn't feel too well prepared for the rigors the job demanded of him. Yet David "went to as many conferences and seminars" as possible, "studied and read books" that were available to him, and "went to work looking forward to the adventures [his] day would hold." As it turns out, finding and maintaining this work ethic was more than half the battle, because after that David quickly fell in love with what he was doing and who he was doing it for.
"The reward of seeing these kids succeed was always stunning, and success with these kids was rarely tied to a grade. Success with these kids was seeing them interact with their peers and other adults appropriately," he explains. "My first class of kids will graduate from high school in 2017, and I plan to return to Texas to see them get their diplomas."
Since teaching social skills to autistic students who were labeled by the school as high functioning (meaning that they were able to attend classes with their neuro-typical peers), David has since left secondary education for a career in public relations. Yet his connection to his former students is strong, as evidenced by his stated intention to attend their graduation next year, and he wouldn't have it any other way.
"They taught me how to communicate the same idea in a myriad of ways," he says, adding that they also helped him learn patience. Not just with kids on the spectrum, but with everyone he's ever had a conversation with.
But what happens after David's students graduate? What happens when autistic students are no longer attending daily classes in high school that are designed to best prepare them for life outside the classroom?
That's when people like Jordan Ryan enter the picture. Jordan — himself a graduate student at the Clinical Mental Health Counseling program at Texas Tech University — works for Project CASE, which "assists students with developmental disabilities to navigate college in order to reach their academic goals and to find competitive employment after graduation." Yes, it still concerns education, but CASE's focus on higher education and obtaining work after aims specifically to help students with varying degrees of autism become functioning adults.
"My students' needs are really not much different than any other college students," says Jordan. "They want to do well in their courses, find jobs after college, date successfully and establish strong social bonds with other human beings."
"We treat our students like autonomous adults and help them set their own goals so that they can live independent, fulfilling lives," he adds. "One of my most memorable students is an amazing architect who was struggling with finding a job. He had a severe lack of confidence in himself during his job interviews, so I worked with him to develop his confidence and master the communication and social skills needed to ace an interview. As a result of our work, he went to the next interview and performed so well that the architecture firm offered him a full-time salaried position with benefits."
Everyone I talked to had similar experiences to share. Some were big and uplifting, others were seemingly insignificant — the kind of day-to-day things that are easy to miss. Like one of the many tests that were conducted just before Andrea's daughter Tessa was diagnosed.
"The clinician said, 'Let's pretend the couch is a slide and "wheeeee" the kid goes down the slide,'" she explains. "Tessa looked right at her, grabbed the couch and put back in its place in the living room set, stating adamantly, 'No. It's not a slide. It's a couch.' The clinician tried to convince her to play with it like a slide and pretend, but she still refused."
As Andrea remembers it, that was the moment that demonstrated the certainty of her daughter's diagnosis. It was also in that precise moment that she understood "that everything was going to be okay" because "she's still my Tessa."
Acceptance is what all humans need, after all. As Jerry explains, "When I pick Dexter up from school, it's either a really great thing or really bad thing. He's so affected by other kids. He's treated differently in his class, and some days kids won't want to play with him. It breaks my heart to hear about these things when I pick him up. It can be trying, so I just try to let him know that I love him very much."
Which is, in the end, all that any of us needs.
For more information about Autism Spectrum Disorder (ASD) and its affiliated conditions, check out the Autism Speaks and the National Institute of Neurological Disorders and Stroke websites. To donate to the "Light It Up Blue" campaign, click here.