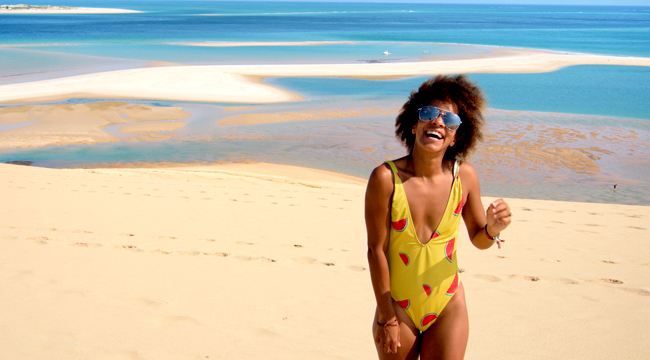 More than three years ago, Kesi Irvin left on vacation from her New York job in finance. She had one hell of a vacation. It was such a good trip, in fact, it motivated her to leave Wall Street to see the world. After some serious planning and saving, Kesi started chronicling her adventures around the world on Instagram and on her personal blog and couch surfing from country to country.
To Kesi, travel isn't some impenetrable realm that only the wealthy get to experience. Despite her background in finance, she isn't traveling in luxury. She relies on smart decisions and travel hacks learned through experience. Like a one-woman Loney Planet guide.
This week, we asked Kesi to drop a little of that hard-earned wisdom on us. She started with talk of how travel is changing (for the better!) and later we pivoted to focus on one of her favorite destinations: Australia. The worldwide vagabond didn't disappoint, bringing serious knowledge, delivered with wit and humor.
You're an Ivy-grad who left the world of finance, how did you come to be traveling the world for over three years now?
It was never my plan to be gone for this long. I liked my job in finance, the only thing I did not like was the two-week vacation. How am I supposed to see the world if I only have two weeks of holiday each year? I planned and saved money for two years to embark on an around the world journey for one year. Well, that one year has turned into 3.5+ years. I'm still on the road because I have learned to live a different lifestyle. I am a budget backpacker. I rarely pay for accommodation since I couch surf or stay with my global network of friends.
I'm very good at living within my means, too. I'll take a 17-hour bus over a flight or sleep in an airport overnight to save money. Long term travel is not luxurious, but it is gratifying. I'm also able to sustain my travels by working as a hostess for The Yacht Week over the summer, which is probably the most fun job in the world.
How did people first react when you transitioned from a more traditional "successful" path in finance to a more uncertain one in travel?
At first, I don't think my parents believed that I would leave my job to travel the world. Once they realized I was serious, they were a bit worried regarding my safety, but I know they were excited for the opportunity I had ahead of me. Almost all the reactions from my friends are positive. At my five-year college reunion, many people came up to me and told me how they loved following my journey. My path is quite different since most of my peers are starting their own companies, going back to business school, or being promoted in their current roles, while I'm a budget backpacker with no job, no security, little money but a wealth of travel knowledge and stories.
I think people are intrigued by me since I had the option to live a secured life with a high paying job and an apartment in Soho, yet I chose to leave and live a life of adventure with no real plan. Frequently people say "I wish I could do what you do," but I don't think people fully understand the sacrifices I make to continue to be on the road. I have no home, I have no bed, I am consistently bouncing around from place to place, yet I do not regret it, because I am living life.
The travel space can seem to be predominately owned by white and wealthy couples, what do you think the impact of that is and do you find that to be changing?
I am the complete opposite of the description. I'm black, have little money, and travel solo. On Instagram, I agree, there are a lot of white luxury influencers. The impact of this image alludes that traveling is expensive and not accessible to all.
And you don't find that to be the case?
The secret is that traveling doesn't have to be costly. I spend less money traveling per month than what my rent was in NYC. These "white and wealthy couples" are generally going to places that are becoming over saturated in social media, like the Maldives, Cinque Terre in Italy, and Bali (even though it's cheap). Yes, these are gorgeous places, but people are now traveling to them just so they can post that perfect Instagram shot, instead of thoroughly enjoying the experience. I think it's important to get off the beaten path and showcase more travel in places like East Africa or Central America. Social media can uncover new sites, and I do think that the travel space is evolving.
Regarding race, I have seen more people of color in the travel space. Strangely enough, I find more black people traveling on social media versus in real life. Usually, I am the token black girl in my hostel, or even sometimes the city I'm in. It's encouraging to see the travel space expanding.
Okay, so I know you're buzzing on Australia right now. What are your thoughts on what the first-time traveler down under needs to know?
It will exceed expectations! Before visiting I only knew about Sydney and the Great Barrier Reef, but there are many more beautiful, diverse gems in the country.
Another thing that surprised me was how good the food was. Australia isn't widely known for its food, but all the ingredients used are fresh. I never had to worry about eating out, because the food products were high quality compared to places in the US. Even the McDonald's tasted fresher!
Some practical tips: Make sure to apply for a visa, which can quickly be done online. There's also an option for a working holiday visa if a longer stay is intended. There is a vast backpacking community, where people from all over the world have working holiday visas. The minimum wage is higher in Australia vs. other countries, which makes it an attractive place to find a job. If you fall in love with the country, now you know a way where you can stay longer and earn some money. Also, bring sunblock! The sun is intense in Australia. I rarely get burned, but I was in the sun for 15 minutes and immediately got sunburned.
What were your highlights while you were there?
I recommend going up the east coast from Melbourne to Cairns. Take at least three weeks to make this trip. It's perfect for a solo traveler since there's a bus route that goes up the coast filled with like-minded backpackers, making it easy to find travel buddies and friends. There's also an option to rent a car with friends to have more flexibility on where to explore.
As for my highlights, if I had to choose between Sydney and Melbourne, my vote is for Melbourne since it's a very liveable city. Even though the beaches aren't as pretty and the weather is colder than Sydney, Melbourne has better energy in my opinion. Nightlife is better in Melbourne since there are no lock-out laws (In Sydney no one can enter a bar after 1:30 am). Fitzroy is my favorite neighborhood. It's a vibrant, hipster area, with yummy eateries, street art, and nice places to hang out. Also, you've gotta hit Byron Bay. This beach town is all about the vibes. There is not much to see or do, but it's a great place to meet people, have bonfires on the beach, and enjoy living life. There's a bit of a hippie feel to it. It's a comfortable place, making it easy to stay longer than expected. A typical day consists of waking up, having brunch, practicing yoga on the beach, going back to the hostel to participate in the daily activity, then going out at night to a live music show.
I also want to shout out Airlie Beach — a small party town, which is the starting point for all sailing trips to the Whitsunday Islands. Sailing the Whitsundays is dreamy, especially visiting Whitehaven, a stunning beach with pure white silica sand, turquoise water, and reef sharks swimming in the shallow waters. Each day the white sand mixes with the turquoise water and makes for some unique designs. Hands down, one of the most beautiful beaches in the world!
Be sure to at some point hop on a boat, go snorkeling and visit Whitehaven. You can see parts of the Great Barrier reef while snorkeling, so if you wanted to save time or money than snorkeling in Cairns is not even necessary if you've made a sailing trip to the Whitsunday islands.
Any others? It seems like you have the east coast pretty wired.
Fraser Island. This is the largest sand island in the world filled with beautiful freshwater lakes, dingos, and trees. Join a tour group or rent a 4×4 to get around. The best stargazing I've ever done was on this island. There is no light pollution, which makes the sky seem filled with a plethora of stars.
Also, I loved Cairns. If you want to go diving or snorkeling in the Great Barrier Reef then this big city is the starting point. Cairns is hot (weatherwise), and since it's a bigger city, it has a lot of fun party hostels.
Anything else that really struck you as unique for the American traveler?
The wildlife! Finding koalas and kangaroos in the wild is a fun adventure. Two unique animal experiences that stand out are the quokkas on Rottnest Islands and the little penguins in Melbourne. I had no idea what a quokka was, but my friends insisted I visit Rottnest island to get a selfie with a quokka. I was envisioning an animal the resembled a crocodile (quokka sounds like a nickname for a croc), but instead was pleasantly surprised to meet the friendly, little, furry quokkas.
These animals are in the marsupial family. They are slightly larger than a rabbit and hop around like a kangaroo. Quokkas are unique to Rottnest Island, which also has stunning beaches.
There's such an Australia animal connection, right? You're always hearing about unique animal experiences there.
Every night at sunset, hundreds of penguins leave the sea to find their home on the St. Kilda Beach in Melbourne. Watching the penguins come out of the water strategically to avoid predators, and waddle to their homes is one of the cutest things and immediately brings lots of smiles.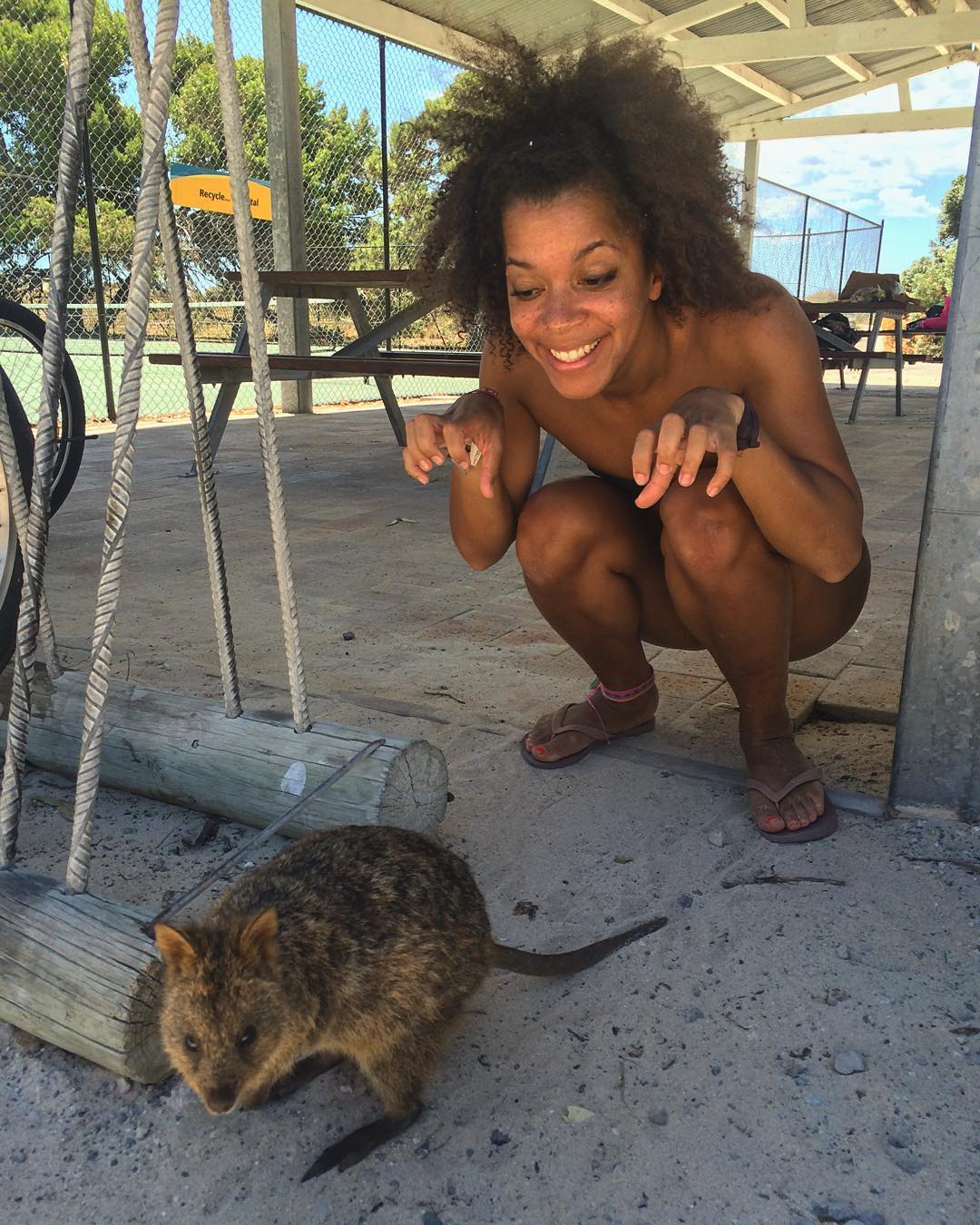 Obviously, it's pretty straightforward to meet other backpackers in all these scenarios?
The backpacking experience is unique, for sure. Be sure to participate in a hostel competition. I've stayed at hostels around the world, but the ones in Australia have a lot of games. Some are a bit misogynist, but still fun… like a jelly wrestling competition, which is essentially girls in bikinis wrestling each other. There are also drinking competitions and games, like billiards. Step out of your comfort zone and join in. Winners usually get a free trip or bar tab.
Good hostels, good beaches, good people…
Good scenery! The scenery in Australia is just incomparable. I described Fraser island above, but this is a must. I like the tour group Dropbears because they share all the history about the island and have a good mix of being social, while also exploring.
My favorite part about Fraser Island was Lake Mackenzie. This lake is a natural spa. The sand is 100% silica, so it exfoliates skin, shines teeth, and makes hair soft. Rub the sand on every part of your body, and you become a new, smoother person. The lake is also surrounded by trees that leave tea tree oils in the water, so soaking in the water is nourishing. You can even drink the water since the sand automatically filters it. Seriously, Lake Mackenzie is my favorite body of water in the world.
If you had to capture your experience traveling in Australia in one sentence, what would it be?
The perfect place for a solo female traveler to meet new unique animals, have fun and be social, and experience the beautiful scenery.
Beyond Australia, what do you find the most rewarding part of travel is?
The kindness of others. Frequently the media portrays the world as a scary place, but I have had all positive interactions with people from all walks of life that I meet around the world. For example, when I went to look for the Rainbow Mountains in Peru (this was when they were still unknown, and there were no guided tours), I ended up in the smallest village and had no idea where to go next.
Luckily, I met a potato farmer, who never heard of New York City, and he offered me to spend the night at his home and guided me to the mountains the next morning. He didn't ask for money and offered to help just because he saw a stranger, me, in need. Though I did tip him at the end since he was so helpful.
Here's another story: I walk into a public bus in Bosnia and have no local currency. Immediately a local woman behind me offers to pay for my ride. As a black woman, I know I stand out, but that didn't stand in the way for someone to help me out. When I visited the Democratic Republic of Congo, I arrived two hours later than expected, yet my Couchsurfing host patiently waited for me at the border to ensure that I had everything I needed to enjoy my time in his country.
I have countless stories about how giving individuals are. At times, it's overwhelming. I'm a happy person because I've seen first hand that people are innately good, creating a beautiful world. All of these experiences have taught me always to try to help out when I can.