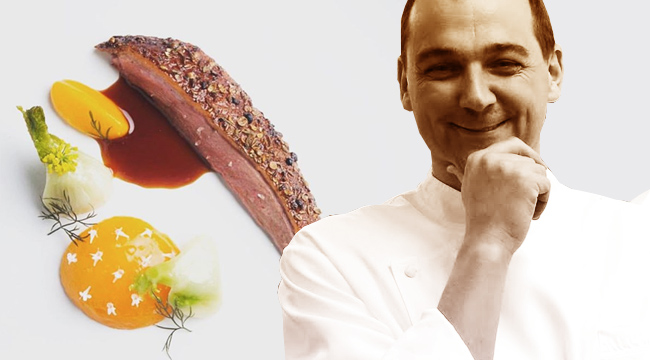 The World's 50 Best Restaurants list was unveiled today in Melbourne, Australia. This annual ranking has been made since 2002 and is widely regarded as the most comprehensive and elite restaurant list on earth. Europe is heavily featured in this year's top 10, with three Spanish, one Austrian, one French, and one Italian restaurant making the cut.
The big surprise, however, is that an American restaurant took the top spot. Renowned eatery Eleven Madison Park — run by chef Daniel Humm and restaurateur Will Guidara — was ranked #3 last year and has steadily climbed the list since grabbing the 50th spot in 2010.
Check out avisual tour of the top ten.
This Michelin-starred Austrian restaurant, located in the heart of Vienna, is well-known for its innovative takes on authentic Austrian fare. This is a haven for fans of meat-based stews and local vegetables.
https://www.instagram.com/p/BPXl5M-AK2l/
Chef Andoni Luis Adurizis is one of the most beloved chefs in the world. Mugaritz is a gastronomic explosion of 24 different courses — designed to immerse diners in the world of Adurizis's imagination.
https://www.instagram.com/p/BRcYXsegaqa/
https://www.instagram.com/p/BSgK2E7FcRE/
When you think of Peru, you probably don't think of Japanese Cuisine. Chef Mitsuharu Tsumura takes some inspiration from Japan as well as cues from Peruvian cuisine to create a truly unique culinary experience.
7. Gaggan, Thailand
Gaggan's mouth-watering "progressive" Indian cuisine has helped remind the world that Bangkok can do fine diningand street food.
https://www.instagram.com/p/BSbwu-4ht_M/
If you can find Etxebarri, you'll be treated to "ancient techniques of grill cooking". The best part is that you'll never know what you're eating until you arrive, as the menu changes every day.
The menu at Central is all about discovery. Chef Virgilio Martinez has strived to build a menu of dishes based on ingredients that his ancestors might have used, collecting fresh ingredients from the mountainous countryside.
This Michelin-starred restaurant has breathtaking ocean views and equally breathtaking culinary creations. The menu gets its inspiration from the local produce and ingredients of the nearby area.
This restaurant, the brainchild of a trio of chef brothers, and its avant-garde style isn't for everyone. But, if you enter with an open mind you'll taste things that will expand your ideas of culinary possibility.
https://www.instagram.com/p/BQr8UFbAlbz/
https://www.instagram.com/p/BSFzKDKjpsv/
A table at this 12-top restaurant is hard to come by. If you can get it, you'll experience food that is literally a work of art. Chef Massimo Bottura is a genius to behold — perhaps that's why he was chosen as the lead off chef in this season of Chef's Table.
This was last year's #1 pick.
It's not easy to be named the best restaurant in the world. Eleven Madison Park earned the honor by using local, seasonal ingredients to create an 8-10 course meal that you will literally never forget.