Chris Evans and Jeremy Renner recently got into a little hot water for joking about Black Widow's sex life. But it raises a good question: Who, precisely, gets around the most in the Avengers? Let's go to the comics and take it Avenger by Avenger, shall we?
Captain America
Cap doesn't actually have that much of a romantic history, which is strange for a blonde, blue-eyed man with a perfect physique. Needless to say, this has raised a few questions about Cap's sexuality, something even Marvel has made a little fun of.
By and large, though, Cap's been a one-woman kind of guy. Back in the '40s, he was with Betsy Ross… yes, we know, this is a comic book that debuted with Cap punching Hitler's lights out on the cover, subtlety is not the name of the game here. In modern comics, though, he's largely been with Sharon Carter. Although that doesn't mean certain female Avengers haven't thought about it.
The Hulk
As you might expect, a man with severe emotional problems who freaks out at the tiniest little thing doesn't get much action. The Hulk has largely spent his time wandering the Marvel universe either single or in a long-term relationship with Betty Ross, which meant for a time the guy sending giant robots to beat him up was also his father-in-law.
He's had better luck off-planet, actually: He's dated the princess of a sub-atomic kingdom and even had a happy marriage until Iron Man and Reed Richards screwed that one up big-time.
Black Widow
To be fair to Black Widow, she's been kind of set up from the start: She was originally introduced as a brainwashed Soviet agent in love with Hawkeye, and, as you'll see, it does not end well if you get involved with Clint Barton. Widow actually has a fairly short list of canonical love interests, but her biggest problem is really James Bond Syndrome: She keeps hooking up with her coworkers because they're the only people she can trust, and a lot of them are jerks. Get out there more, Natasha. Meet a nice guy. Or at least somebody on a different team from you who isn't Wolverine.
Iron Man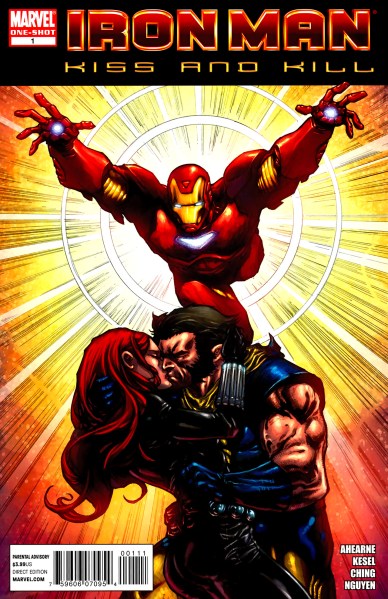 If we're talking sheer numbers, Iron Man's the Avenger most of the world has hooked up with. Put it to you this way: Here's a list of the women we know Tony has slept with, and that's just what we've seen on camera. Tony's probably in the triple digits by this point, and poor Jarvis probably has nightmares about the STIs he's had to treat. That said, his sexual history isn't nearly as terrible as some of his teammates.
Thor
In theory, Thor has fewer in raw numbers than some of the Avengers, but this guy. Where to start? First of all, he has a long romantic history with an out-and-out supervillain, the Enchantress, to the point where he actually married her and became a bad guy in an alternate timeline. Oh, did I mention he banged her sister? Because he banged her sister. Admittedly, he was under a love spell at the time, but come on, that's still douchey.
When that's not happening, he spent a fair chunk of his time two-timing both Sif and Jane Foster, since one was in Asgard and the other was on Earth. And that's not even getting into that time he reenacted the Ring Cycle with Valkyrie. Thor is basically a Maury guest with a magic hammer.
Hawkeye
Still, Thor has nothing on Clint Barton, ol' One-eye, er, Hawkeye. "Following his wang right off a cliff" is such an integral character trait for him, Marvel had to introduce the Hawkblock in his last series. To be fair, he's something of a serial monogamist; he's had long-term relationships with Black Widow, Spider-Woman, and Mockingbird, although none of them have ended well, which is usually Hawkeye's fault.
Beyond that, it's heavily implied he gets around. He was raised in a travelling circus by a guy in a purple suit who calls himself "The Swordsman," so that was more or less inevitable.
Needless to say, this just scratches the surface. You just aren't a superhero unless you make a terrible emotional decision. Still, as the Avengers go, maybe they should stop hooking up so much and book a few sessions with a therapist instead. Especially you, Clint.