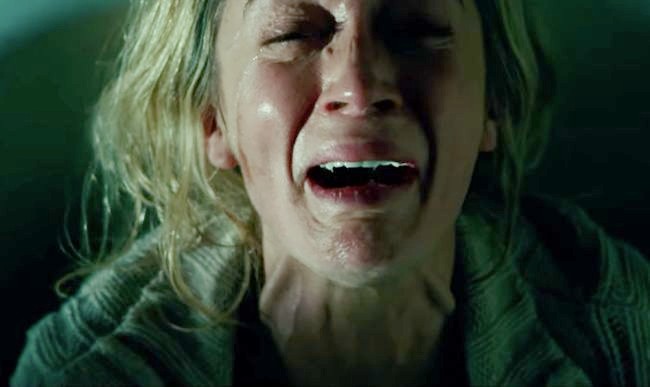 [Spoilers for A Quiet Place]
The real villain in A Quiet Place — Jim Halpert's (er, John Krasinski's) horror movie that opened with a huge $50 million — is the rusty nail, but the monsters are scary, too. At no point during the film, however, do you learn where the creatures are from, only that they've invaded Earth and if you make a noise, you're dead. (Waterfalls are in-demand commodities.) But in an interview with Empire, Krasinski opened up about the origins of the aliens with hypersensitive hearing.
"They're definitely aliens. They're an evolutionary perfect machine. The idea is if they grew up on a planet that had no humans and no light, then they don't need eyes, they can only hunt by sound. They also develop a way to protect themselves from everything else — that's why they're bulletproof," he explained. "The other idea was it's also the reason why they were able to survive an explosion on their planet and then survive on these meteorites. Until they open themselves up to be vulnerable, they're completely invulnerable."
In other Everything's Coming Up Halpert news, Krasinski, who suddenly is an in-demand director, booked his next gig behind the camera: Life on Mars. The science-fiction horror movie "centers on a woman who is among a handful of descendants of a Martian colony long-abandoned by Earth following a cataclysm," according to The Hollywood Reporter. "The woman one day finds she can breathe the air on Mars, upending her world and that of her fellow colonists." There's currently no word on who's in discussion to play the woman, but c'mon, it's going to be Emily Blunt. It's always going to be Emily Blunt.
(Via Empire)