Once, we were awash in great films about babysitting, but no longer. In the barren, post-1991 wasteland the world has been divided into two camps: those who prefer Adventures in Babysitting and those who think Don't Tell Mom the Babysitter's Dead is the one true babysitter movie (even though it doesn't really have the much to do with the craft of babysitting.) We're not here to settle that debate — not now — but in one area, the former reigns supreme: the cast of Adventures in Babysitting has seen more career success than the Don't Tell Mom-ers, as is evidenced by their accumulated Golden Globe, Emmy, and Oscar nominations. So, with that in mind, let's see what these heavy hitters have been doing since their wild night on the streets of Chicago.

Elisabeth Shue — Chris
After playing the main love interest in 1984's The Karate Kid, Elisabeth Shue would go on to win the lead as Chris, the babysitter in charge whose night to turns to mayhem in Adventures in Babysitting, hr first starring role. Following that breakthrough, Shue had supporting roles in Cocktail, Back to the Future 2 and 3, Soapdish, and garnered BAFTA, Golden Globe and Oscar nominations for her lead role in Leaving Las Vegas. Following that success, however, Shue's blockbuster luck started to run out. Most recently, she co-starred in CSI from its 12th through its 15th season.

Maia Brewton — Sara
Still best known as the Mighty-Thor obsessed kid, Maia Brewton's career in Hollywood was steady in the '80s and '90s, landing roles on shows such as 21 Jump Street and The Wonder Years. She, like her costar Shue, also had a role in the Back to the Future series as Sally Baines. Brewton graduated from Yale in 1998, works as a lawyer, and lives with her wife and two kids in Manhattan.

Keith Coogan — Brad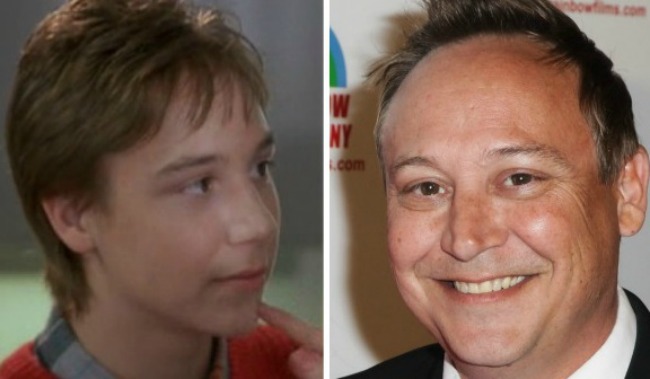 Grandson of Jackie Coogan (Uncle Fester on the original Addams Family series), Keith Coogan played Brad, the other child, along with Brewton's character, who Chris was forced to babysit, even though he had a serious crush on her. Coogan had his fair share of supporting roles in the '90s (most notably in Cousins and Toy Soldiers) and did some theater work as well, but his biggest claim to fame is as a stoner-teen-turned-chef beside Christina Applegate in Don't Tell Mom the Babysitter's Dead. Keith Coogan is the bridge between worlds!
Following the turn of the century, Coogan continued to pop up here and there in small roles before a little bit of a dry spell. Most recently, Coogan appeared as himself in The Comeback Kids, a comedic web series about former child actors.

Anthony Rapp — Daryl
Anthony Rapp played Brad's hornball friend Daryl in Adventures, but he is largely known for his Broadway work, particularly his starring role as the title character in Hedwig and the Angry Inch and as an original cast member in Rent; a role he reprised in the film adaptation. On screens big and small, Rapp has worked steadily, appearing in A Beautiful Mind, Dazed and Confused, and in the musical episode of Psych.

Vincent D'Onofrio — Dawson
Likely the actor with the most extensive filmography of the cast, D'Onofrio's work has ranged from an iconic turn inFull Metal Jacket (out the same year as Adventures in Babysitting) to working with directors such as Kathryn Bigelow and Tim Burton, and being nominated for an Emmy for his television work. The man who embodied Thor on the big screen before Chris Hemsworth was in pre-school even made it into the Marvel Cinematic Universe this past year in Netflix's Daredevil as Wilson Fisk, aka Kingpin, delivering a larger than life performance. D'Onofrio also popped up this summer in Jurrasic World and he'll appear in Antoine Fuqua's take on The Magnificent Seven in 2016.

George Newbern – Dan
The dashing Mr. Right in Adventures went on to play a victimized sports car buyer/engaged man in the '80s romp It Takes Two, Steve Martin's eventual son-in-law in both Father of the Bride and Father of the Bride two, and countless sitcoms, guest appearances, and arcs over the last 25 years. He's also worked extensively as a voice actor, serving as the voice of Superman in the DC fan favorite series Justice League, Justice League Unlimited, and Static Shock.He's also reprised his role as the superhero icon in the video game Injustice: Gods Amongst Us. Most recently, Newbern voiced Steve Trevor in 2015's Justice League: Throne of Atlantis and you've no doubt seen him on Scandal.

Bradley Whitford — Mike
Bradley Whitford has evolved from supporting roles as a classic prick in Adventures in Babysitting , Revenge of the Nerds II, and Billy Madison to an Emmy award winning charming do-gooder on The West Wing. Since then he's stolen scenes from Emma Thompson and Tom Hanks in Saving Mr. Banks, rocked a kick-ass mustache in The Good Guys, and delivered a wonderfully heartfelt Emmy-winning performance in Transparent. Most recently Whitford appeared in the Steve Coogan led Happish and will appear in the upcoming films, I Saw the Light and Other People.
This is an updated version of a post that originally ran in October 2015.