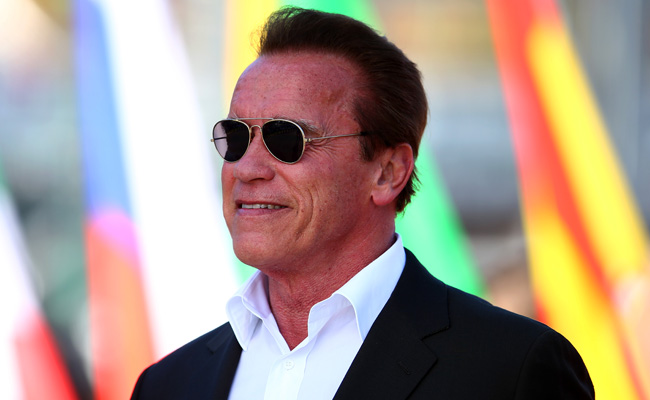 Yesterday on The Howard Stern Show, Arnold Schwarzenegger — who is currently out promoting Terminator Genisys — opened up about his painful divorce from Maria Shriver, noting that it was the "biggest setback and the biggest failure" of his entire life. The former California governor, however, took full blame for the divorce:
"Without any doubt. Not only failure, but you feel like, 'I'm to blame for it. It was me that screwed up.' And you can't point the finger at anyone else. So yeah, I was disappointed in it. It's always easy to be smart in hindsight. The thing was how do you make the best of that situation?"
Schwarzenegger also admitted that he allowed Shriver to talk him into seeing a marriage counselor, which he believed was a huge mistake.
"That guy was so full of sh*t. He said more crap and more nonsense. It was absolutely counterproductive to our future relationship… Maria talked me into it. I went, and I felt instinctively maybe I shouldn't go because I know I screwed up. I don't have to go through anyone to have to explain to me anything."
Schwarzenegger's divorce, of course, was prompted by the revelation that he had an affair with the family's housekeeper more than a decade before, who gave birth to his love child, Joseph Baena, who is now 17. Schwarzenegger said that his relationship with Baena, however, is fantastic.
"He's terrific and he totally understands the situation. So, it all has worked out… It's a very tough situation for him. It's a very tough situation for my kids. Very tough situation for my family. It was tough for everybody. But it has happened and now we have to figure it out, right?"
Schwarzenegger — who recently revealed that his Twins sequel with Eddie Murphy is still happening — also spoke about his 21-year-old son, Patrick, and his relationship with Miley Cyrus. He said that when he finally got to meet Cyrus over the holidays, "I found out that she was a fantastic person."
(Via ET and Us Magazine)