If it feels like Ben Affleck has been around forever, it's because he has. But the Oscar-winner, who turns 43 this weekend, has evolved his talent and his canvas in that time, moving from a baby-fat-having 20-something supporting player to a lean leading man, a cut auteur, and now a bulked up badass Batman for Batman Vs Superman: Dawn of Justice. 
It's not a career filled with startling transformations like Jake Gyllenhaal has had, it's more steady, but it's still worthy of praise and this brief journey through the new Bruce Wayne's "body" of work.
School Ties (1992)
Before Jennifer Lopez turned up Ben Affleck's tanning game, he was just a pasty man child acting alongside his buddy Matt Damon. Affleck was only 20 when School Ties came out, so give the guy a break! He's not the hero we want but he's the one we deserve!

Mallrats (1995)
This is when Ben Affleck had a little bit of a schlubby phase. He's not grossly overweight by any means, but by Hollywood standards, he's fat. Therefore, he must be purged and sent to the fires in the Hollywood hills where all the other overweight people who are trying to make it must duel to the death in a pit surrounded by chocolate eclairs. Fight for your life, Affleck.
Dogma (1999)
Ooooh, look who starting to get svelte. Affleck is finally shedding his baby fat and growing himself some man muscles. The armor plating doesn't necessarily mean he's hiding a rock hard body under there, but he's definitely not rocking the Mallrats double chin.

Daredevil (2003)
Everyone knows that in order to play a Marvel superhero you have to get in shape, and Ben Affleck did just that. Not only did he manage to score a high profile gig in a tentpole film, but he was able to sweep Jennifer Garner off her lovely feet. Too bad Daredevil suffered from a poor critical and commercial reception, but Batfleck will get another shot at playing a major superhero in next years Batman Vs Superman: Dawn of Subtitles.
Hollywoodland (2006)
In order to play the musclebound George Reeves for Hollywoodland, Affleck had to beef it up a little bit. Reeves was a fit guy back when being fit meant that you could wear a tight pair of shorts to the beach without being embarrassed. This was before the dawn of bodybuilding freaks like Arnold Schwarzenegger who completely redefined what it meant to be jacked. Affleck is more old-timey jacked here.

The Town (2010)
Affleck was probably at his most fit in The Town. The film features a scene where a shirtless Affleck does a set of pull-ups while his abs glisten with sweat…or so I heard. I always skip over that scene. Ugh, who am I kidding? I freeze framed it; I printed it out and then I hung it on my fridge.
Benny worked out with Walter Norton Jr., an NBA strength and conditioning coach, and his workout was seriously friggin ridiculous.
Argo (2012)
For Affleck's dramatic follow-up to The Town, the thespian managed to retain much of his fitness although he's a little thicker and a bit hairier. I'm having trouble figuring out how I like my Affleck: with hair or without. Anyway, he played a Hispanic in this film which in Hollywood must mean that you have to be hairier.

Batman Vs Superman: Dawn of Justice (2016)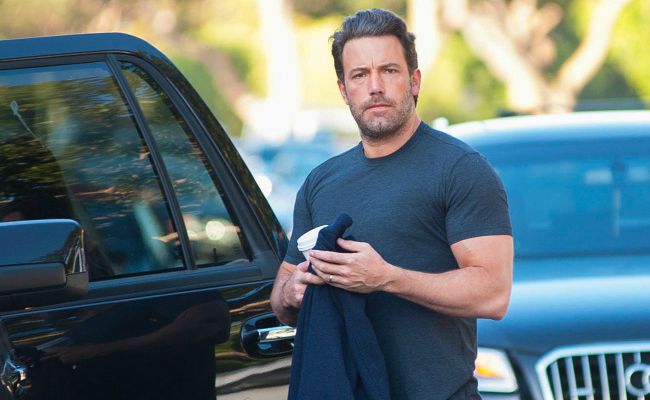 You've probably seen Ben Affleck strutting around town in a tight t-shirt recently; he's not afraid of flaunting his Batman body. The actor packed on 30 pounds of muscle and reportedly got down to 8% body fat for his role as the aging Bruce Wayne. Affleck turns 43 this week, and it looks like he might be in the best shape of his life, save for The Town.