Last Updated: September 9th
As CGI found its footing in the '90s, the masses flocked to big-budget spectacles like Titanic and Jurassic Park. But another revolution was unfolding on a smaller scale. We also saw the first films from some of the best indie directors, from Wes Anderson to Quentin Tarantino. Below are 10 of the best '90s movies on Netflix right now, ranked. They range from the '90s-est '90s movies that every millennial grew up watching to the influential award winners that are worth discovering or revisiting.
Related: The Best '80s Movies On Netflix Right Now
1. Schindler's List (1993)
Run Time: 195 min | IMDb: 8.9/10
It took decades in the industry for Steven Spielberg to finally earn an Oscar for one of his movies, but his win for Schindler's List is well deserved. The film focuses on wealthy businessman Oskar Schindler, who spends his fortune and risks his life to save the lives of 1,100 Jewish men and women after taking in the horrors of WWII and the concentration camps. Between the three hour running time, the cold, unrelenting cruelty of Ralph Fiennes' portrayal of Amon Goeth, and its realistic style, it's a bleak film. But there's hope to be found in the grim black and white images. It's an important story told movingly by a filmmaker at the height of his powers.
2. Pulp Fiction (1994)
Run Time: 154 min | IMDb: 8.9/10
Possibly the most famous of Quentin Tarantino's masterpieces, Pulp Fiction stars John Travolta, Samuel L. Jackson, and Uma Thurman spitting out punchy dialogue, pop culture references, and committing some pretty violent crimes along the way. Tarantino's love of non-linear storytelling is on full display here with three separate plots, all entwined in some way, take shape over the course of the film. Travolta plays Vincent, a hitman for a mob boss who, along with his partner Jules (Jackson), survives a couple of shootouts in the film as the two contemplate their life of crime, escort mob wives across town, help fix boxing matches, and dispose of dead bodies.
3. Jackie Brown (1997)
Run Time: 154 min | IMDb: 7.5/10
After earning acclaim with Pulp Fiction and Reservoir Dogs, Quentin Tarantino made his subtlest feature with Jackie Brown, an Elmore Leonard adaptation that the director still makes very much his own. After middle-aged stewardess Jackie Brown (Pam Grier) is picked up by the FBI, she's pulled between her arms-dealing boss (Samuel L. Jackson), the feds that are after him, and saving her own skin. With an all-star ensemble that includes Robert De Niro and Robert Forster (who earned an Oscar nomination), Jackie Brown is a throwback to the blaxploitation genre, which started in the '70s, of which Grier was a big part of. It's a tense, sexy, and desperate story with a wonderful soundtrack to boot.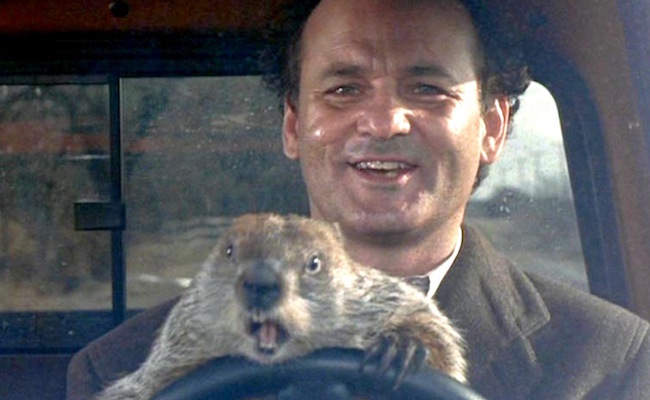 4. Groundhog Day (1993)
Run Time: 154 min | IMDb: 8/10
Bill Murray has some great comedies living on his resumé, but none are as iconic, or at least, as well-loved as Groundhog Day. That's because watching Murray play a surly weather-man forced to relive the same day over and over again is basically a comedy goldmine of a plot. At first, Phil (Murray) enjoys the time loop, binge-drinking, filming some half-hearted news segments in a hick town in Pennsylvania, having one-night stands, etc, but eventually, he realizes that in order to escape his never-ending bed-and-breakfast hell, he's got to better himself, not an easy task.