(Editor's note: This piece was originally published on March 12th, 2016. We're republishing it with fresh selections for those who choose to mark 4/20 with cannibis-involved celebrations.)
Now that the benefits of marijuana are becoming more widely acknowledged, let us introduce you to a truly magnificent pastime: binge-watching Netflix movies while high. These stoner comedies give us the best kind of munchies, pairing funny jokes with high-stakes action, ridiculous hijinks, and copious amounts of drug use. No matter what strain you prefer, there's something here to get you buzzed.
Related: The Best Comedies On Netflix Right Now, Ranked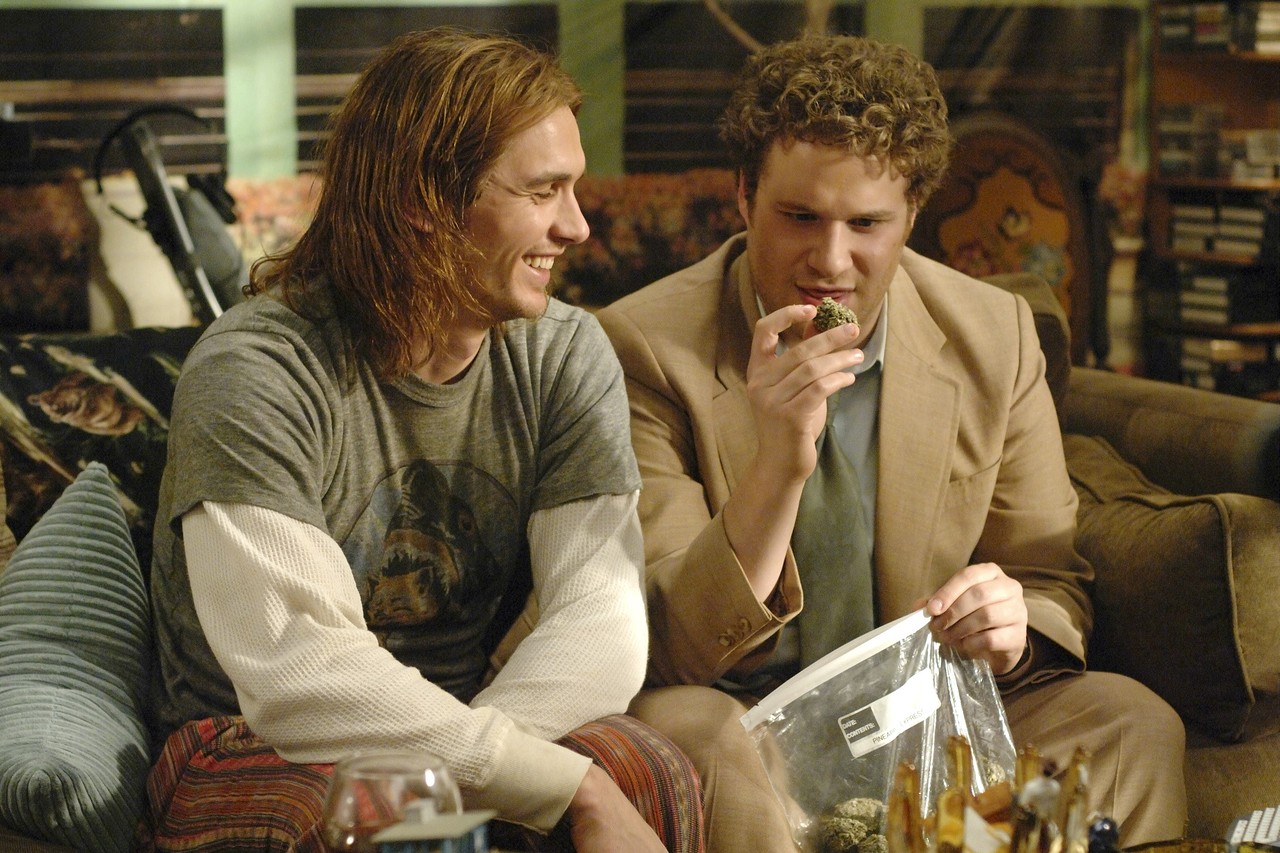 Pineapple Express (2008)
Run Time: 111 min | IMDb: 7/10
Seth Rogen and James Franco star in this classic stoner comedy about a process server and his drug dealer who go on the run from a couple of hitmen. Rogen plays Dale, a 25-year-old slacker who witnesses a murder and is hunted (along with his drug dealer Saul, played by Franco) by a drug lord intent on silencing him before he can go to the police. The two get into all kinds of hijinks involving Asian mobsters, barn explosions, and nursing homes.
Wet Hot American Summer (2001)
Run Time: 97 min | IMDb: 6.7/10
David Wain's raunchy summer camp comedy avoids focusing on young kids whose parents have shipped them off for the season and, instead, turns its lens to the counselors in charge of their care, horny, hormonal young adults who behave just as badly. Set on the last day of camp, the film follows the group as they hook up, get married, put on talent shows, and try to save the camp from a rogue piece of satellite debris. It's a weird plot, but the cast, which includes greats like Paul Rudd, Amy Poehler, Molly Shannon, Bradley Cooper, Christopher Meloni, and more, makes up for it.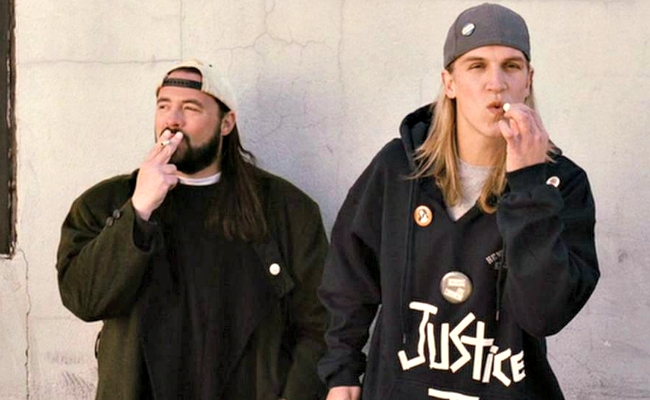 Jay and Silent Bob Strike Back (2001)
Run Time: 104 min | IMDb: 6.9/10
Jason Mewes and Kevin Smith return in their roles as stoner duo Jay and Silent Bob. The two travel to Hollywood to stop production of a movie based on their comic book characters after discovering negative reactions to the film online. Along the way, they hook up with a group of diamond thieves, an orangutan named Suzanne, and they land on the police's radar for allegedly being a part of an eco-terrorist group. The film was meant to be the final installment in Smith's View Askewniverse, and it's got a hefty list of celebrity cameos as well.
Animal House (1978)
Run Time: 109 min | IMDb: 7.6/10
John Landis' 1978 comedy flick about a bunch of frat bros who fight against the establishment doesn't sound like the kind of film destined to become legend, until you add some brilliant up-and-coming actors and a third-act Trojan horse. The movie, which stars John Belushi before he got big, Tim Matheson, Donald Sutherland, and Kevin Bacon, follows the antics of a sloppy fraternity on the outs with the dean of Faber college. There's some back and forth between these lazy, beer-drinking bums, Sutherland's strict authority-type, and their clean-cut frat rivals. This involves lots of pranks, an accidental horse death, and an armored car busting out of a homecoming float, but the real draw here is Belushi and the rest of the actors, who were just anonymous enough to really commit to the most ridiculous of Landis' plotlines.
Doug Benson: Doug Dynasty (2014)
Run Time: 60 min | IMDb: 5.9/10
Comedian and marijuana rights activist Doug Benson does his first stand-up special in Seattle with Doug Dynasty. Benson responds to real-time tweets from the audience while regaling them with stories of outsmarting the TSA, his strange flying habits, and annoying cat people.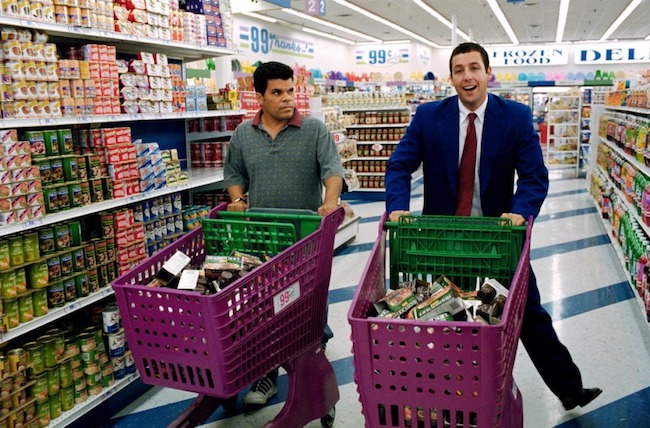 Punch-Drunk Love (2002)
Run Time: 95 min | IMDb: 7.3/10
Netflix's Adam Sandler offerings are sparse, but this one will do the 4/20 job. Paul Thomas Anderson directs this story about an anxious entrepreneur, who falls in love with his sister's co-worker before taking on a group of thugs attempting to steal his identity and extort him. Sandler plays Barry, an awkward, lonely man abused by his sisters who begins a relationship with Lena (Emily Watson), a woman who works with one of them. The two fall in love but their romance is threatened when the owner of a phone-sex line that Barry's used in the past attempts to extort him. From there, things get weird with Barry taking on the phone-sex thugs, his sisters, and Phillip Seymour Hoffman.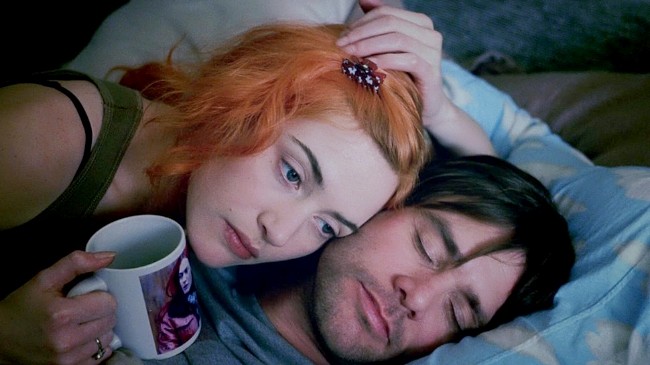 Eternal Sunshine of the Spotless Mind (2004)
Run Time: 108 min | IMDb: 8.3/10
Jim Carrey and Kate Winslet star in this sci-fi romance about a couple reliving their romance following a painful break-up. Winslet is the free-spirited Clementine, who decides to have her memories of a past relationship with beau Joel (Carrey) erased. Once Joel learns of this, he too decides to erase their time together, and the film is a reverse narrative of their love story, charting their break-up and all the things that led up to it. It's a quirky romance, one that ends on a hopeful note and takes some trippy turns along the way.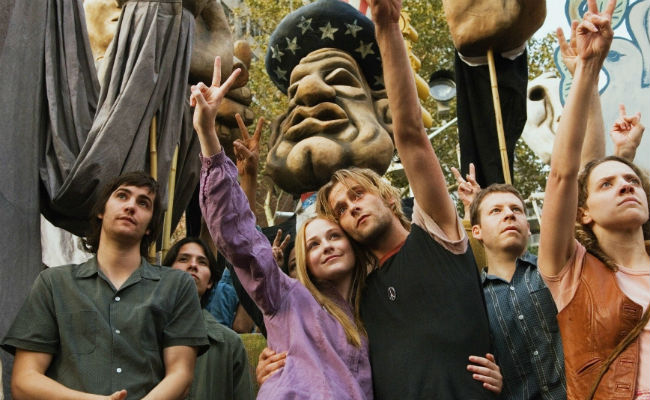 Across The Universe (2007)
Run Time: 133 min | IMDb: 7.4/10
Jim Sturgess and Evan Rachel Wood star in this musical jaunt set to some classic Beatles tunes. Sturgess plays Jude, a poor artist from Liverpool who follows the subject of his affections, Lucy, a young woman who comes from money, across the pond. The two navigate turbulent times, the psychedelic seventies, and the Vietnam War, all while trying to hold onto a bit of romance. The music is phenomenal and really, what's not to like about a love story based on lyrics from some of your favorite Beatles songs?
Ex Machina (2014)
Run Time: 108 min | IMDb: 7.7/10
Alex Garland's sci-fi thriller breathed new life into the tired A.I. trope when it landed in theaters a few years ago. The film focuses on a naïve young programmer (Domhnall Gleeson), who's selected amongst a pool of applicants to evaluate a new A.I. life form. The poor kid is whisked away to a remote villa to spend time with the eerily-human-looking robot, Ava (Alicia Vikander), and her eccentric, often cruel creator Nathan (Oscar Isaac), a genius with an ego to match his talent. The film takes some twists you don't expect, and Isaac gives cinema one of its greatest dance sequences that's made even better by some Mary Jane, in case you needed more reason to watch.
Kung Fu Hustle (2004)
Run Time: 99 min | IMDb: 7.8/10
The early aughts action-comedy borrows elements from famous Kung Fu films of the '70s and pairs them with a completely ridiculous plot and some impressive cartoon-style fight sequences to produce a wholly original flick that we guarantee you'll marvel at. The film follows the exploits of two friends, Sing and Bone, who impersonate gang members in the hopes of joining a gang themselves and inadvertently strike up a gang war that nearly destroys the slums of the city. Of course, the real draw here is the absurdist, over-the-top comedy that takes place during some of the film's biggest action sequences. It's laugh-out-loud funny, but only if you check your brain at the door.
Disneynature: Wings Of Life (2011)
Run Time: 81 min | IMDb: 7.4/10
One of the best things to do while enjoying some bud is to watch a nature doc. There are plenty to choose from on Netflix, but only one of them is narrated by Meryl f*cking Streep. This one is specifically geared towards plant life, flowers, and the animals that pollinate them.