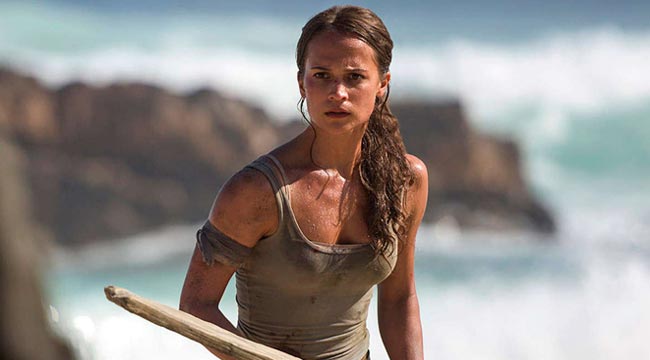 With $606 million domestic in the bank, Black Panther has already broken a ton of box-office records. It's the seventh biggest film in America of all time, and it has a very decent shot at ending its run as the third or fourth biggest film of all time in the United States. It's poised to pass Marvel's The Avengers as the biggest superhero movie and biggest MCU movie of all time, domestic. It owns the record for biggest February release, biggest winter release, and biggest President's Day release. Ultimately, it's expected to end its run with around $1.25 billion.
But here is what may be most impressive right now about Black Panther: It just topped the weekend box office for the 5th straight week. In the blockbuster era, that is an incredible, almost unheard of feat. Star Wars: The Force Awakens could not do that. Jurassic World could not do that. The Dark Knight could not do that. In fact, that's something only one other movie has managed to do in the entire 21st century, and that was Avatar, the biggest movie of all time, globally. In the blockbuster era, films rake in as much as half of their entire gross on the first weekend and fade: Not Black Panther. Five consecutive weeks at number one is huge, and it's not like it's confronted weak competition, either. It's faced down and vanquished Game Night, Red Sparrow, A Wrinkle In Time and now the Tomb Raider reboot.
This weekend, it wasn't even that close. Black Panther came in with $28.5 million while Tomb Raider entered at number two with a disappointing $23.5 million, on a $94 million budget. It just did not work out for the Alicia Vikander reboot, which was met with a mixed reception from both critics (49 percent on Rotten Tomatoes) and audiences (a B Cinemascore). It will probably do fine overseas (it opened decently in China), but don't expect another Lara Craft movie anytime soon.

In at third place is a surprise to almost everyone: I Can Only Imagine earned an outstanding $17 million. Faith-based movies are hit-and-miss at the box office, and their success often relies on how well these movies are marketed in churches (and how many church buses load up parishioners and drive them out to theaters). This one didn't have a lot of star power behind it (Dennis Quaid and Trace Adkins are the film's biggest stars), but it did have a popular Christian song to help propel it. The movie, in fact, is based on the true story behind the origins of MercyMe's "chart-topping" song, "I Can Only Imagine," a song that most of us heathens have probably never heard. The $17 million take makes it the seventh highest grossing opening for a Christian film.
Meanwhile, A Wrinkle in Time has not, sadly, been able to take advantage of all the students out on spring break. It dropped 49 percent in its second weekend to earn $16.6 million, bringing its total to an OK $61 million after 10 days. The $103 million film likely will not earn its budget back stateside, so it will have to rely on foreign totals if it has a chance to break even.
Greg Berlanti's wonderful, delightful, sweet, and amazing Love, Simon came in at number five with $11.7 million, which is pretty great for a film with only a $10 million budget. It's not exactly blockbuster material, but this is a movie that's going to do very well in the home digital market and that will play on TBS for decades. It's a delightful 21st century John Hughes film, and I cannot recommend it enough.

Holdovers took the bottom five slots, which for the first time since December contains neither The Greatest Show on Earth or Jumanji: Welcome to the Jungle. Game Night took number six with $6 million and $54 million, overall. Peter Rabbit continues to show very good legs, surpassing the $100 million mark in its sixth week with $5.9 million. Strangers: Prey at Night has now earned $18 million after a $5.1 million second weekend., and Jennifer Lawrence's Red Sparrow continues to limp along. It sits at a meager $40 million after three weeks. Finally, Eli Roth's Death Wish refuses to go away, hanging in at number 10 with $3.4 million, bringing its total to $30 million.
Next weekend, Black Panther will go for week number six at the top, but I suspect it will probably come up short against Pacific Rim 2. Several other films will also take a shot, including Midnight Sun, Paul, Apostle of Christ, Sherlock Gnomes and Steven Soderbergh's Unsane.
(Via Deadline / Box Office Mojo )