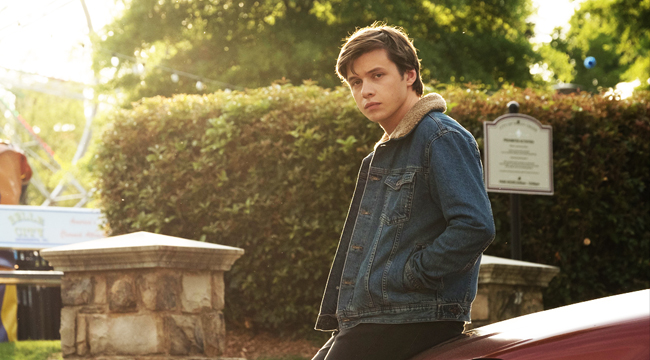 There are certain ageless qualities to high school comedies, comforting patterns that reveal themselves over and over in a genre of movies made specifically for an audience who just wants to be understood. Midway between John Hughes and a Disney Channel Original movie lies Greg Berlanti's Love, Simon, is a tender, funny film that presents a slightly different take on the teen movie.
Berlanti's adaptation of Becky Albertalli's debut young adult novel Simon vs. the Homo Sapiens Agenda begins with our hero, Simon Spier (a quiet, easygoing Nick Robinson), telling the audience how he's just like us. He lives with his wonderful Land's End catalog family (Jennifer Garner and Josh Duhamel play his parents), has a circle of buddies he carpools with, enjoys high school, and generally has a pretty good life. Except for one thing that kinda complicates things: he's gay, and he has no idea what to do about it.
Spier's closeted life is interrupted by an anonymous post on his high school's gossip Tumblr "creeksecrets," a webpage used by the students to post pretty much whatever they want about themselves or goings-on at their school. (A website designed so that students can anonymously post about themselves or other students? Oh, this'll go great.) The post, signed with the pseudonym "Blue," is from a student at the school who is gay, but doesn't know how to tell anyone. An e-mail address is linked to the post, and Simon immediately contacts Blue, posing as "Jacques," and confesses that he, too, is gay, and in the same situation. Simon begins to fall for "Blue" as their e-mail exchanges continue throughout the school year, and starts to see the other boy in every new kid he meets, turning his search into a kind of "Who could it be?" Nancy Drew mystery. One particularly fun detail is the bait-and-switch nature of Simon's detective work: every time he imagines "Blue" in his head, they appear onscreen as the real-life person he thinks they are, until that person proves in some way to not be who he's searching for.
As the kids in this film are influenced by the movies of their pasts — Simon's walls, like those of a few other characters in the movie, are full of posters — so is Love, Simon itself influenced by its predecessors. The John Hughes comparisons will come easily — Simon's best friend Leah (Katherine Langford of Netflix's 13 Reasons Why) even dresses in jean jackets and headbands, and many big moments in the movie are set around a football game, a school dance, a carnival. It's softer and less biting than something like Easy A, which mercilessly skewers the social conventions of high school movies, but it's no The Fault in Our Stars either, remaining too funny to settle into melodrama. Instead, Love, Simon comfortably situates itself somewhere in the middle of teen comedy and teen romance. Nothing that happens, aside from what happens at the very end, is incredibly unexpected, and it's mostly faithful to the formula of films that have come before it — except the difference in this one is the added layer of homosexuality.

At times, Love, Simon runs the risk of telling more than showing, that age-old chestnut. But since every "telling" scene features advice and truths about being a young gay person who is coming to terms with themselves that I'm overjoyed have made their way into a movie like this, they can almost be excused for sounding a little preachy. There's one scene after a catastrophe that I won't spoil the details of (but if you pay attention while you're watching you can totally see coming) in which one character emotionally explains to another that his coming-out should be his choice and his alone, and to take that away from someone is, simply, cruel.
Love, Simon does play around with, and refute, certain conventions that have come to be expected in movies like this. A declaration of love made in front of the whole school — an uncomfortable action at best and a manipulative one at worst — that would, in a lesser film, be treated as romantic, is calmly and matter-of-factly shut down. It even touches on the nuances present in queerness itself: compared to much more flamboyant fellow classmate Ethan (Clark Moore) who wears scarves, calls his friends and his enemies "honey," and who's been out for at least a year or more, Simon looks as straight as a board. Without actually saying the words, the two share a conversation about how there's not just one cookie-cutter version of a gay man, not just one way for homosexuality to present itself. Simon has a montage where he tries on tight-fitting T-shirts after Googling how to dress "gay," before realizing that that's just not who he is. There's even a rainbow-hued dream sequence dance number that Simon halts by saying, "Well, maybe not that gay."
What's different about Love, Simon is how non-different from other teen movies it actually is. It's extremely normal, very safe, and that's what makes it so remarkable. It can be terrifying for young kids to come out, and it can be difficult and even uncomfortable for some of those kids to identify with versions of queerness in movies like But I'm a Cheerleader or John Waters' camp classics that others may cite as touchstones for realizing and coming to terms with their own sexuality. Both parents in Love, Simon have "I accept and love you as you are" speeches akin to Michael Stuhlbarg's sob-inducing soliloquy at the conclusion of Call Me By Your Name, another film that deals with similar concepts of coming of age and sexuality. Though Love, Simon is more PG, eschewing actual sex and questionable acts with peaches for a few chaste kisses at the top of a carnival ride. It's practically bait for today's young adults, with Simon's circle of friends rounded out by The Flash's Keiynan Lonsdale and Alexandra Shipp, a.k.a. young, mohawk'd Storm from X-Men: Apocalypse.
For so long, the teen comedy has been the realm of straight teens, the characters of Grease and Clueless and Heathers pairing themselves and each other up with other straight teens, queer romance either a punchline, an afterthought, or nowhere to be found in the first place. Love, Simon isn't a subtle movie by any means, but it ought to be praised for normalizing something that should have been normal from the start.