The latest trailer for Bombshell makes it clear the film about the sexual misconduct at Fox News under Roger Ailes' watch will have just as critical a lens as you'd expect from a movie made by the people that brought you The Big Short.
"You have to adopt the mentality of an Irish street cop," Kate McKinnon's character says to new Fox News employee Kayla, played by Margo Robbie. "The world is a bad place. People are lazy morons. Minorities are criminals. Sex is sick but interesting.
"Ask yourself 'what would scare my grandmother or piss off my grandfather,'" McKinnon concludes. "And that's a Fox News story."
Directed by Jay Roach, Bombshell is written by Charles Randolph and follows the fallout from a number of high-profile sexual misconduct accusations at the right-wing television news outlet. The trailer actually shows some extremely sexist real footage from Fox And Friends alongside Nicole Kidman as former anchor Gretchen Carlson, whose accusations against men at Fox News will play a large part in the movie.
We've known the casting for a while now and a first trailer was released earlier this year, but our first look at Charlize Theron's Megyn Kelly here is still double-take worthy. Her picture-perfect impression of the now-former Fox News anchor first shows up as she addresses comments about her by Donald Trump during the 2016 Republican presidential debates. The voice, the look — everything is perfect here.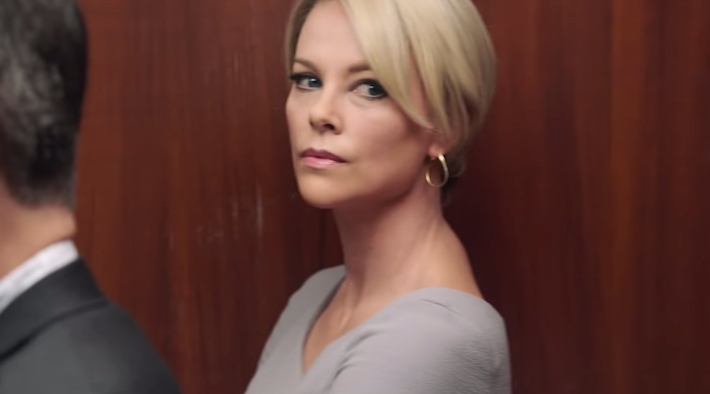 "Did he just accuse me of anger menstruating?" Kelly asks in the trailer. "Am I going to be the story? I'm going to be the story."
John Lithgow's Roger Ailes is pretty terrifying as well, with some significant makeup work to recreate the now-deceased Fox News chairman. Billie Eilish's "Bad Guy" gets prominent placement in the trailer, and for good reason, as Ailes asks for ominous "loyalty" from Kayla in a one-on-one meeting.
hits theaters on December 20. You can watch the trailer above.