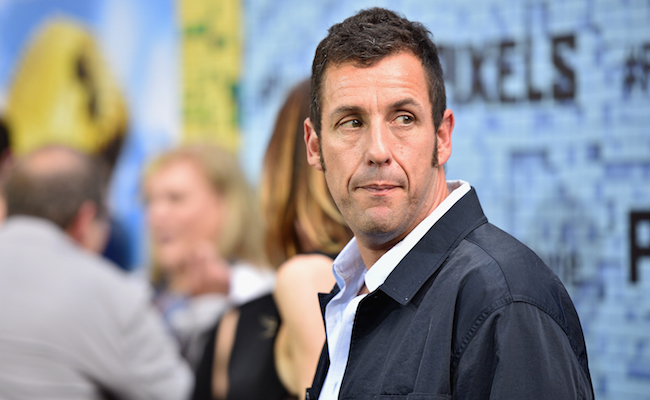 Surprise! Occasional critical darling/steady critical punching bag Adam Sandler made his first ever appearance on The Howard Stern Show on Tuesday, and he revealed to the recently re-signed host that he isn't particularly interested in the reviews his movies generate. Considering the mass beating his new (and controversial) Netflix offering The Ridiculous 6 received from critics — including our review — that shouldn't come as too much of a shock.
"The bad reviews that I get on everything I do, that part pisses me off because I ask my f*cking friends to be in it, and to ask them to be in this stuff and I'm promising them, 'I think it's good.' And then I do screenings for an audience and it all works and I'll call them up after and say 'Hey, that one thing you said really did great.' And then that Friday, every Friday literally every one of my movies is destroyed. Everything, the reviews, they destroy them so much that I'm just like, 'I can't wait for my friends to see the movie and not read that sh*t and be affected by it."
Even the prospect of good reviews isn't enough to change Sandler's opinion…
"I swear to God, I don't want them. I don't take them. When they say I'm good in something and someone calls me up and says, 'Wow, the Village Voice said blah blah blah,' I'm just like, 'I don't give a f*ck."
B-b-b-but that means he missed out on all the acclaim for Pixels! (Actually, Uproxx's Mike Ryan pegged the film as being not as bad as other recent Sandler fare, even noting that "it's competent at times.")
Reviews aren't likely to hurt Sandler's feelings anymore, but he did acknowledge to Stern that he was bummed out by the times Stern knocked him in public. Here's part of the exchange as transcribed by HitFix, which has a fuller version:
Howard Stern: "I always felt bad about all the years that we didn't speak, I really did. Because I was a total f*cking a**hole. I was."

Sandler: "I would laugh when you would say it about other people. But I just didn't get it. I was like, wow, I thought you were literally gonna be my biggest supporter."

Stern: "I was no one's supporter. My whole thing was, I'm such an angry motherf*cker that I couldn't be happy for anybody. It was just a world of f*cking anger."

Sandler: "But pretty cool that you were honest about it. I've had moments like that, but I keep it to myself."
There was no brawling on Sandler's debut appearance on the long-running program, but we did get confirmation that Quentin Tarantino originally had him in mind for the role of The Bear Jew in Inglourious Basterds. The upside of course is that Eli Roth did an all right job in Sandler's absence and unlocked some weird sensual feelings people didn't know they had about the guy who gave you Hostel.
(Via The Howard Stern Show/HitFix)
Now Watch: Mark Your Calendar: Netflix Series To Watch Over The Next Year