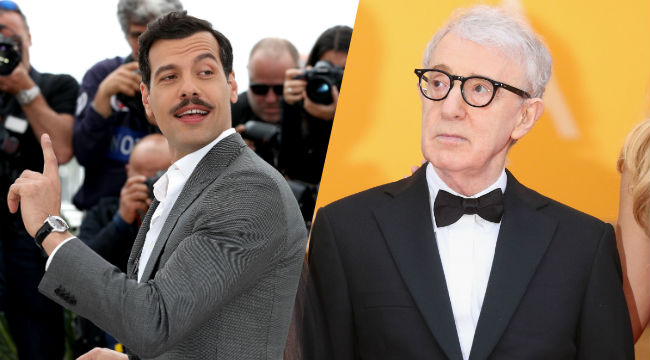 The Wednesday night premiere of Woody Allen's latest film, Cafe Society, at the 2016 Cannes Film Festival was already trending because of a Hollywood Reporter guest column penned by his son, Ronan Farrow. In it, Mia Farrow's son lambasted the New York Times for its uneven coverage of Allen's history of alleged sexual assaults — including his own daughter, Dylan. Yet instead of recounting all of the allegations and the back-and-forth, Ronan wagged his finger at the media at large and demanded they start asking tough questions about Allen's past transgressions to his face. Apparently French Comedian Laurent Lafitte heard the call, because the master of ceremonies for the festival's opening night joked about the accusations to the filmmaker's face.
According to several outlets, Lafitte addressed Allen directly about the matter:
"It's very nice that you've been shooting so many movies in Europe, even if you are not being convicted for rape in the U.S."
The quip drew audible gasps from the audience. Not only because of what the comedian was saying directly to Allen, but also due to what many believed was a veiled jab at fellow director Roman Polanski. Like Allen, Polanski has been accused of sexual misconduct with a minor. Unlike Allen, Polanski was actually convicted and fled to France in 1978 to avoid sentencing. The filmmaker has since bounced around Europe in his continued efforts to avoid extradition.
Following the crowd-displeasing rape joke, Lafitte continued by thanking Allen for attending the festivities and "[giving] badly-paid bit parts to French actors, which kind of puts them in their place." Those in attendance were a bit more receptive to these more genial comments.
Aside from serving as the master of ceremonies for Cannes, Lafitte's other reason for hanging out at Cannes might explain his joke. The 42-year-old stars in Elle, the Paul Verhoeven-directed French language film that tells the story of a businesswoman named Michèle (Isabelle Huppert). After a stranger rapes her in her own home, she spends the rest of the narrative trying to identify and stalk her assailant. Lafitte plays a character named Patrick.
None of the reports published thus far provided any on-the-record reactions from Allen, his representatives, or anyone else in attendance from Cafe Society. However, considering all the times Allen has brushed bits like this off his shoulders, the 80-year-old auteur probably looked something like this after the ceremony's conclusion:
(Via Variety and the Hollywood Reporter)