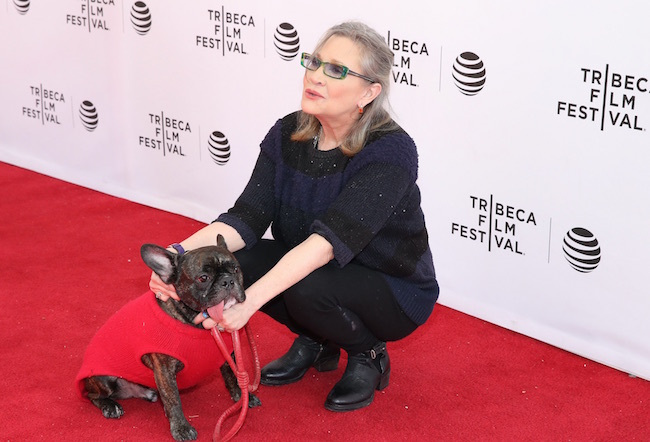 On Tuesday, at the Tribeca Film Festival, Catastrophe stars Sharon Horgan and Carrie Fisher (and Fisher's dog, Gary) participated in a live Q&A. First, Catastrophe, which is written by Horgan and Rob Delaney (who also star), is a great show and, if you're in the United States, it streams on Amazon Prime. Second, any time Fisher and Gary appear in front of human beings, it's always entertaining. Ahead, here are the highlights:
Gary slept for most of the Q&A. Seriously he ran around for a little bit, found a comfortable spot, then went to sleep in front of everyone. (I like Gary.)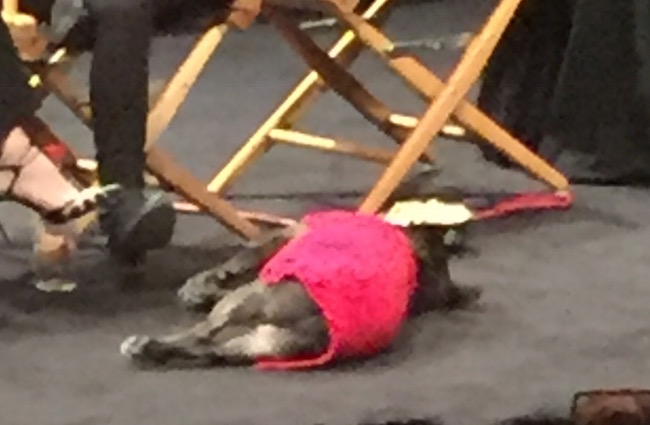 But Fisher had quite a bit to say. She led off the Q&A by giving Horgan the finger after they disagreed on the term "meet-cute" (Fisher was wrong) before spreading her wisdom with the audience.
Fisher said she originally had no interest in acting. As the daughter of people already in the industry, she said she "knows what the ending is." And "for women over 27," it wasn't good. Of course, Star Wars was brought up a few times. (Sadly, so one mentioned The 'Burbs.) At one point she tried to persuade Horan into playing a villain in a future Star Wars film, adding, "You're the only person who would love to kill me."
The most interesting Star Wars tidbit came when Fisher said that one single line of Star Wars dialogue was responsible for her wanting to become a writer. She hated this line so much, it inspired her to write her own stories. What was this line?
"I have placed information vital to the survival of the Rebellion into the memory systems of this R2 unit."
Fisher repeated this line in front of the audience three times, to a round of applause (except from Gary, he was still sleeping). She hates it so much that she still remembers it today. And she claims that her hate towards that line is why she does the line in a British accent.
Gary, as always, seemed nonplussed by all of this information.
Mike Ryan lives in New York City and has written for The Huffington Post, Wired, Vanity Fair and New York magazine. He is senior entertainment writer at Uproxx. You can contact him directly on Twitter.