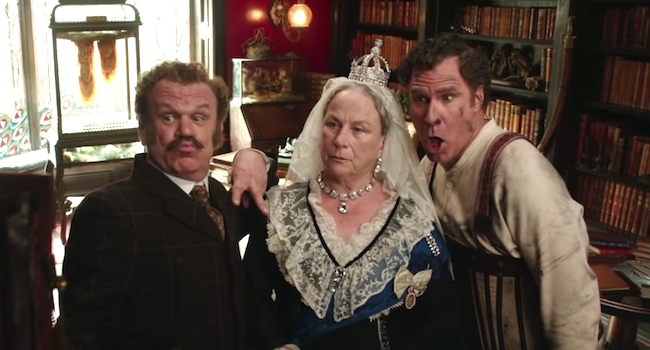 The annual Christmas Day movie dump isn't much of a dump this year. Thanks to the big day's close proximity to a Friday, the multiplexes are already flooded with fresh fare. But there's still a ton of new content on the big screen, some of them in a theater near you.
'Holmes & Watson'
It's not being screened for critics, but who cares? It's the long-awaited third team-up of Will Ferrell and the phenomenally busy John C. Reilly. What it's not is Step Brothers 2. But them doing a goof on Sir Arthur Conan Doyle's beloved dics is close enough, especially since they're joined by a litter of overqualified Brits: Rebecca Hall, Ralph Fiennes, Kelly Macdonald, and another dynamic duo, Rob Brydon and Steve Coogan, the latter Reilly's screen partner in the biopic Stan & Ollie, which hits limited release on the 28th.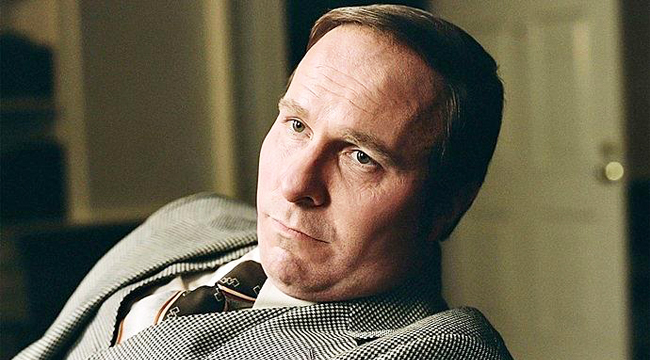 'Vice'
Speaking of Will Ferrell and John C. Reilly, Adam McKay, their director on Talladega Nights and Step Brothers, did not helm Holmes & Watson. That's because he was busy making a movie about Dick Cheney. Like The Big Short, this is the former SNL head writer (and Anchorman guru) going serious if still slightly (if darkly) funny, cranking out a renegade biopic that never once paints its real-life protagonist as heroic, or even as a decent human being. Christian Bale gained a De Niro-in-Raging Bull amount of weight to play the former veep, shown nearly destroying the world upon becoming the de facto world leader under George W. Bush (an ideally cast Sam Rockwell). Meanwhile, there's Steve Carell as Rumsfeld, Amy Adams as Lynne Cheney, Tyler Perry as Colin Powell, and Jesse Plemons as a character we don't want to reveal.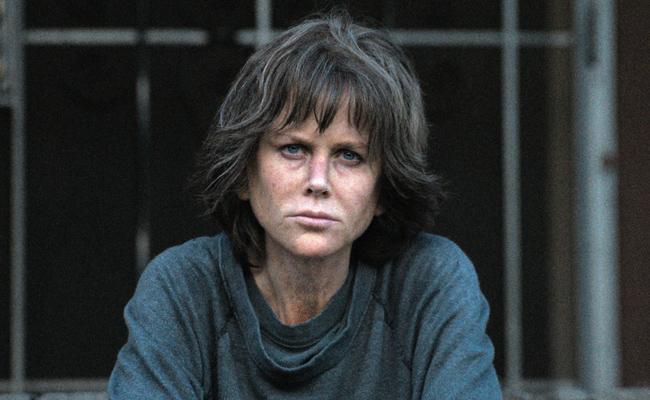 'Destroyer' (limited)
Nicole Kidman can currently be seen on screens playing Aquaman's mom (despite being the same age as star Jason Momoa's real-life wife, Lisa Bonet, which must have been awkward). She can also be seen dirtying herself up in this indie thriller from acclaimed filmmaker Karyn Kusama (Girlfight, The Invitation). The Paddington 1 villain plays an undercover Los Angeles cop who gets pulled in deeper than she was expecting.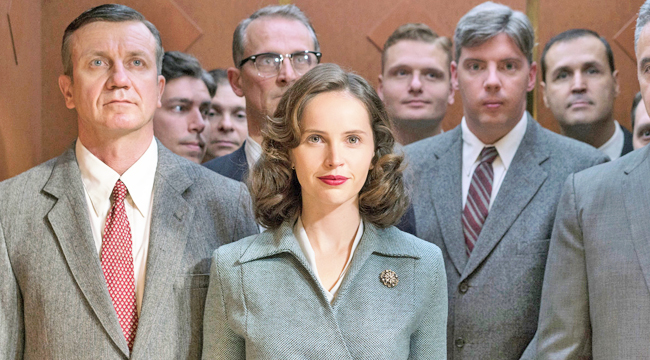 'On the Basis of Sex' (limited)
Need a break while stressing over the fast and complete recovery of 85-year-old Ruth Bader Ginsburg following lung surgery? Why not go see a movie about her as a young scamp? This is the second RBG movie of 2018, after the smash hit doc RBG, and it lets Felicity Jones stand up to untold sexist pigs, all while her adoring husband (Armie Hammer) looks on.
Still fresh in theaters:
'Aquaman'
The DCEU has been quite hit-and-miss, but the solo one about their aquatic do-gooder (Jason Momoa) seems to be one of the hits. And hey, any chance to watch Willem Dafoe astride a sea creature sounds fine by us.
'Bumblebee'
Speaking of well-received movies from dodgy franchises, the first Transformer movie to get a decent Rotten Tomatoes score is this spin-off about the mute yellow Camaro who can only speak in radio songs/MP3s. (Or has he evolved to Spotify streams now?) Hailee Steinfeld plays his human, the always welcome John Cena is along for the ride, and, best of all, Michael Bay is nowhere in sight. We liked it.
'Mary Poppins Returns'
Enjoy the rare franchise entry that's a belated sequel, not a reboot. Emily Blunt takes over for Julie Andrews, who's actually hanging over in Aquaman, voicing a fish, while Lin-Manuel Miranda makes his splashy co-lead movie debut as the mentee of Dick Van Dyke's cockney chimney dude Bert.
'Second Act'
F. Scott Fitzgerald said there were no second acts in American lives, and yet here's J.Lo, on either her fourth or fifth act. This one seeks to not only resuscitate Lopez's floundering film career but also the rom-com, with the onetime Angel Eyes star playing a woman who lies her way into a sweet new position.
'Welcome to Marwen'
Steve Carell dramatic roles: Collect them all! If you enjoyed him crying through Beautiful Boy or cursing through Vice, you may be into the erstwhile Office star playing Mark Hogancamp, a man from Southern New York who built a miniature WWII-era town in an attempt to deal with the trauma of a violent attack. Hogancamp's story was already told in the 2010 doc Marwencol, and the Hollywood version, from Robert Zemeckis, brings his creations alive with the magic of CGI — the better to show him disappearing into his art as a form of therapy.
'Mary Queen of Scots' and 'The Favourite'
Which female-driven costume drama do you want? The one where Saoirse Ronan and Margot Kidder are the queens of Scotland and England? Or the one where Emma Stone and Rachel Weisz vie for the affections of Olivia Colman's Queen Anne? The latter is the latest from The Lobster director Yorgos Lanthimos, who has little patience for typical period movie trappings, so it depends if you want traditional or deeply, nastily eccentric.