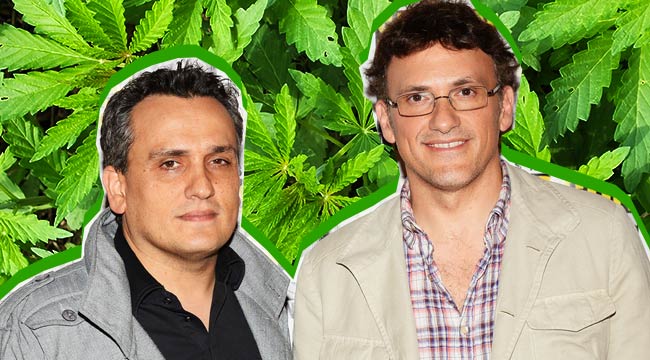 Brothers Joe and Anthony Russo are probably having a pretty good time right now. Not only is their latest directorial effort — Captain America: Civil War — making all the money at the box office, but it's also one of their best-reviewed projects to date. Which is saying something, because their previous film — Captain America: The Winter Soldier — was considered by many to be the best movie in the Marvel Cinematic Universe. That's two amazing feats in a row by brothers who got their start on television with great comedies like Community and Arrested Development. Maybe they miss the small screen, because Showtime announced that the pair is now developing a new series about pot.
According to Deadline, the Russos will executive produce the yet-to-be-titled half-hour program. However, they won't be involved any more directly since fellow executive producer and comedian Moshe Kasher is co-writing the show with actor Zach Cregger. Still, it says something about Kasher and Cregger's idea that the two guys who won an Emmy for directing the pilot of Arrested Development are interested in their work. And considering the premise, it sounds pretty good:
[A] larcenous family of pot [dealers'] world is turned upside down when their illegal enterprise suddenly becomes legal in their home state. As the family struggles to adapt to the strange new world of legitimate business, they are forced to depend upon the business acumen of their son, whose straight and narrow leanings have always made him a "black sheep" in this clan of reprobates.
Seeing as how recreational and medical marijuana use is currently legal in the states of Alaska, Colorado, Oregon and Washington, this untitled project's timeliness is perfect. Plus the Russo brothers' involvement should prove interesting, because after hotboxing with Kasher and Cregger for a little while, their re-entry into the MCU is going to look a lot different…
(Via Deadline)