Background first, quickly, because facts are important but not so important that we want to get stuck in them before the good parts.
Coyote Vs. Acme is a movie about Wile E. Coyote suing the Acme Corporation for all the very many defective products he has ordered from them in his pursuit of the Road Runner. The whole thing is based on a solid humor piece that ran in The New Yorker in 1990 and has some heavy hitters attached to it, most notably new DC head honcho James Gunn. The cast ain't too shabby either, with John Cena and Will Forte and Lana Condor leading the human side of the hybrid cartoon/live-action business, kind of like if Space Jam had ended with a trial in a courtroom instead of a basketball game in outer space. There is lots to like here. It was supposed to hit theaters in July 2023 before it got bumped by Barbie. All pretty straightforward stuff, or at least as straightforward as "a lawyer played by Will Forte helps a bumbling cartoon coyote sue a large corporation for sending him faulty products and preventing him from murdering a very fast bird" can get.
Then, a few months later, chaos. Tragedy. Potential redemption. It is maybe my favorite little Inside Baseball Hollywood story in years. And I'm going to explain it as best I can, in four parts, with each part featuring a GIF of Wile E. Coyote mangling his body for our enjoyment, only because I already have them saved on my computer and I will always take advantage of an opportunity to use them.
Here we go.
PART I: Everything goes full Wile E. Coyote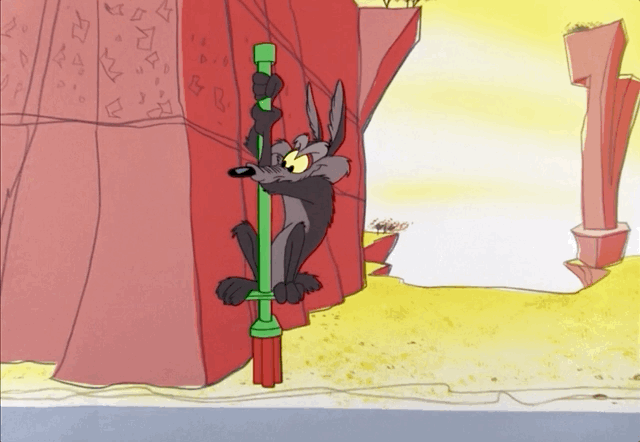 Despite the movie being shot and edited and completed and ready to go as soon as someone pressed play, and despite it receiving a slew of positive test scores, Warner Bros. CEO David Zaslav decided to scrap the whole thing entirely to take a $30 million tax write-off. This was and is a huge bummer, for a lot reasons, some of them having to do with the general concept of making a piece of art and throwing it into your own personal trash can in the name of capitalism, some having to do with all the people who worked on the film being denied the chance to show off the finished product, and some of it having to do with this not being the first time it's all happened. Warner Bros. scrapped the almost completed Batgirl movie a little while ago, too. You probably remember this. People were very upset. We'll circle back to it.
It's not even the first time a hybrid cartoon/live-action Looney Tunes movie has been scrapped, for the record. Yes, this is another excuse to tell you about the time Tony Hawk almost made a movie called Skate Jam. Yes, I will post his quote about it from Hot Ones.
"[They said], 'When you get back, we're going to finalize all the details,' like, that's set, it's happening.' Awesome! I get on the plane, go to Australia. In the meanwhile, they released Back in Action, which was a Looney Tunes film with Brendan Fraser, and apparently, it didn't do the numbers they had hoped. That was supposed to be their way to reintroduce Looney Tunes characters. By the time I got back from Australia, they weren't even calling anymore. It was gone. It was just gone. It was more like, 'What happened?! Let's all meet up again! This is gonna be fun, right?!' Yeah. Bummer."
On one hand, these situations are different because Coyote Vs. Acme was a completed film and Skate Jam was still just an idea. On the other hand, I just really like talking about the time Tony Hawk almost made a Looney Tunes movie called Skate Jam. Plenty to consider here.
The point is: Huge bummer and ironically fitting for a movie about a character whose exciting big plans are always dashed by the world around him.