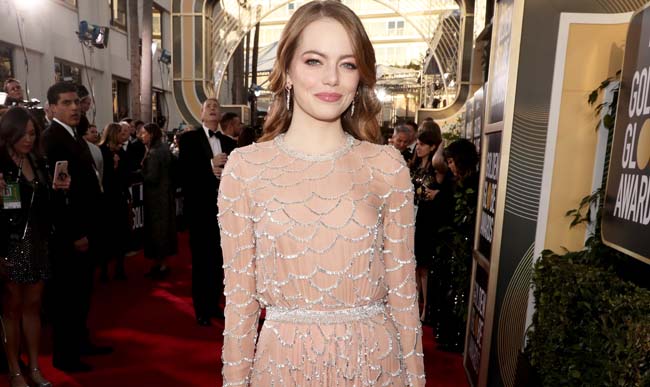 It's been nearly four years, but Emma Stone has still not heard the end of her portrayal of the quarter-Chinese, quarter-Hawaiian, and half-Swedish character Allison Ng in Cameron Crowe's 2015 film, Aloha. During Sunday night's 2019 Golden Globes monologue, co-hosts Andy Samberg and Sandra Oh cracked a joke about the highly-criticized whitewashing of the film.
Acknowledging Crazy Rich Asians, which is nominated for Best Motion Picture, Musical or Comedy, Oh quipped that it was "the first studio film with an Asian American lead since Ghost in the Shell and Aloha." (Scarlett Johansson, who was not in attendance, likewise took flack for her role in the former film.)
Immediately after the joke landed, someone could audibly be heard yelling "I'm sorry!" from the audience, which was picked up by audio and quickly became the subject of speculation on Twitter whether or not it was, indeed, Emma Stone. (It almost definitely was.)
It would not be the first time Stone has addressed the controversy. Shortly after the film premiered, she told the news outlet News.com.au that the experience taught her a lesson about Hollywood whitewashing.
"I've learned on a macro level about the insane history of whitewashing in Hollywood and how prevalent the problem truly is. It's ignited a conversation that's very important," she said at the time, while maintaining that "the character was not supposed to look like her background which was a quarter Hawaiian and a quarter Chinese."
Presumably she was just thrilled to have the film — which was an unmitigated flop — brought up again, but such are awards ceremony jokes.