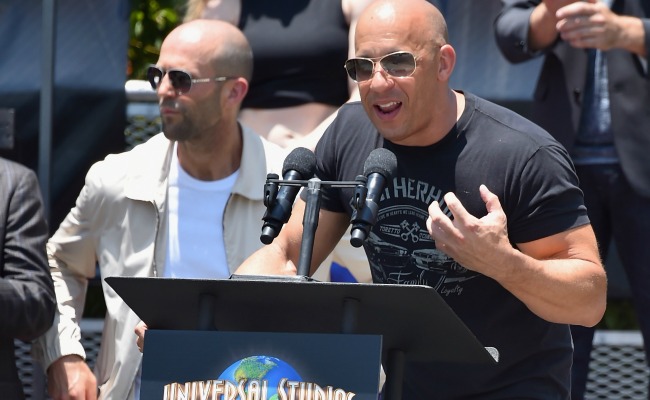 Last month, I visited Universal Studios Orlando for the first time since I was 12. It was great: "The Simpsons Ride" was topped only by "Harry Potter and the Forbidden Journey." "Transformers: The Ride-3D" and "Dudley Do-Right's Ripsaw Falls" were both unexpectedly fun, too. But I can't help but feel like I wasted my money, because I didn't wait for "Fast & Furious: Supercharged" to open at Universal Studio Hollywood, which it just did. Today. Dammit.
Well-toned stars Vin Diesel, Michelle Rodriguez, Tyrese Gibson and Jason Statham were on hand yesterday to unveil the 3-D "explosion-packed…chase" and smash a Corona on a car door, like a ceremonial ship launch. Diesel took a moment to dedicate the ride to Paul Walker.
And then he got back to talking about automobiles moving fast and furiously.
"I know when we were making it, it felt like we were creating something that I had never experienced. We employed all kinds of incredible technology," said Diesel before opening the ride with a ceremony, which included pyrotechnics and car stunts. "I'm really excited to get in there and feel it out and get that adrenaline pumping." (Via the Hollywood Reporter)
As for Furious 8, which comes out some time next year, Diesel told reporters it will be "the best film in history," so expect back-to-back Best Picture wins.
(Via the Hollywood Reporter)