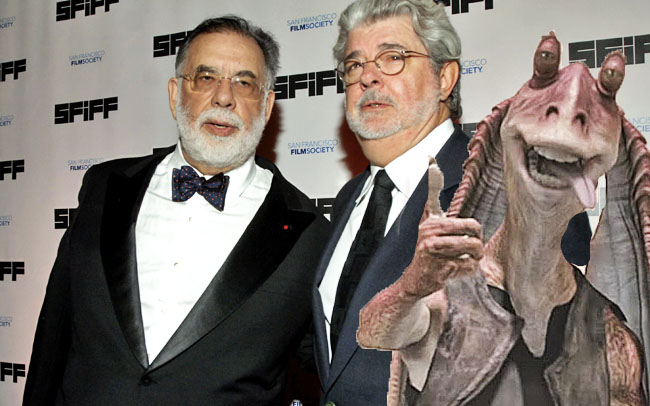 When you think about the New Hollywood and the names that rose to legendary status, Francis Ford Coppola and George Lucas are right there with Scorsese and Spielberg. It's just hard to think that now considering Coppola hasn't really been on the major film radar for a few years now (2011's Twixt) and George Lucas has been wrapped up in the magic of myth in Star Wars. It's that last bit that Coppola cites during a speech at the Marrakech International Film Festival according to Screen Daily, noting that his good friend got lost in the world of toys and blockbusters:
"I think Star Wars, it's a pity, because George Lucas was a very experimental crazy guy and he got lost in this big production and never got out of it," Coppola reflected.

"I still hope that he made so much money out of it that he will just make some little movies. He promises me that he will."
As long as he doesn't try to make another Red Tails, I think I'm cool. American Graffiti is a great film and even the original Star Wars was a lot of fun. Plus you can't forget that he had his hands in so many different pots in the '80s. But still, what I wouldn't give to have Lucas making small films for all those years and leaving the original Star Wars films alone.
As for Coppola, he claims that his time is almost up in the film world. At 76, The Godfather filmmaker says he might only have one last film to make: An adaptation of Thomas Mann's Buddenbrooks:
"I may only make one film more in my life, but it may be very long, and it may go in different places," said the five-time Oscar winner."It's sort of like Buddenbrooks because it's about three generations of a family.

"It happens during the birth of television; the growth and omnipresence of television and finally the end of television as it turns into the internet. Then I decided that I wanted to do it as live television."

It is, he conceded, "very different from a normal film".
Not a shock and certainly not troublesome. When you've achieved what both filmmakers have, the only real debate to have is what is more important: commercial success or artistic achievement. Both have strong arguments with both throughout their careers, so it really doesn't matter if they make one more film or 20. Still, we could've done without the prequels.
(Via Screen Daily / Vulture)
Now Watch: Which Original 'Star Wars' Characters Will Be Back For 'The Force Awakens'?