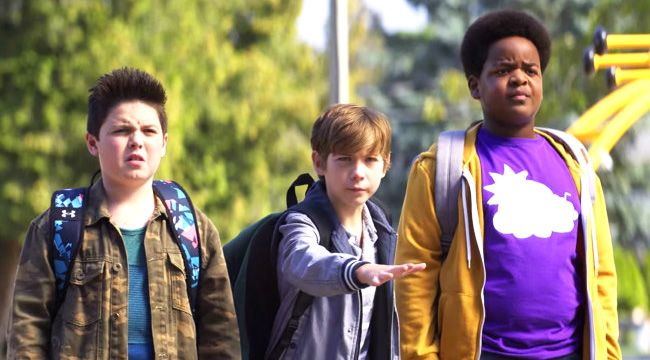 Five movies opened wide this weekend, but only one could be called a resounding success: Seth Rogen and Evan Goldberg's Good Boys. The R-Rated comedy debuted with a $21 million haul at the box office, which is not only good enough for first place, but it also gives Good Boys the highest-grossing opening weekend for an original comedy in all of 2019. Reviews helped propel the film (80 percent on Rotten Tomatoes), in addition to a solid B+ Cinemascore.
What's interesting about the success of the Good Boys opening is that it is so overwhelmingly seen as a "success." Last year, the R-Rated Blockers opened with a nearly identical $20 million weekend, but at the time, that was seen as underwhelming. Why is Good Boys' opening seen as a success while Blockers was seen as a slight disappointment? It's not because Blockers had a higher budget (both have around a $20 million budgets). Is it because Blockers was better reviewed? No, not really: It had an 83 percent on the Tomatometer compared to Boys' 80 percent.
The difference is a box-office environment now in which a lot of comedies have been gobbled up by the streaming markets because in 2019 comedies aren't expected to do as well in theaters because of all the misfires in the last few years (including Stuber, Rough Night, and Booksmart). The last time a comedy earned $100 million was 2017's Girls Trip. When Blockers came out last year, there was still the expectation that comedies could do very well in theaters, but there have been so many failures in the last couple of years — including even Seth Rogen's Long Shot — that when one musters up $20 million on its opening weekend now, that's seen as a huge success.

Meanwhile, the $133 million that Hobbs and Shaw has earned domestically after 3 weeks, including the $13.5 million it earned this weekend, is probably not seen as all that impressive considering that it's still less than Furious 7 earned in its opening weekend ($147 million). However, Hobbs & Shaw has crossed the $400 million worldwide, and while that is short of the $1 billion earned by the last two F&F movies, it's certainly nothing at which to sneeze. It is considerably less than what Lion King — the third place finisher — has earned in the United States only, as it counted up another $11.6 million to bring its total to $495 million (and well over $1 billion worldwide). Meanwhile, with another $10 million, the Guillermo del Toro produced Scary Stories to Tell in the Dark has now earned $40 million.
The Angry Birds Movie 2 also opened this weekend, and it has apparently fallen prey to whatever fatigue family-film audiences had with the summer's other animated sequel, Secret Life of Pets 2. Like Pets, Angry Birds 2 earned significantly less than its predecessor. It opened in fifth place with $9 million and $14.7 million since its Wednesday opening. Compare that to the $38 million opening of the original Angry Birds. The sequel, despite getting considerably better reviews (76 percent to 44 percent), will be lucky if it earns $38 million over its entire run domestically. The upside is that 70 percent of the original's $352 worldwide opening came from overseas, so the film could still earn a profit on a $65 million budget. It didn't put much of a dent in another family film, Dora and the Lost City of Gold, which earned a respectable $8.5 million in its second weekend to bring its total to $34 million.
47 Meters Down: Uncaged, likewise, fell short of its predecessor in its opening weekend. The sequel earned $9 million in its debut weekend compared to the original's $11.2 million. The original, however, legged out an impressive $44 million domestically, but that seems less likely for Uncaged based on its middling 50 percent score on Rotten Tomatoes and its C+ Cinemascore.

Holdovers also occupied the eighth and ninth spots. Quentin Tarantino's Once Upon a Time in Hollywood fetched another $7.5 million to bring its total to $114 million, as it closes in on Inglourious Basterds ($120 million) for the second highest grossing Tarantino movie behind Django Unchained ($160 million). Meanwhile, The Art of Racing in the Rain dropped to number nine in its second weekend with $4.4 million to bring its total to $16 million.
Two new entries disappointingly took the tenth and 11th spots in this weekend's box office. The Springsteen inspired Blinded by the Light only mustered $4.4 million in 2300 theaters, while Richard Linklater's Where'd You Go, Bernadette, starring Cate Blanchett, only managed to earn $3.4 million in 2400 theaters. It's lowest debut of Linklater's career.
As we enter the closing weeks of August, traditionally a period in which the box office slows down considerably, we'll see three new releases next weekend: The horror-thriller Ready or Not opens on Wednesday, while Gerard Butler stars in Angel Has Fallen on Friday, along with the faith-based Overcomer.
Source: Deadline, Box Office Mojo