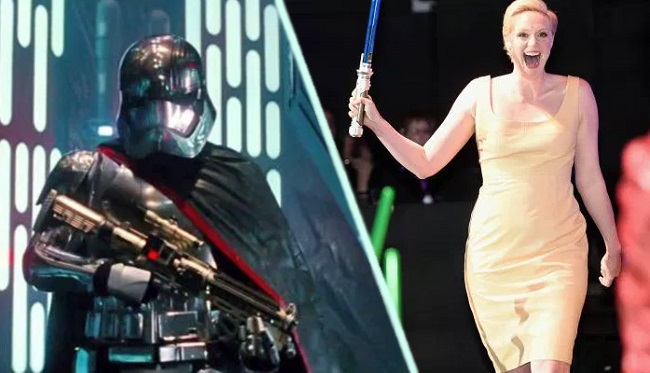 When badass 6-foot-3 blonde Gwendoline Christie (also known as Brienne of Tarth from Game of Thrones) was cast as villain Captain Phasma in Star Wars: The Force Awakens, there was a rumor her character was originally male and offered to Benedict Cumberbatch. And although the ballyhoo about this being the first female cinematic Star Wars villain is technically incorrect (Zam Wesell came first), it's still a pleasant surprise to see Christie donning some non-sexualized, chromed-out Stormtrooper armor in a Star Wars movie.
And it also seemed to be a pleasant surprise for Christie when she learned her character was nearly male instead. Vulture's Kyle Buchanan interviewed Christie (and told her the scoop) just after writer Lawrence Kasdan had revealed to him the character's gender was swapped fewer than three weeks before principal photography began. The change may have been a reaction to people calling the first table-read photo a sausage fest, or perhaps just a realization that, hey, we're not finding a man who's right for this and why not hire a woman? Maybe someone had just seen an episode of Game of Thrones and said, "HER." (Or at least that's how I'd like to imagine it.)
When Christie heard about the swap in this interview, she reacted with excitement and really put things in perspective:
"We're so used to relating to female characters primarily through how they have been made in flesh, and with Captain Phasma, our initial relationship is based on her character and her actions, rather than that random group of elements that comes together and makes us be born in a certain way."
She also made a good point about why there should be more characters who reflect the panoply of body types we see in real life. "It should be everyday. Because it is everyday."
(Via Vulture)
Now Watch: What Role Will Luke Skywalker Play In The New Star Wars Movie?