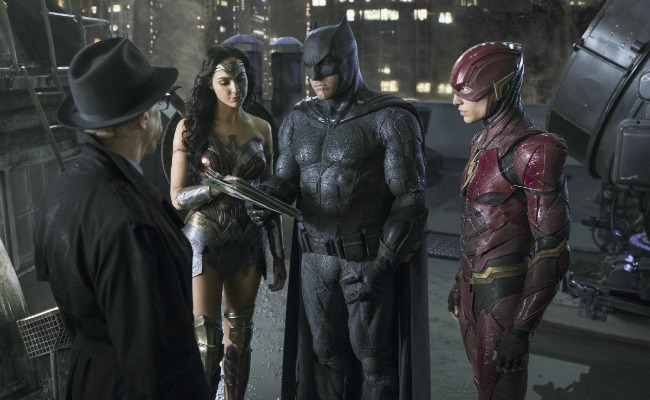 July is just around the corner and HBO Now is here for your chill days inside trying to beat the heat. Justice League will hit the streaming service, allowing diehard fans to enjoy the expansion of the DC Universe again. HBO originals Sharp Objects and Robin Williams: Come Inside My Mind will also arrive to take Summer TV to the next level. Also, if you haven't had time to catch the powerhouse Get Out yet, now's your time before it leaves HBO Now at the end of the month.
Justice League
Following in the path of the smash hit Wonder Woman, Justice League worked to further deepen the DC characters and build the bonds that make this team so iconic. Ezra Miller and Jason Momoa are standouts as The Flash and Aquaman, leaving fans wanting to see more of their characters. If Warner Brothers can get out of its own way in the future, there is some good here. They just need to take what works and run with it.
Sharp Objects
There are few actors as underrated as Amy Adams, and having her take on material as meaty and dark as Sharp Objects is sure to be an acting tour-de-force. As a damaged woman returning home to help cover a murder case, Adams' Camille has to reckon with her demons and psychologically traumatizing past in order to crack the case and overcome her family history. Add in Patricia Clarkson as her domineering mother, Sharp Objects is a summer must-see.
Robin Williams: Come Inside My Mind
The world has been a little less bright since the passing of Robin Williams, and this new documentary seeks to take fans into the complicated and often tumultuous mind of a comedic genius. By highlighting his comedy and his mental health, Robin Williams: Come Inside My Mind seeks to paint a full picture of a man who brought so much joy to so many and left an indelible mark on comedy and Hollywood.
Here are all the titles coming and going on HBO NOW in July:
Series Premieres:
Sharp Objects, Series Premiere (7/8)
Sr. Ávila, Season 4 Premiere (7/29)
Series Finales:
Sesame Street, Season 48 Finale (7/14)
Original Programming:
Bill Maher: Live from Oklahoma (7/8)
HBO First Look: Mama Mia! Here We Go Again (7/11)
Robin Williams: Come Inside My Mind (7/16)
Theatrical Premieres:
Goodbye Christopher Robin, 2017 (7/1)
Table 19, 2017 (7/1)
The Belko Experiment, 2017 (7/2)
Justice League, 2017 (7/7)
Battle of the Sexes, 2017 (7/14)
The Boy Downstairs, 2018 (7/19)
The Snowman, 2017 (7/21)
Victoria & Abdul, 2017 (7/28)
Estrenos:
These Colors Don't Run, 2017 (7/1)
Misión Estrella (AKA The Highest Goal), 2017 (7/6)
Tesoros, 2017 (7/13)
Off the Menu, 2018 (7/20)
Reinbou (AKA Rainbow), 2017 (7/27)
Starting July 1:
All About Steve, 2009
Away We Go, 2009
Barbershop, 2002
Barbershop 2, 2004
Batman, 1966
Being John Malkovich, 1999
Blow, 2001
Good Will Hunting, 1997
Jennifer's Body, 2009
Liar Liar, 1997
March of the Penguins, 2005
Passenger 57, 1992
Practical Magic, 1998
Princess Bride, 1987
State of Play, 2009
The Spy Next Door, 2010
Tooth Fairy, 2010
Whip It, 1992
Ending July 9:
Monster's Ball, 2001
Ending July 31:
Addicted to Love, 1997
Bad Company, 2002
Bird on a Wire, 1990
The Bone Collector, 1999
Bride of Chucky, 1998
Charlie's Angels: Full Throttle, 2003
Deepwater Horizon, 2016
Dragonfly, 2002
Get Out, 2017
Going in Style, 2017
Good Morning, Vietnam, 1987
Heartbreak Ridge, 1986
Ice Princess, 2005
National Security, 2003
Pitch Black, 2000
The Princess Diaries 2: Royal Engagement, 2004
Scott Pilgrim vs. the World, 2010
Seed of Chucky, 2004
Sideways, 2004
Snow Dogs, 2002
The Take, 2016
The Zookeeper's Wife, 2017
Unforgettable, 2017
Wilson, 2017
Winter's Tale, 2014