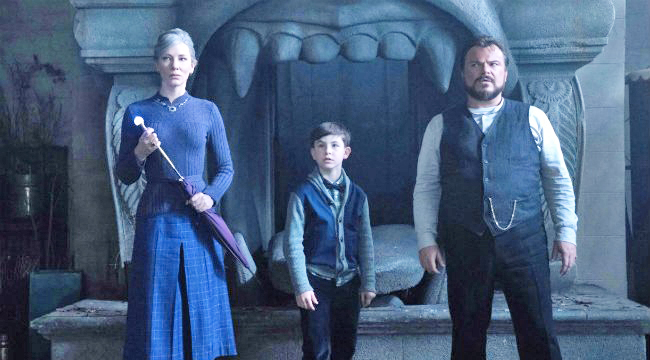 Four movies opened in at least 1,400 theaters this weekend, but readers would hardly know it from the weekend box office report. Only one of those new releases, The House with a Clock In Its Walls, managed to crack the top seven in this week's top ten, while the other three completely fizzled out, allowing holdovers from last week to maintain fairly healthy positions.
As for The House with a Clock In Its Walls, it easily secured the number one spot at the box office this weekend, generating a tidy $26.9 million on a modest $40 million budget. It represents Eli Roth's first foray into family fare — although The House has a horror tinge — and it was a successful one, capitalizing on a familiar book series, the talents of Cate Blanchett, and the star power of … Jack Black? Indeed, Jack Black has enjoyed something of a second career as a popular face (and voice) in family films like the Jumanji reboot, the Kung Fu Panda franchise, The Muppets and Goosebumps. Among the current generation of kids, Black is probably a far more familiar face than the likes of other comedians who turned to family films and eventually crapped out, like Adam Sandler, Jim Carrey, and Eddie Murphy. The difference, of course, is that Jack Black's family films respect their audiences and do not talk down to them, which has made him a very kid-friendly star.
The House with a Clock In Its Walls got some help, too, from critics who gave it modestly positive reviews (67 percent on Rotten Tomatoes), while audiences genuinely seemed to like it, as well (a B+ on Cinemascore). Who knows? Its success could also lead Eli Roth into the family-film genre, as well. After all, The House fetched the biggest opening of his career, which has mostly been sliding since the original Hostel film back in 2006.

The failure of the other new releases allowed room for last week's number two film A Simple Favor to hold on to that position, falling only 35 percent to earn $10.4 million thanks to strong word of mouth. After ten days, the Blake Lively and Anna Kendrick film has made $32 million, a modest success for a Paul Feig flick that only cost $20 million to make. The Predator, meanwhile, dropped a whopping 77 percent this weekend, from the top spot all the way down to number four, earning only $8 million and ending its first 10 days just short of $40 million, which is not a good number for a film that cost $88 million to make. (Its international take, meanwhile, is very similar to its domestic box-office.) Sandwiched in between A Simple Favor and The Predator is The Nun, which arrived at the $100 million mark in its third weekend by earning $9.4 million. That's an outstanding box-office take for a film that only cost $22 million, especially considering it's also added $144 million overseas.
Meanwhile, in its sixth week, Crazy Rich Asians held on to the five-spot, generating another $6.3 million and bringing its total to $159 million. With another $5 million, Matthew McConaughey's White Boy Rick is not really impressing anyone with $17 million on a $29 million budget after 10 days. Jennifer Garner's Peppermint crossed the $30 million mark in its third weekend by adding $3.7 million to the bank.
Michael Moore's Fahrenheit 11/9 could not duplicate the success of Fahrenheit 9/11, which opened with $23 million 14 years ago on its way to becoming the highest grossing documentary of all time with $119 million domestic. This time out, Moore opened in twice as many theaters, but could still only muster $3.1 million in spite of fairly solid reviews (80 percent on Rotten Tomatoes) and audiences who enjoyed it (A Cinemascore). With Trump dominating both the hard news and entertainment news cycles, it seems that audiences weren't all that enthused to spend another two hours digesting even more.

Fahrenheit 11/9 did, however, fare better than Dan Fogelman's Life Itself, which was trounced by critics (13 percent on Rotten Tomatoes). Audiences are willing to turn out for weepy movies, but apparently only well-made ones, like Crazy Rich Asians, which elicit only happy tears. (I've read spoilers for Life Itself and it is… wow!) The film is clearly not going to be a hit for Amazon, but it only shelled out $10 million for it and I'm sure it will do well on the streaming service, given the number of morbidly curious people willing to watch it at home for free.
Both of those new releases, however, fared better than Assassination Nation, the faux-woke teen Salem witch flick, which earned only $1.1 million in 1400 theaters, even less than the $2.1 million earned by The Meg in its seventh week.
Next week should be an interesting one, although I'm not sure I see any big hits among the four new releases. Lionsgate is going to trot out a horror entry, Hell Fest; Lea Thompson (yes, that Lea Thompson) leads a cast in a modern retelling of Louisa May Alcott's classic novel Little Women, which opens in only 600 theaters; Kevin Hart and Tiffany Haddish could do well with Night School, but the trailers look bad; Small Foot gets a huge 4,000 screen opening, and while I expect it to do modestly well, there hasn't been a lot of buzz behind it.
Source: Deadline, Box Office Mojo