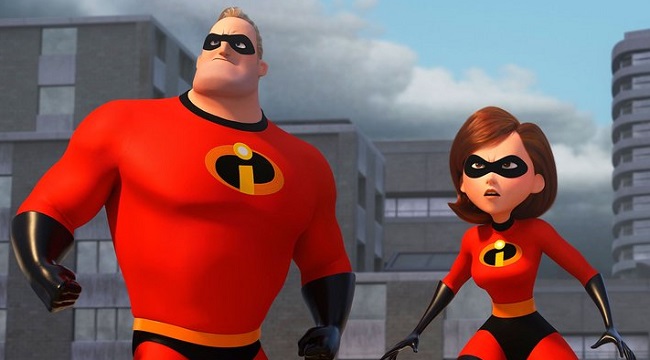 Any concerns studios may have had about the summer box office after the disappointing bow of Solo three weeks ago were completely erased this weekend with the debut of Incredibles 2. The film received high marks from critics (94 percent on Rotten Tomatoes) and an A+ from Cinemascore (the 7th for Pixar) with 92 percent of audiences also saying they would recommend it to friends. It's hard to do much better than that, except by appealing to all audiences across all demographics. Incredibles 2 was not an animated film that kids had to drag their parents to (in fact, parents made up only 12 percent of the audience); this was a movie that men, women, young and old all ran out to see on opening weekend.
The result is what looks like a $181 million opening, easily the highest grossing opening weekend ever for an animated film, besting Finding Dory ($135 million) by over $55 million. Depending on how the final numbers shake out on Monday, Incredibles 2 will also own the eighth (ahead of Captain America: Civil War's $179 million) or ninth biggest opening of all time (ahead of the $174 million earned by Beauty and the Beast). Clearly, the 14-year gap between installments didn't hurt the sequel, as the $180 million opening weekend is roughly 70 percent of what the original earned over its entire run ($260 million). Hugely positive word of mouth should also keep Incredibles 2 in the top five at the box office for weeks to come — it won't receive any animated competition until the release of Transylvania Hotel 3 on July 13th.
Clearly, Disney is happy with this result, which probably softens the blow of Solo's disappointing run. That Star Wars stand-alone film fell to number four this weekend with $9.9 million, and after four weeks, it's barely earned more over its entire run ($192 million) than Incredibles 2 did in its first three days.

Another big winner this weekend was Ocean's 8, which held up very well in its second weekend as the "adult" alternative to animated fare and superhero movies. It fell only 52 percent, earning another $19.6 million to bring its 10-day total to $79.1 million. It's also tracking 11 percent better than the highest-grossing Ocean's movie, and with little competition in its target demographic, Ocean's 8 should coast at the box office for a few more weeks. Once international grosses are figured in, an Ocean's 9 looks awfully promising.
The same success did not befall the comedy Tag, which was met by moviegoers with a relative shrug. It earned $14 million in its opening weekend, which is not bad for a film that only cost $28 million to produce, but it's not great, either. Box-office pundits have been stressing for a long while now that comedies simply don't work in the age of event films, and unfortunately, there's not been a lot of evidence to prove otherwise.
On the other hand, theatrical box-office can continue to be part of the mix for comedies, which tend to perform well on the home digital market. So, if a modestly priced comedy like Tag can earn $35 million at the domestic box office and add another $30 million overseas, it can slide out of the red once home viewers begin consuming it On Demand or on the digital streaming market. Tag is also not a particularly great test case for comedies, however, as it struggled with critics (54 percent on Rotten Tomatoes) and received a relatively mild B+ from audiences. It's a fine movie, but there is almost no reason to see it in theaters instead of waiting to spend $3.99 to watch it on your couch in three months.

One other new release entered the top ten this week, but it did not fare well. Super Fly, the remake of the 1972 blaxploitation films, struck out with moviegoers, earning a tepid $5.7 million over the weekend and $7.9 million since it opened on Wednesday. With little overseas appeal, the $16 million film will struggle to break even and mixed reviews are not helping matters.
Holdovers occupied the rest of the top ten. Deadpool 2 continued marching toward the $300 million mark, adding $8.8 million to bring its total to $294 million, good for the third highest grossing film of the year. It's doing even better overseas, where it will cross $400 million this weekend. Meanwhile, Hereditary held surprisingly well not only for a horror film, but for any movie with a D+ Cinemascore. It earned $6.9 million and has accumulated $27 million, so far, which is a great number for a film with a reported budget of only $10 million. It will surpass Moonlight ($27 million) as the second biggest hit for A24 ever, behind only the $48 million earned by Lady Bird.
Infinity War, Adrift, and Book Club close out the top ten, with $5.6 million ($664 million cumulative), $2.1 million ($26 million) and $1.95 million ($65 million), respectively.
There was also some action among limited releases. The Indian action thriller Race 3 earned $1.9 million in only 320 theaters, while John Travolta's criminally bad Gotti earned only $1.8 million in 500 theaters. The film, directed by Kevin Connolly (yes, the guy from Entourage) currently sports a 0 percent on Rotten Tomatoes.
There was much better news, however, for the Mr. Rogers documentary, Won't You Be My Neighbor?, which expanded to 96 screens and earned $1.1 million, good for a solid $10,800 per theater. It should eventually compete with RGB ($10 million) for the highest-grossing documentary of the year.
Next weekend, Incredibles 2 will need to make some room at the box office for one new opener, but it's a big one. Jurassic World: Fallen Kingdom. It's already crushing the box office in China (earning $125 million in its opening weekend there), but should settle into a modest $130 million stateside (modest relative to Jurassic World's $208 million opening).
Source: Deadline, Box Office Mojo