It's been 14 years since Joe Dirt came into our lives and taught us all a lesson about love and mullets. Perceiving an affection for the original film that, unbeknownst to most us, rested deep within our collective consciousness, Crackle greenlit a sequel back in October that's dancing its way toward its inevitable release.
As you saw from the latest trailer, Joe Dirt 2 will check in on almost all the characters from the first film (either in this timeline or in an alternate one), but what we want to know is… what have the actors been up to since 2001? So, here's an answer to that question I just asked:
David Spade — Joe Dirt
The man, the myth, the legend known as Joe Dirt and the smug monster that ruined Eddie Murphy and Saturday Night Live's relationship. Spade's career has been unexpectedly durable over the last 14 years as he bounced from Just Shoot Me, to 8 Simple Rules, and Rules of Engagement, while also serving as a decent-sized star in the Adam Sandler/Happy Madison constellation with roles in Grown Ups, The Benchwarmers, and Dickie Roberts. He also dated Heather Locklear, which is as big an accomplishment now as it was in 2001.
Jaime Pressly — Jill 
Joe's pretend sister in the nighttime, Pressly transitioned from playing blonde hottie roles on the big screen (and the direct-to-DVD bin) to playing Jason Lee's crazy scheming ex-wife on My Name Is Earl in a role that would earn her two Emmy nominations and one win. Lately, she's been playing a recovering addict/uber rich lady on Mom beside Anna Faris and Allison Janney.
Adam Beach — Kicking Wing 
Beach will go from selling fireworks in Joe Dirt to making them as Slipknot in The Suicide Squad, a splashy role for an actor who has been on a long journey filled with one-off guest spots and capital "S" supporting roles. There have been stand-out moments in his career, though. His work in Flags of Our Fathers was lauded by critics as was his work in Bury My Heart At Wounded Knee. He also put in a season's-worth of work on Law and Order: SVU listening to Ice-T say things with that penetrative voice of his.
Christopher Walken — Clem 
In more than 40 projects since Joe Dirt, Walken has almost exclusively traded off between playing bad guys and old dads, some of whom can dance and all of whom sound… weird. Highlights include Hairspray, Catch Me If You Can, The Rundown, and Peter Pan Live! Next, Walken will be seen in the Kevin Spacey cat movie where he will play either an old cat daddy or a bad kitty. Notice I said he "will" be seen in that film. I have taken away your options.
Erik Per Sullivan — Young Joe Dirt 
Sullivan was just starting his six-year run as Dewey on Malcolm in the Middle when he appeared in Joe Dirt. Since the end of the show's run, he has receded to the pit of normality known as "Not acting." Will he ever climb out? Who knows. He's 24, and he's probably got some sweet syndication money on tap, so live, Dewey. Live!
Kid Rock — Robbie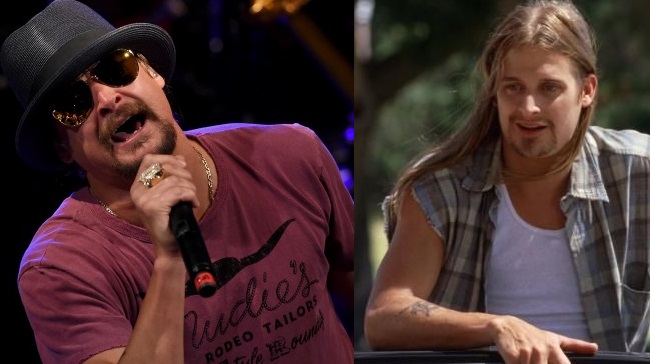 Kid Rock hasn't done much acting since 2001, preferring to leave on-high after Joe left him in the dirt/gravel at the end of the first movie. Instead, he's been strumming along on his guitar while making songs about peace, flowers, and strippers (or something) for his fans. He also shagged Pam Anderson, a feat that, like him, was a bigger deal in 2001.
Fred Ward — Joe's Dad
Ward has worked steadily since 2001 in Sweet Home Alabama, 30 Minutes or Less, 2 Guns, and assorted other projects, but he hasn't made another Remo Williams movie, so what does it matter?
Ren and Luke — Charlie the Dog
It's been 14 years, you guys… I'm sure they're on a farm somewhere with a lot of open space to run and chickens to chase.
Dennis Miller — Zander Kelly 
Miller has never really been a movie guy. He tried with supporting roles in Joe Dirt and The Net and other '90s fare, and he even starred in Bordello of Blood, but his best role was as his smirky and snarky self. The thing is, Dennis Miller has changed a bit over the last 14 years, as he's gone from being a hip late night liberal intellectual and limitless obscure reference PEZ dispenser to being a conservative friend O' FOX and O'Reilly/limitless obscure reference PEZ dispenser. Is he still funny? Unfortunately, that may depend on your politics, but he's still out there as a prominent stand-up comic. Until recently, he was doing a radio show that occasionally featured pretty outstanding interviews with others from within the SNL family.
Brittany Daniel — Brandy
After winning Joe Dirt's heart and then reuniting with D-Spade in an episode of Just Shoot Me in 2003, Daniel went on to become a Wayans family player, appearing in Little Man and White Chicks before co-starring in Skyline. Daniel also co-starred in The Game for 65 episodes and recurred on It's Always Sunny in Philadelphia as Carmen.