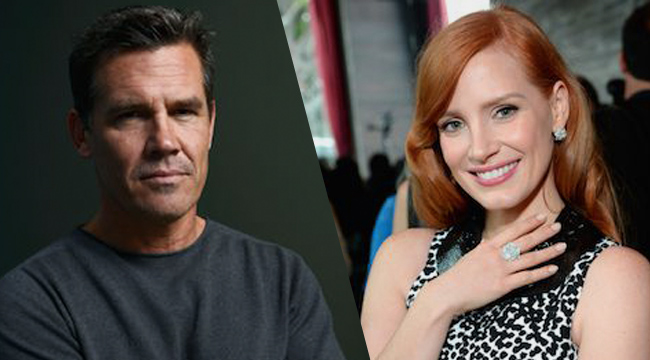 Josh Brolin will be embodying another famous Texan on the big screen, and he'll be doing so alongside Zero Dark Thirty star Jessica Chastain as one of the most legendary couples in country music history.
Brolin has been keeping busy with media appearances for the latest Coen Brothers picture, Hail, Caesar!, and during his visit to Conan, the 47-year-old actor shared that he'll be starring as George Jones in an upcoming biopic, with Chastain set to play Jones' (third) wife and fellow country icon, Tammy Wynette. Brolin noted that his public reputation kinda syncs up with the "White Lightning" singer.
"I have a bit of a past and when they were trying to figure out who might be best able to best play George Jones, they thought, 'What about Brolin? Who's been to jail in the last 10 years? Let's pick Brolin!'"
Going off that line of logic, the film seems like a safe bet to look at Jones' substance abuse issues, the drama-packed marriage between Jones and Wynette, their post-divorce collaborations, and every other bit of biopic stuff you can wring out of the Jones/Wynette saga. Ideally, this will all lead to a sequel that is EXCLUSIVELY focused on Tammy Wynette's time filming the video for The KLF's "Justified & Ancient."  Fingers crossed, everybody!
(Via AV Club)