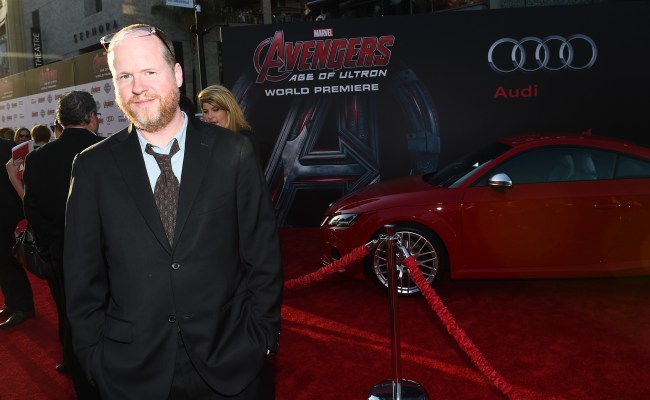 Avengers: Age of Ultron writer and director Joss Whedon has had a pretty busy weekend. Hell, he's had a pretty busy past couple of years. His latest film (and most of Marvel's Phase Two) has occupied the man's mind, body, and soul for quite some time now. But with the release of the new Marvel tentpole, now would be the best time for a vacation, no? Maybe that's why Whedon quit Twitter.
The Mary Sue reported on the account's deletion, while ScreenCrush managed to snag a screenshot of Whedon's final tweet before it disappeared into the Internet ether:
The film did a pretty ridiculously good job at the domestic U.S. box office this weekend — not to mention the hundreds of millions it had already claimed overseas. So of course now would be a great time for Whedon to go underground. Besides, he probably wants to avoid saying any more not-so-nice things about Marvel and/or Jurassic World.
No one's actually sure why Whedon deleted his Twitter account, but frequent tweeter Patton Oswalt has an interesting theory:
https://twitter.com/pattonoswalt/status/595339749499371520
Uh, I'm not even really sure how to respond to that. I don't know if there's a joke I'm just not getting, or if Oswalt has insider information. Who or what is this "'Tea Party' equivalent of progressivism/liberalism" he refers to? Bernie Sanders? Kevin Feige? The Marvel/Disney conglomerate? Micky Mouse himself?
Don't leave us hanging, Oswalt. Tell us what's really going on.
(Via ScreenCrush, The Mary Sue, and Patton Oswalt)
And for anything else you may have missed on the web today…