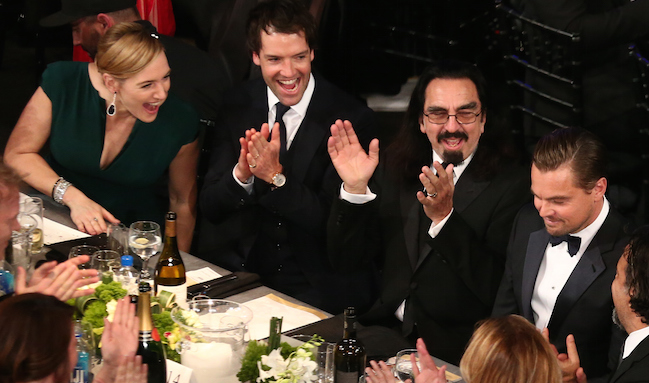 With ongoing criticism over the lack of diversity in this year's Oscar nominations, Kate Winslet was asked about whether she would boycott this year's Academy Awards ceremony. She said she'd be there to support her friend and Titanic costar Leonardo DiCaprio, who will probably finally win for Best Actor this year.
She further explained to Vanity Fair: "I feel very strongly that it may possibly be Leo's year. He is my closest friend in the world and I just couldn't imagine not being there to support him."
Very sweet. Winslet also wants to attend to support the other female nominees, including herself, probably, since she's been nominated in the Best Supporting Actress category: "To be honest with you, it has been such an extraordinary year for women. I'd feel like I was letting my side down if I didn't go. I think those are reasons enough really to show my face."
So Kate will definitely be there to hug The Revenant star when he goes to accept his Academy Award for having a bear's face near his butt, just like she was at the Golden Globes. It's the least she can do, since her Titanic character didn't share that floating door that could've prevented him from freezing to death.
(Via Vanity Fair)