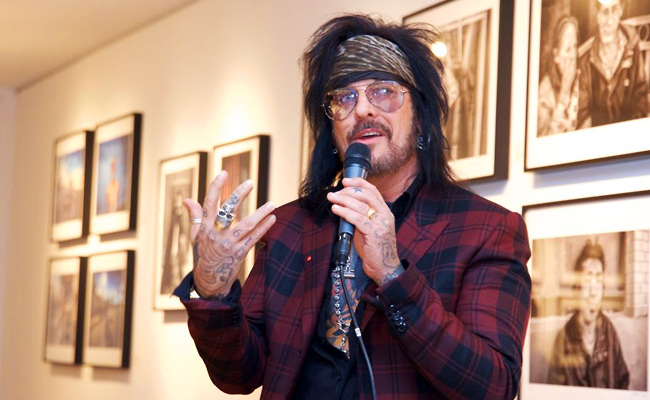 Lords of Chaos, from Spun/Spawn director Jonas Akerlund, opened in limited release this past weekend. It depicts one of my favorite obscure, lurid corners of music history, the Norwegian black metal scene of the early 90s, which eventually dissolved into murder, suicide, Satanism, and arson (which is paradoxically also the only reason it was ever known).
Lords of Chaos is the first scripted film about the saga, but far from the first film to tell it. As someone who can't get enough of this story, Akerlund's film felt like both a novel take on the material and true to it. In one invented scene, Euronymous (played by Rory Culkin), guitarist of Mayhem and sort of the ringleader of the scene, meets Varg Vikernes (played by Emory Cohen), the eventual singer of Burzem. Euronymous walks up to Vikernes, points to a Scorpions patch on his jacket, and says, simply and condescendingly, "Scorpions."
It's a great scene, that seems to succinctly capture the kind of dick measuring/purity testing that used to characterize music scenes, and still characterizes so many fandoms. Euronymous shames Vikernes just by reading the patch, that Vikernes knows he's supposed to be ashamed makes it so much worse. But speaking to Akerlund recently, he revealed that as originally shot, the scene didn't involve the Scorpions at all.
"We made a point out of their relationship starting in a weird way, and also [wanted to convey] how affected Varg was by Euronymous and his black circle," Akerlund explains. "It was actually meant to be shot with a Dr. Feelgood, Mötley Crüe's patch."
Akerlund goes on to note that it just wasn't going to happen: "And then one of my producers said, 'You have to clear it. It's a close-up, we have to clear it.' And Nikki Sixx said no. He actually said, 'No way.' We sent him the scene, and I was like, 'Come on, dude, we're not making fun of you. These guys were fucked up and they didn't like anything, especially American glam rock.' But he couldn't take it. Nikki Sixx was worried that his brand was gonna be damaged."
Akerland went to say that "as a back up, we [shot it with a Scorpions patch], which is not really correct, actually, because Scorpions, at that time, was not cheesy. If you were metal back then, Scorpions was cool. All the 70s stuff and early 80s stuff with Scorpions still, to this day, is fucking awesome. I feel a little bad. Doing that, it should really be Mötley Crüe, or any of the American acts from that time. That's the biggest contrast. Norwegian black metal and the Sunset Strip glam rock. You couldn't be further away from each other."
Incredible that the guy who has allowed his music to be used in everything from Ford Fairlane to Leisure Suit Larry to Juggalo Championship Wrestling Vol. 2 was worried that being ridiculed by Satanic arsonists in an invented scene for a film about black metal would damage his brand. This is also a band that described putting their penises in a breakfast burrito as an alternative to showering. Uproxx has reached out to representatives for Mötley Crüe for comment. We will update if we hear back.
Incidentally, the film adaptation of The Dirt, one of my other all-time favorite music stories (featuring the aforementioned breakfast burrito story), about Motley Crue, is set to hit Netflix March 22nd. It was directed by Jeff Tremaine of Jackass and (unfortunately) stars Machine Gun Kelly as Tommy Lee. Which I guess means that we're stuck with Machine Gun Kelly for a little longer. He must have an incredible agent.