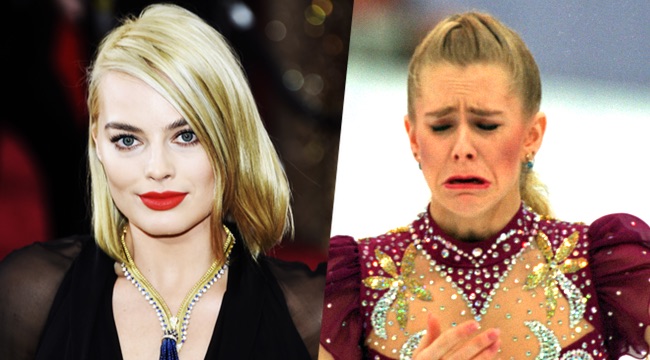 Sometimes, a casting department really gets things right or, at least, they drop one of those decisions that bequeaths the elusive "whoa." The brewing Tonya Harding biopic called I, Tonya boasts neither a director nor financing. However, the project nabbed a star that could make everything come together like lightning. The in-demand Margot Robbie signed on for the titular role in this story of the rise and rapid fall of the 1990s Olympic skater. This film could be the ideal followup for Robbie's turn in Suicide Squad, which already highlights the unpredictability of this actress who could have been typecast into toothpaste-model roles but has thus far resisted the urge to take the easy route.
With a role like Tonya Harding, Robbie will likely undergo some serious training to pull off some of the moves that can't be faked through a body double. Even more fun, however, will be Robbie's interpretation of Harding's own motives as her husband, Jeff Gillooly, tried to take rival skater Nancy Kerrigan out of commission. In the aftermath, Harding lost her entire career and ended up boxing in casinos across our fair nation. Deadline breaks the story with a refresher for anyone who doesn't have Harding's tabloid-esque tale etched into their memory:
Margot Robbie has come attached to I, Tonya. Remember her? She was the ice princess who emerged from a poor upbringing and rough childhood in Portland, OR to rise to the top of the sport of figure skating with a ferocious determination and athleticism that allowed her to become the first American woman to complete the triple axel in major competitions. That propelled her to victory in the 1991 U.S. Figure Skating Championships and second in the World Championships.
Well, Robbie sounds like just the star to elevate this material out of Lifetime network territory and onto the big screen. There's the possibility that this biopic could dig deep into Harding's childhood and upbringing, which could paint her as a sympathetic figure. Or, this could be a full-on ride into knee-whacking land with no holds barred. For what it's worth, screenwriter Steven Rogers penned the script after several talks with Harding and Gillooly, who were presumably contacted separately since the two divorced in 1994. Now, who will play Nancy Kerrigan or Gillooly himself?
(Via Deadline)