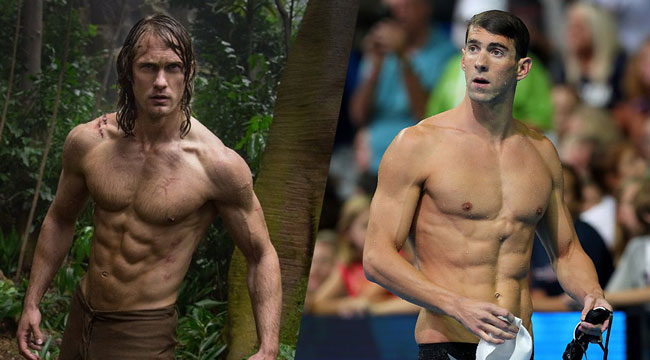 Old school movie producer Jerry Weintraub sounded like an interesting guy. His career spanned back to the '70s where he made his name off of television specials featuring the hottest musical acts of the day. He went on to produce popular franchises like The Karate Kid and George Clooney's Oceans films, but through it all, his greatest desire was to make a Tarzan movie.
That goal was realized this year with The Legend of Tarzan starring Alexander Skarsgård, but sad Weintraub died of heart failure while the film was still in post-production, a year almost to the day of the movie's release. He never got to see his film in its final form, nor enjoy the success it's received at the box office, which is extra unfortunate considering all the time he spent pushing the film through development. It took seven years of rewrites and casting calls to get everything right, and along the way, Weintraub had some rather unique ideas on who might play Tarzan. From a great Vanity Fair profile on Tarzan's Jane, Margot Robbie:
For a moment Jerry believed he'd found Tarzan in Olympic swimmer Michael Phelps. It was all Jerry talked about. "It's going to be like Johnny Weissmuller," Jerry told me. "All the reporters are going to say, 'Weintraub found the new Johnny Weissmuller!' " At that point, Jerry had never seen Phelps do anything but get in and out of a pool. Then, as if arranged, the swimmer hosted Saturday Night Live. As this went on past Jerry's bedtime, he asked his assistant to record it.
…
Two minutes in, Jerry turned to his assistant and shouted, "This isn't Tarzan! This isn't Johnny Weissmuller! He's a goon! Why didn't anyone tell me he's a goon? Turn it off. Goddammit, turn it off."
For those who aren't aware, Johnny Weissmuller was the original Tarzan in the 1930s films. He also happened to be one of the best competitive swimmers of all time, winning five Olympic gold medals for swimming and a bronze in water polo. So it starts to make a little sense why Weintraub thought the universe had aligned to give him his own superstar Olympic swimmer for the lead role of Tarzan.
Then reality set in, and fortunately the decision was made to go with a more conventional choice in the True Blood star Skarsgård. But oh, what a movie it might have been if Phelps hadn't done Saturday Night Live and apparently put off some kind of "goon" vibe.