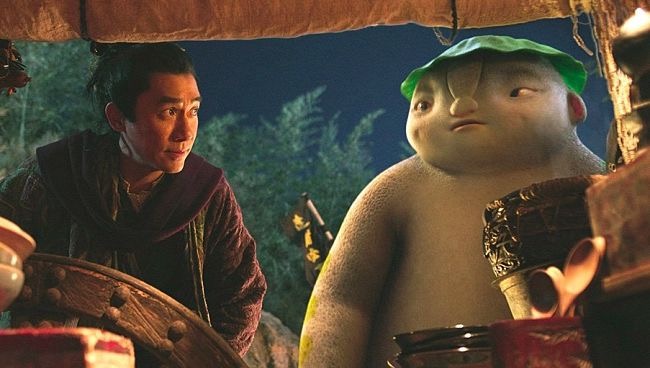 After only three days of release, Marvel's Black Panther is already the 129th highest-grossing movie in cinematic history; it also had the fifth best opening weekend ever, behind only The Force Awakens, The Last Jedi, Jurassic World, and The Avengers, and the biggest February opening of all-time. But the Ryan Coogler-directed film wasn't the only movie to smash box office records this weekend.
Five films released in China — Monster Hunt 2 ($190 million), Detective Chinatown 2 ($154 million), Monkey King 3 ($79.9 million), Operation Red Sea ($70.3 million), and Boonie Bears ($40.9 million) — combined for a staggering $543 million at the Chinese box office from Friday to Sunday. According to Forbes, "That is a record-breaking figure for a single weekend, well-and-above the $305 million North American weekend of December 18, 2015 when Star Wars: The Force Awakens earned $248 million over its Friday-Sunday debut."
The total is more than double the score achieved in the equivalent Chinese New Year weekend in either of the last two years. Last year, the session was worth $205 million. In 2016, the weekend cumulative was $224 million… One explanation for the huge leap is that now that exhibition chains have built out multiplexes into fourth and fifth tier cities, cinema is the only viable form of modern entertainment in smaller markets. (Via)
The record-breaking total — which, again, is more than any weekend in U.S. box office history — proves two things: 1) The U.S. might need China more than China needs the U.S., and 2) Iron Man v. Monkey King is going to be sick.