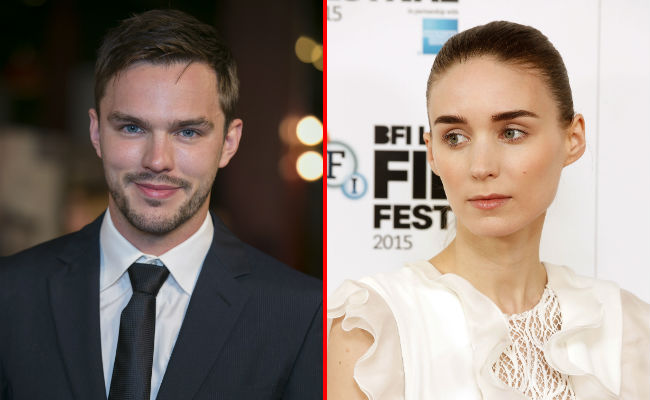 Sony has already given the green light to Passengers, a sci-fi romance starring extremely beautiful people Chris Pratt and Jennifer Lawrence. But that much beautiful wasn't enough, hence The Discovery — yet another sci-fi romance whose cast includes two ridiculously beautiful people, Rooney Mara and Nicholas Hoult. According to the trades, Mad Max: Fury Road's Nux and Lisbeth Salander redux from the American remake of The Girl with the Dragon Tattoo just signed on to star in the project.
According to the Hollywood Reporter, Charlie McDowell and Justin Lader, the creative team behind 2014's depressing love story The One I Love, are behind the project. As with their previous collaboration, McDowell and Lader co-wrote the script, and McDowell will direct the film, which imagines a world where the afterlife has been discovered and validated via scientific means. Hoult will play the son of the person responsible for discovering the afterlife, and Mara will play the woman he falls in love with.
Of course, this is a "sci-fi romance," which makes the romance part a bit strange — especially when potential partners could have loved ones living on in the afterlife. Apparently, Mara's character is "tinged by a tragic past," which means she's got a dead somebody (or two) waiting around in the clouds. That's a tough break, Nux.
(Via the Hollywood Reporter)