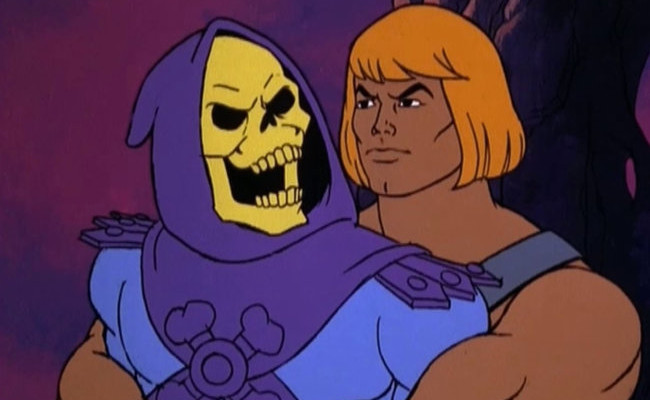 Hollywood has been slow to revive a large batch of '80s weekday afternoon cartoon junk that's been waiting to be turned into movies, Netflix series or whatever. Perhaps that will change with this news, courtesy of The Wrap and confirmed by Entertainment Weekly: A Masters of the Universe film, based on the show that was inspired by the popular line of entertaining Mattel toys, is in the works. What's more, it may star the decidedly not-noticeably-beefy Noah Centineo.
The young actor broke through last year as the romantic co-lead in Netflix's To All the Boys I've Loved Before. He was even cast in another reboot of another old-timey show, Charlie's Angels. Now he'll have to beef up and get a blonde Prince Valiant 'do as Prince Adam, the do-gooder of the mystical fantasy realm Eternia, who can turn into the hulky He-Man with the help of a magic sword. An example of the famous character's secret identity is showcased in this recent popular tweet.

A Masters of the Universe revival has been in development for ages. A previous draft was written by journeyman blockbuster scribe David S. Goyer, and a version from 2007 was to be helmed by no less than John Woo. This latest iteration, however, will be handled by brothers Aaron and Adam Nee, from a script by Matt Holloway and Art Marcum — two of the four credited writers on the first Iron Man.
Should this new Masters of the Universe come off, it will have to contend with the previous Masters of the Universe movie, which was made by the semi-notorious cheapskates at Cannon Films and starred the one and only Dolph Lundgren. That film took a fantasy show and relocated the action to the modern-day California suburbs, ensuring that the budget would mostly be spent on costumes. It also included award-winning thespian Frank Langella as the evil Skeletor, who was completely disguised under a cloak and skeleton mask.
(Via The Wrap and Entertainment Weekly)