No surprise, but Ocean's 8 easily won the weekend box office, earning exactly as box-office tracking suggested it would: Between $40 and $45 million (the exact number was $41.5 million). Interestingly, the gender-flipped continuation of the Ocean's series not only debuted with the highest opening weekend of the franchise (besting the $39 million earned by Ocean's 12), but it earned similar numbers to the gender-flipped reboot of Ghosbusters, which opened with $46 million. However, while the 2016 Ghostbusters was ultimately considered a disappointment (tapping out with $129 million), Ocean's 8 will be considered a big win for Warner Brothers.
The difference? It's all about the budget. Ocean's 8 earned back more than half of its budget ($70 million) in its opening weekend stateside while Ghosbusters earned only slightly more than one-third of its budget ($144 million) in its opening weekend. Budget matters, which is why a $41.5 million opening for Ocean's 8 will be celebrated by the Brothers Warner while the $84 million opening of Solo: A Star Wars Story is seen as a major disappointment. It helps, too, that Ocean's 8 should have strong legs throughout the month, as one of the few choices outside of traditional blockbusters for older adults, who are more likely to wait until the second and third weekends to see a movie.
Audiences and critics likewise received Ocean's 8 warmly, though not ecstatically. It received a fresh score from Rotten Tomatoes (69 percent) and a solid but not spectacular B+ from Cinemascore. The cast — including Anne Hathaway, Sandra Bullock, and Cate Blanchett — was the big draw, and females turned out in huge numbers, representing 69 percent of the audiences (compared to 55 percent female for the Ocean's sequels starring Clooney and Pitt, meaning it was already female-skewed). Better news still is that Ocean's 8 — like the previous Ocean's movies — is likely to play even better overseas, where its release will be staggered over the coming weeks.

Meanwhile, in its second weekend, Solo: A Star Wars Story continued to hemorrhage viewers, dropping another 51 percent and earning $14.3 million in its third weekend, bringing its total to a mere $175 million, or less in its first 17 days than either The Force Awakens or The Last Jedi earned in their respective opening weekends. At this pace, it won't earn the $248 million that A Force Awakens opened with over its entire run. In fact, by this point in its run, A Force Awakens was earning more in one day than Solo earned all weekend. Things are somehow even worse overseas, where international box office is dragging behind domestic totals and it has to face the release of Jurassic World 2, which opened overseas this weekend.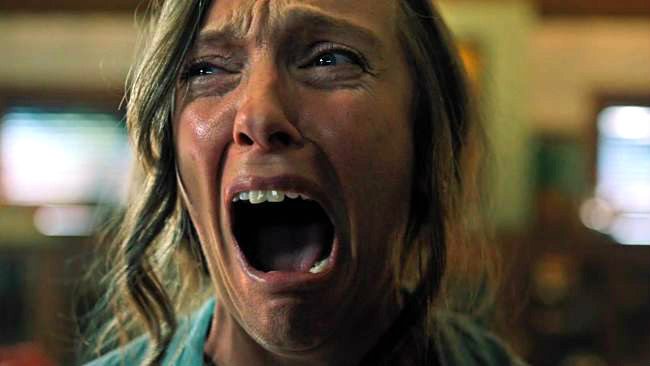 However, the most pleasant surprise this weekend was the performance of Hereditary, literally the most terrifying movie I have ever seen. This one racked up $13 million based almost entirely on positive reviews (94 percent) and word of mouth (I am one of thousands suggesting that Hereditary is the most terrifying movie ever). If there is one bit of bad news for Hereditary, however, it's in the D+ Cinemascore. Cinemascores usually do not come in that low unless the movie in question is not what audiences are expecting, and I suspect for many that Hereditary might have actually been too terrifying. It's a great movie, but it is not a pleasant experience, and hardly what one would consider escapism. It's the kind of movie one doesn't enjoy, so much as survives, white-knuckling it the entire way through. It's not even a movie I'd recommend to most people, but for hardcore horror fans, it's a must watch.

There was one other new release this weekend, too, and as I suspected, Hotel Artemis was the odd man out, in spite of a very cool cast (Sterling K. Brown, Charlie Day, Jeff Goldblum, Jodie Foster, Sofia Boutella). The film only earned a meager $3 million in its opening weekend. Mixed reviews (57 percent on Rotten Tomatoes) didn't help, but ultimately, it's a fine movie that got lost in the summer movie shuffle (it feels more like a September movie than a June release).
Everything else this weekend was a holdover. Deadpool 2 continues to hang in there in its fourth weekend, earning $12.8 million to bring its total to $277 million after a month. It's now nearing the Meet the Fockers record for highest grossing comedy sequel ($279 million), if one wants to classify a funny superhero movie as a "comedy." Avengers: Infinity War put up $6.8 million, and though it is still $40 million short of Black Panther for highest grossing movie of the year, it actually surpassed $650 million one day faster than Panther. However, with heavier summer competition, it's unlikely to achieve the $699 million earned by the Chadwick Boseman MCU entry.
Adrift tumbled nearly 60 percent in its second weekend, flatlining with $4.8 million, which suggests that this tearjerker will not have the legs of its previous summer comparables (Fault in Our Stars and Me Without You). It's earned $21.4 million after 10 days and it will likely tap out around $30-$32 million, short of its $35 million price tag. Book Club, however, is doing just fine, adding $4.4 million to bring its total to $57 million after nearly a month at the box office. It only cost $10 million to produce.

Upgrade fell to ninth place this week, adding $1.8 million to bring its total to $8.8 million. Not bad for a microbudget movie, and it has a shot at besting The Darkness' $10 million total for highest grossing film from BH Tilt. Life Of The Party closes out the top ten with $1.75 million to bring the Melissa McCarthy movie a few thousand bucks short of $50 million.
Among arthouse fare, Brett Daley's Heart Beats Loud — starring Nick Offerman, Kiersey Clemons, and Ted Danson — earned an impressive $20,000 per screen in four theaters, while the Mr. Roger's documentary Won't You Be My Neighbor earned a decent $185K in 29 locations. The very impressive American Animals also expanded into 45 theaters and earned close to $350K. All three of these films are well worth a visit to the theater or, at the very least, they are must-see when they hit digital platforms.
Next weekend is going to be huge as Incredibles 2 is on pace to for the biggest opening of all time for an animated feature, while Tag hopes to break the slump among summer comedies. The Indian Hindi-language action thriller Race 3 will also open wide.
Sources: Deadline, Box Office Mojo