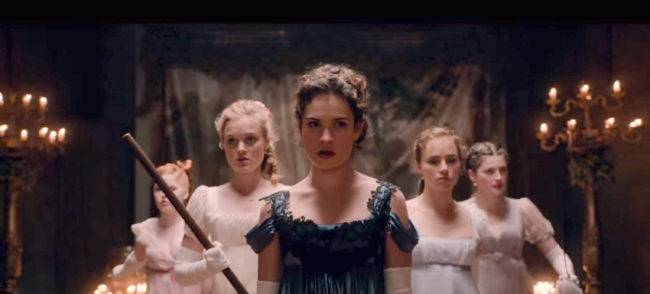 Pride and Prejudice and Zombies is one of those mashup books I bought in the fervor of classic-novels-rewritten-with-monsters-added novel publications, but never got around to actually reading. Turns out I don't even have to, as Lionsgate has gone ahead and produced a movie version of the film — and it looks exquisite.
Lily James may be currently starring as Cinderella, but starting next year she'll be an ax-wielding Elizabeth Bennett. Lena Headey also stars in an unnamed role, with Matt Smith as Mr. Collins and Charles Dance as — I hope — an ass-kicking Mr. Bennett.
The classic Jane Austen tale of two people who, at first, can't stand each other but realize they're both being idiots and then there's kissing has been the template for every modern romance since Pride and Prejudice's first publication. This version adds a zombie apocalypse, and apparently Lizzy and Mr. Darcy are rivals in the monster-slaying profession.
Does anyone really even care what Lena Headey's character is? She's clearly continuing her favorite thing: roles with facial deformities and ultra violence, and I'm all about it and you can sign me up for the fan club newsletter.
In July, writer/director Burr Steers told EW that the movie wasn't going to be campy at all, which is apparently its strength:
"The idea was that it was Pride and Prejudice set in this alternate world and then for everyone to play it straight," Steers explains. "The movie's big wink is that there is no big wink."
Check out the teaser trailer below. The film releases in the U.S. on February 19, 2016, a month for dumping movies the studio doesn't expect to perform well (though I think the preview here is solid*.)
*(Could just be the Sleigh Bells song on the soundtrack, though.)
(via ComingSoon)