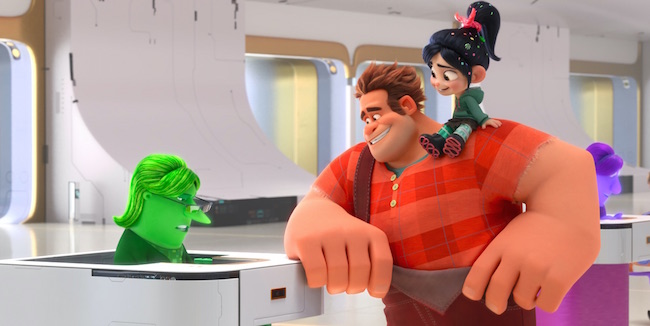 It's somehow been six years since Wreck-It Ralph hit theaters. It honestly doesn't feel that long ago, even though 2012 itself now seems like a lifetime ago. The story about Wreck-It Ralph (John C. Reilly) – a kind of nincompoop, Donkey Kong-type brute who literally just wrecks things – and Fix-It Felix Jr. (the do-gooder, voiced by Jack McBrayer is his most do-good voice) meeting Vanellope von Schweetz (Sarah Silverman) and helping her overcome her "glitch" would go on to gross just under half a billion dollars and become a global sensation. Its combination of colorful action and a million '80s popular culture references (look, Q*Bert is in this movie) made it a hit with both children and parents.
Now, six years later (again, pretty much a lifetime these days), director Rich Moore returns, joined by co-director Phil Johnston, with the sequel that attempts to explore the world we live in today, Ralph Breaks the Internet. In this sequel we watch as Ralph and Vanellope hit the open internet (boy that sounds like a not great idea) in search of a physical steering wheel component to fix Vanellope's racing arcade game. Along the way, the pair are introduced to search engines, eBay, and people talking sh*t about Ralph on social media.
"The movie opens with Fix-It Felix, Jr.'s funeral. He's been murdered by a Cy-Bug," jokes Phil Johnston. No, no, Fix-It Felix Jr. is not dead. Though the marketing materials have been noticeably light on Mr. Felix Jr. – he's in the movie, but he's not on the adventure with Wreck-It Ralph and Vanellope. "Felix and Calhoun [Jane Lynch} are in this movie," says Johnston. "Because Vanellope's game gets unplugged, there are all these Sugar Rush orphans and Felix and Calhoun take them under their wing, sort of, as adoptive parents."
It turns out this was a storytelling decision that came about because there wound up being too many characters and, as Rich Moore puts it, "It became a bit unwieldy." Johnston adds, "As recently as, I don't know, six months ago they were in the internet for a while. But it felt like you needed some grounding force back home in the arcade. It's such a huge world and there are so many characters, it was getting unwieldy having this big troop roaming through the internet."
As stated before, Phil Johnston has joined Rich Moore as co-director (which is Johnston's first directing credit). On the first film, Moore got the only director credit and Johnston was credited as a screenwriter along with Jennifer Lee. So, how does this work? Why are there two directors now?
Moore explains, "On Zootopia, Phil had a big hand in the creation of that film. And when it was time to kind of move on to this Wreck-It Ralph sequel, I went to Phil and I said 'I'd really like you to be my partner in directing this because on Zootopia you did way more than just write it. And that's the kind of involvement I want both of us to have on this film. So, it just seemed like it was a no-brainer to ask him to come on board. It's kind of like we are playing the same roles that we did, but, I feel like Phil is finally getting the credit that he should have."
Johnston adds, "Rich's openness and collaboration, it was sort of empowering me more as a writer than I might otherwise be. Particularly in animation. So, it's just been a very egalitarian, if there is such a thing."