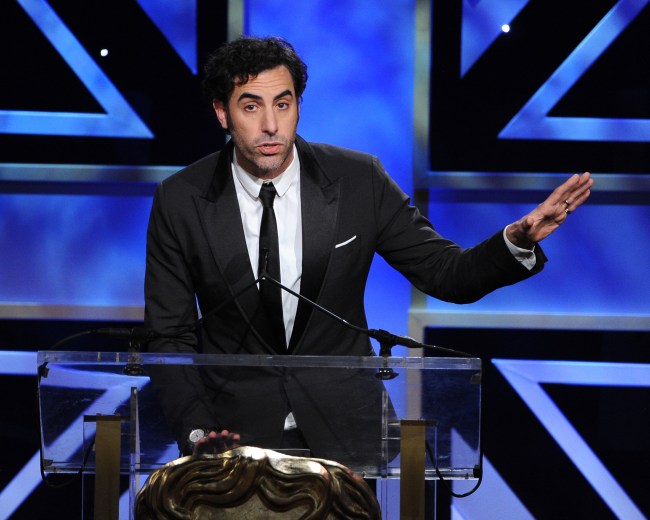 Back in 2010, actor and comedian Sacha Baron Cohen — the same man who brought this Oscar-worthy scene to life — signed a deal to play Freddie Mercury in a biopic about the famous Queen singer. Three years later, Cohen called the deal off — supposedly because the surviving band members wanted a "PG" version. Now it seems the actor and the band have settled their differences.
According to several outlets, Queen manager Jim Beach dropped a few hints about the new deal at the annual Artist and Manager Awards:
"You have probably followed the saga of the famous Queen-Freddie Mercury biopic which has been developing in Hollywood for the last seven years," Beach said during a speech at the Artist and Manager Awards this week. "An important breakthrough is that we have now managed to persuade Sacha Baron Cohen to write, produce and direct this movie, and he has also agreed to star." (Via Consequence of Sound)
Music Week initially broke the news, saying Beach "used his acceptance speech to make 'a couple of exclusive announcements' about the future of Queen, 'just to show that we have every intention of staying around and not packing it in.'"
It sounds like Cohen and the band have come to some sort of agreement about the project — maybe a PG-13 rating instead? (Thanks, Spielberg!) Either way, to say that Cohen's coming back to the project is exciting would be a serious understatement. Not only does he look the part, but he's got the lungs to belt out Queen tunes, too.
(Via Music Week and Consequence of Sound)