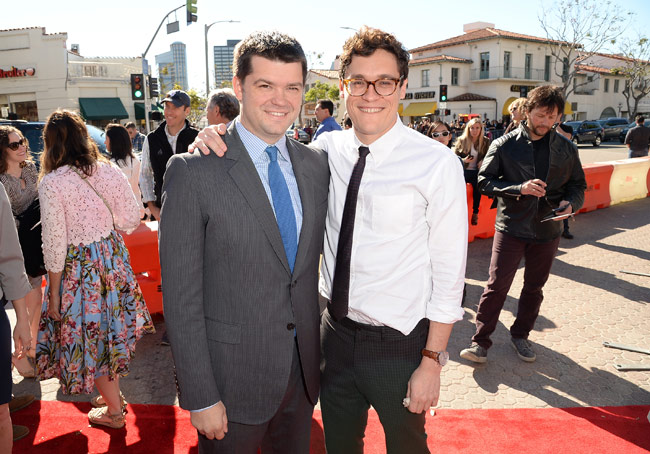 In a move that surely won't confuse anyone at Sony and Marvel — or hell, even at DC and Warner Bros. — the writing and directing pair of Phil Lord and Chris Miller will helm an animated Spider-Man film for Sony. No, not Marvel. But Sony.
Um, what? We'd already covered the ins and outs of the new Sony Picture/Marvel Studios deal and its implications for the MCU. This new addition doesn't muddle that up too much, but it does complicate things a bit. For one thing, it means keeping track of Lord and Miller's work with comic book superhero properties will become…cumbersome.
Maybe you're a little confused, or maybe you're just tired of all the backdoor bullsh*t. Let's not forget that our boys have signed on to write a treatment of The Flash for the DC Comics cinematic universe currently under way at Warner Bros. With Batman v Superman: Dawn of Justice, Suicide Squad, and a host of other films slated for release in the coming years, the non-Marvel side of things is hoping to amp things up.
But now it seems Lord and Miller will direct a Spider-Man film for Sony. According to The Wrap and other attendees at Sony Pictures's CinemaCon presentation, the new animated movie will expand the Spider-Man franchise. Could this mean it would merge both Amazing 1 and 2 with the studio's upcoming plans co-produce new ventures with Marvel Studios?
Considering the new live-action film is set for release on July 28, 2017 (a move that caused Marvel to push Thor: Ragnarok back), it makes sense that the new animated film is set a year later on July 20, 2018. It won't be the same as the previously announced initial joint venture, but it will co-exist with it in the same universe. Huzzah for even more Spider-Man!
In The Restaurant at the End of the Universe, Douglas Adams writes:
There is a theory which states that if ever anyone discovers exactly what the Universe is for and why it is here, it will instantly disappear and be replaced by something even more bizarre and inexplicable.

There is another theory which states that this has already happened.
Because of Sony's Spider-Man-related maneuverings, I sincerely hope this happens again. Hurry it up, Tyson!
(Via The Wrap)