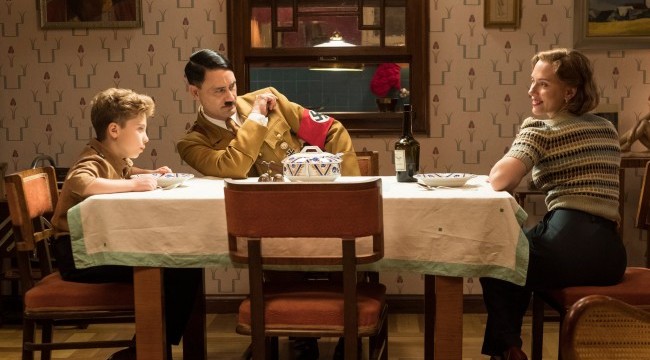 Remember when Thor: Ragnarok writer and director Taika Waititi said he'd be playing Hitler (yes, that Hitler) in his next film, Jojo Rabbit? No? Well the official announcement was only made a week and a half ago, and now we already have out first image of the native New Zealander in costume as the notorious World War II-era dictator. Per Entertainment Weekly, 20th Century Fox dropped the first official photo from the comedy film online — and along with newcomer Roman Griffin and Black Widow herself, Scarlett Johansson, there's Waititi's Hitler plain as day. Um… what?
Described by Waititi as "anti-war satire" (among other things), the film follows Jojo (Griffin), a young boy living in Nazi Germany who dreams of one day joining Hitler's efforts. Little Jojo dreams so hard about it, in fact, that he brings Hitler to life as his very own imaginary friend (Waititi). But everything changes once he discovers that his mother (Johansson) is hiding a Jew in their home.
Aside from the first photo of the writer/director in costume as the infamous German leader, a behind-the-scenes image of Waititi directing a shot with Griffin and Johansson was also posted on Twitter. Meanwhile, the self-described "Polynesian Jew" has been publishing ludicrously funny images from the set since filming began in late May.
(Via Entertainment Weekly)