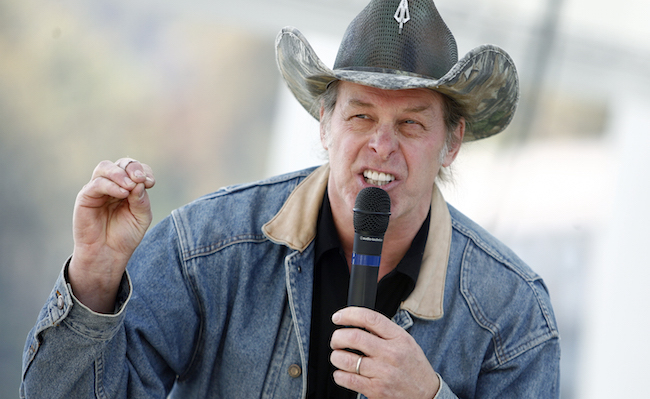 Michael Bay's cinematic offering 13 Hours: The Secret Soldiers of Benghazi may have been a bust at the box office and with the bulk of critics, but it clearly made a big impact on noted dad rawker Ted Nugent. In a recent Facebook post, The Nuge namechecks the movie in his call to hang President Barack Obama and Hillary Clinton for treason.
Yup, we have our first "Ted Nugent is frothing at the mouth about wanting to lynch some folks" story of 2016.
The classic rocker unfurled a lengthy rant on social media yesterday that blended Nugent's right-wing strong political views with a New York Times piece by Keith Timmerman. The post begins with Nugent blasting the "unholy rotten soulless criminal America destroying government" over Benghazi and declares Obama and Clinton "should be tried for treason & hung" as a result. The "Cat Scratch Fever" singer also brought back his "cleansing" talking point from last month to urge Americans to remove the current government.
Nugent's response to the film has racked up over 22,000 likes and 7,000 shares since popping up online. As is standard with anything politically affiliated on Facebook, the comments are stuffed with takes from people that both endorse and condemn Nugent's message. Mostly endorse, seeing as it's written on Nugent's page.
The 67-year-old musician/hunting advocate has never been shy about sharing his political beliefs, although in 2007 he slammed the band Rage Against the Machine over a similar proclamation about his preferred political party. At that year's edition of Coachella, frontman Zack de la Rocha called for George W. Bush's administration to be "hung, tried and shot like the war criminals they are." Nugent quickly expressed outrage over RATM's comments during an appearance on FOX News' Hannity & Colmes. Nugent said threatening lives was a tactic of the lunatic fringe.
"We've disagreed with a lot of administrations in the past, but none of our rhetoric included threatening lives, these guys are over the top, but they're the lunatic fringe that even your average Democrat and liberal doesn't agree with. But unfortunately, nobody is silencing these guys — or not necessarily silencing, but condemning this outrageous violence that they're recommending."
Ideally, Ted Nugent and Rage Against the Machine could compare their viewpoints in a series of Vidal/Buckley style debate chunklets ahead of this year's election. It'd likely never happen, but we can dream.
(via Salon)